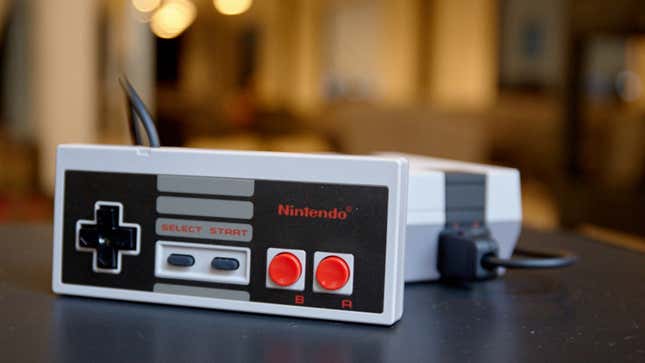 If you really wanted to go out of your way, it's definitely possible to make your own Raspberry Pi-powered NES Classic. But for most, that cute and convenient little package by Nintendo is the best way to go. That's why using this hack to load ROMs onto the new-retro device is a gift from the gaming gods.
Vizio's Latest TVs Go All Quantum
Ars Technica spotted this Reddit thread in which a commenter has linked a tool for hacking the mini-gaming machine and instructions for how to do it. If you do everything right, this should allow you to play ROM files of NES games. There are legal ways to get ROMs and there are not-so-legal ways.
To get started, you'll need to create a save file on the NES Classic in the Super Mario Bros first slot. Unless the device is fresh out of the box, you've probably already done that. Then, connect the Nintendo to a computer with a micro-USB cable.
This is the point that things might get a little scary. The device has to be booted in "FEL" mode which is just a boot level mode in Linux. This is accomplished by pressing and holding the power button when the device is in its off state. While still holding the power button, also hold reset. While you're doing that, you should run a "sunxi-FEL" interface on the computer. That can be downloaded here and more info is available on that page.
Then, things get really scary. You'll be taking files off of the NES Classic, altering them and putting them back. If you screw up any of the steps going forward, it's possible that highly-coveted Nintendo will become a very geeky paper weight. Commenters on Reddit have had success, as have commenters on the YouTube video tutorial, embedded below.
The initial instructions were in Russian but a kind soul uploaded an English translation here. Also, understand that you'll have to download a custom tool and you should use all security precautions at your disposal. If those instructions seem over your head, you might consider asking a friend who's more tech-savvy to help. But hey, you're an adult and whatever you want to do to get your 8-Bit video gaming on is up to you.
We haven't been able to test this out for ourselves so let us know if you run into anything that we should add or send pics of your bricked device with a frowny face emoji.