In today's toy-scape, robotic building sets have handily made the transition from fad to staple, and for good reason—they are awesome. But in a world where Lego Mindstorms reigns king, nothing has managed to combine function, universal appeal, and straight up fun quite like TinkerBots. This could be your kids'—and, for that matter, your—new favorite toy.
Officially launching its Indiegogo campaign today, TinkerBots has actually been in the works (at least in concept form) since 2009, when one of the company's co-founders got a unique little homework assignment. Leo Oschütz was instructed to build a "dream machine" while studying product design at Bauhaus-University in Germany. Being a devoted Lego-nut, though, Oschütz didn't just want to build dreams for other people; he wanted to give them the tools they'd need to build their own. And after playing around with the fruit of his labor for a bit, we can confidently say that, lofty as his goals may have been, TinkerBots delivers.
The centerpiece of each TinkerBots kit is a 1.5-inch red cube dubbed the Power Brain—and it's pretty much exactly what it sounds like. Each tiny power center packs a battery, Arduino microcontroller, bluetooth module, accelerometer, and USB port. That is a hell of a lot of tech for a toy that's meant to be banged around by kids as young as five, but that's the whole point.
After all, kids these days need to be exposed to STEM concepts as early as possible but—just as it's been since the beginning of time—they tend to hate feeling like they're actually learning. TinkerBots manage to play up the former while disguising the latter.
G/O Media may get a commission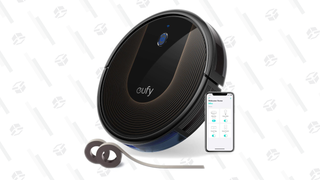 48% Off
Eufy BoostIQ RoboVac
Each powerhouse centerpiece comes alongside a range of kinetic modules that can execute different motions. For instance, you can put an axel through the motor module, stick on some wheels, and boom—instant mobility. Or you can connect a claw module if you want your robot to get a little handsy.
There's also the option to add distance or light sensors to give your bots the ability to interact with their environment, so you can build a car that knows to go around objects, or a mechanical animal friend that follows your flashlight. As cheesy as it sounds, the only limitations really are (more or less) what you're able to dream up.
Of course, function's only half the battle. One of the biggest drawbacks of other modular robotic systems are the severe limitations in the design department. You can build all sorts of things, sure, but they all end up looking more or less the same, or at least equally prototype-y—not so here. In addition to the functional blocks, TinkerBots also offers a set of purely decorative passive blocks to let you personalize your robotic visions (on top of the blocks' already colorful quirkiness). The best part? TinkerBots even come with Lego adaptors.
So how do these things actually move? Each pre-designed model (dog, car, ant, etc.) also comes with a pre-programmed movement pattern. The second a kid takes it out of the box and puts it together, it'll already be functional. But as kids become more comfortable with the toys, they can start programming their own movement patterns (up to 20 seconds long) simply by hitting record and moving the toy any way they want, as seen below. It's incredible.
That works fine with a weird llama-dog-type thing, but with something like a car, you're going to want to have a little more control. That's where the app comes in.
Currently, the app only works to control a more traditional car design, but the team tells us they're putting the finishing touches on app that's just as customizable as the blocks themselves. Ideally, you could remotely control anything you can dream up and control it any way you want. According to co-founder Dr. Matthias Buerger, that potentially phenomenal function should be up and running by shipping time.
The customization will go even deeper than that, though. As your child starts learning about programming, they'll even be able to go so far as to program their robots with their very own code. And—as with all things in life—they'll eventually get the option to turn it into a drone. Though for the time being, the creepiest you can get is just a remote controlled car with iPhone-eyes.
Each individual block is totally solid and damn-near unbreakable. Which is great for kids who want to destroy everything they come in contact with but pretty limiting in terms of movement. Fortunately, there are even more configuration options coming. That's where the creepy, crawly little guys you see below come in.
Adjustable sides really give the bots the ability to move in all sorts of directions and even more freedom—as if there wasn't enough already. Of course, adjustable sides also mean open spaces for kids to stick their fingers and god knows what else in. They'll be available as add-ons eventually, but the TinkerBots team is still working on designing an adjustable skin before they can become a practical reality.
The blocks aren't in wide production yet (hence the crowd-funding), but they've already earned over 20 awards from various design, education, and technology organizations—including the 2014 CeBIT Innovation Award. Obviously, TinkerBots has struck an excited, bright-eyed chord with vicarious children everywhere. And rightly so.
You'll have to wait until about mid-2015 to see the toy go into mass production, but if you get in early on the Indiegogo campaign, you should be able to receive your kit (which starts at $160 for the most basic version) by the end of the year—and it can't come soon enough. Because as exciting as the toy itself is, what we really can't wait to see are all the insane creations (and abominations) the public dreams up. Which, after all, was the whole point all along.