It's not easy to find a really good laptop for under $1,000. There's always some kind of compromise—usually related to speed, usability, or size. But everyone deserves to have a laptop that they can use in a coffee house without shame, carry to classes without pain, or use to tweak a few photos on without frustration. To that end, I've been spending a lot of time with some of the best laptops under $1,000.
The goal was to find the perfect inexpensive laptop. Something almost as excellent and well-designed as a MacBook Pro or Razer Blade Stealth, but without the hefty price tag those powerful machines carry.
After weeks of testing, I found it!
The criteria and competitors
Out of a field of eight laptops (HP was unable to provide a competitor in time for this story) four had to be eliminated pretty quickly due to failure to meet the criteria of a perfect sub-$1,000 laptop.
First, the laptop needed to have at least a 7th generation Intel processor or newer. So Apple couldn't field a challenger. It only has one laptop for under $1,000, the Macbook Air, and that has a three-year-old 5th generation processor. So if you want MacOS you'll need to sacrifice speed (and resolution—the Macbook Air's display is just 1400 x 900).
The currently available Samsung Notebook 9 was excluded for similar reasons. A thousand dollars gets you a laptop with a 6th generation Intel processor inside.

G/O Media may get a commission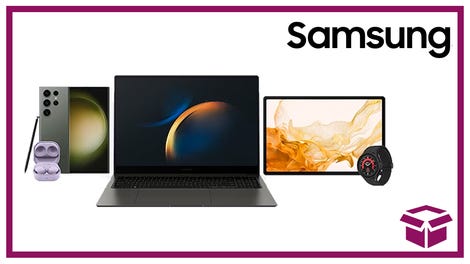 24 hour deals
Discover Samsung - Daily Deal
Beyond the processor, the laptops needed to have a minimum 1080p display and 8GB of RAM.
The Microsoft Surface Laptop's resolution was actually one of the highest found in this price range (13.5-inch touch display with 2256 x 1504 resolution), but only one version of the Surface Laptop is sold for under $1,000, and it has a measly 4GB of RAM.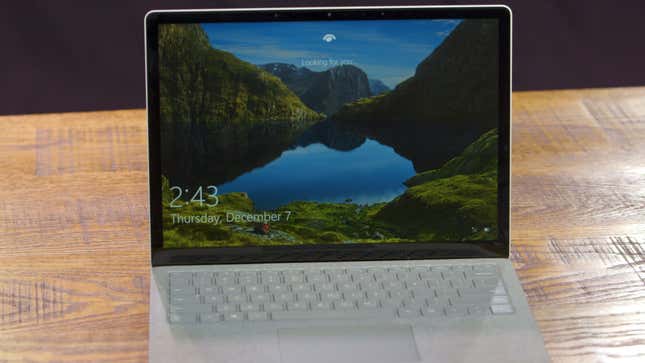 The Microsoft Surface Laptop also comes with Windows 10 S pre-installed, which means you can only use apps found in the Windows Store. After December 31st, 2017, you'll have to pay $50 to upgrade to proper Windows 10. With a price of $999 that means the Surface Laptop would quickly jump to over $1,000.
The final big criteria is that it couldn't be a Chrome OS laptop. While Google's operating system has improved substantially this year, it's still nowhere near as powerful or flexible as Windows 10, or even Linux or MacOS. This meant the excellent Pixelbook had to be excluded, but, if you don't mind Chrome OS definitely consider it. When it comes to web browsing, it's as fast as the other competitors in this battle (it could not compete in most benchmark tests), it lasted nearly 9 hours in our battery test, and there is no laptop in this price range that can match it for design. It's so nice you'll wish it had Windows inside.
That leaves us with just four laptops: the $900 Dell XPS 13, $880 Lenovo Yoga 720, $900 Asus Zenbook Flip, and $800 Acer Swift 3.
All four of these laptops have Windows 10 inside, at least a 13.3-inch display and 7th Generation Intel processor, and a price tag under $1,000.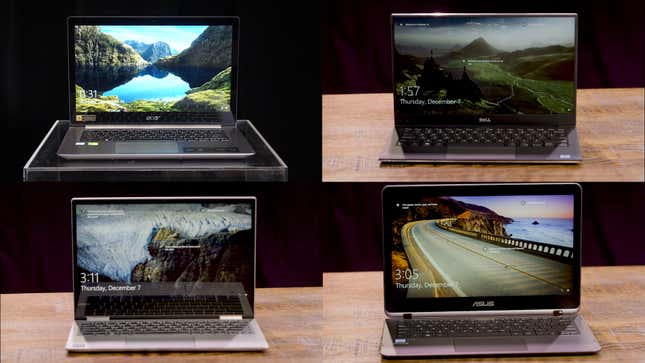 The battles
To determine the winner, I pitted all four laptops against each other in three battles. (It's a Battlemodo, so they have to fight.)
The first was speed, which meant running them through a bunch of benchmarks to test them for speed in web browsing, photo editing, and gaming.
Next I tested battery life. Each laptop was set at 200 nits brightness and streaming a 720p video off YouTube until they died.
Finally design, which is, admittedly, the most subjective test. This is where I looked at things like keyboard, ports, and webcam placement. I also noted weight and size, and I factored in how the the laptops charge—a USB-C charger is way more convenient than a proprietary one.
Battle 1: Speed
A good laptop needs to be fast. There is nothing worse than clicking on an app and waiting thirty seconds for it to load, or trying to play a quick day of Stardew Valley and fighting lag. The Acer Swift 3 and Lenovo Yoga 720 both have 8th generation Intel i5 processors to go with their 8GB of RAM and 256GB SSDs. So they instantly had a leg up on the Dell XPS 13 and Asus Zenbook Flip, which both had 7th generation Intel i5 processors and 8GB of RAM (the Dell has just a 128GB hard drive while the Asus has a more standard 256GB drive).
The newer faster processors in the Acer and Lenovo laptops meant they were neck in neck in each benchmark. The ASUS and Dell laptops usually trailed after them.
In the WebXPRT 2015 benchmark, which approximates a web-based workflow of image, spreadsheet, and general data processing, Acer's 8th generation i5 processor let it finish the tasks faster, resulting in a high score of 570. The Dell, with it's year-old 7th generation i5 processor came in dead last with a score of 359.
The 8th generation processors also helped the Acer and Lenovo laptops win in our image processing benchmark, in which we batch resize and convert 23 RAW photo files into JPEG. The two laptops had virtually identical scores, with the Acer beating the Lenovo by only a few tenths of a second.
And they were only a few milliseconds apart in the Civilizations VI graphics benchmark that averages the tim between turns in a game of Civ VI.
But while the Acer and Lenovo laptops were frequently vying for the top spot, the Acer Swift 3 almost always came out a head.
Winner: Acer Swift 3 (by a hair)
Battle 2: Battery life
Thankfully, the days of a cheap laptop only lasting a couple hours on a charge are well behind us. Today, unless it's a fancy gaming laptop, you should expect a minimum 7 hours of battery time when streaming a 720p YouTube video.
To make sure the comparisons between the four laptops was as fair as possible, I used a colorimeter to set the brightness of each one to 200 nits. I then streamed a video on a continuous loop. The laptops all used the same wi-fi and were all positioned next to one another during the test.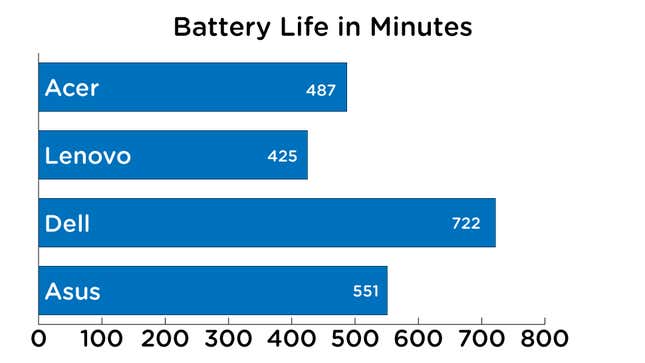 The results were shocking. The Lenovo Yoga 720 squeaked by with a barely acceptable 7 hours and 5 minutes of run time. The Acer Swift 3, owing to its larger size and battery, managed a slightly more acceptable 8 hours and 7 minutes. The Asus Zenbook Flip died after a very healthy 9 hours and 11 minutes.

But the Dell XPS 13 blew them all away with a crazy battery life of 12 hours and 2 minutes. There's no debate on this front. If you want the longest lasting laptop, you need to get the Dell XPS 13.
Winner: Dell XPS 13
Battle 3: Design
Battery life and speed are both crucial factors to consider when buying a new laptop, but, for me, what matters more, especially in a sub-$1,000 laptop, is design. It's here where cheaper laptops really begin to falter versus their pricey competitors like the Apple Macbook Pro, LG Gram 14, and Razer Blade Stealth. Those laptops have an exceptional build quality. They feel sturdy and luxurious, light and slim.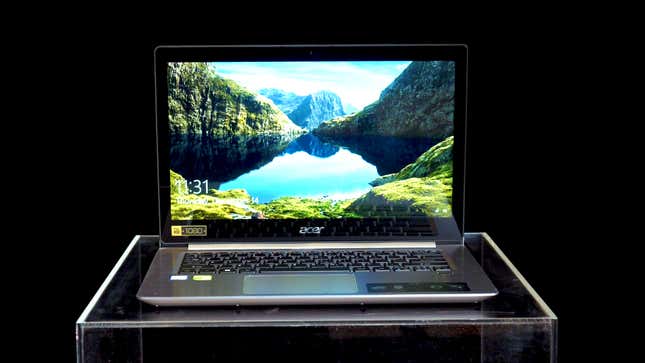 Which is why the hefty 3.97 pound Acer Swift 3 immediately lost. It's a big laptop (owing partially to its 14-inch display), that I always, always, know is in my bag. And with a thickness of .71-inches it never feels sleek like the other three. It also feels cheap! The center of the keyboard flexes when you press on it, and the hinge kind of flops when you give it a wiggle.
The Dell XPS 13 loses quickly on the design front too. But not because it feels cheap. In fact the $900 Dell XPS 13 has a build quality every bit as good as a $1,500 one, and it weighs just 2.7 pounds while being just .6-inches thick. This thing is also sturdy, with a virtually bezel-free display, great keyboard, and exceptional touchpad. But it (like the Asus ZenBook Flip and Acer Swift 3) uses a proprietary charger and that feels like a grave offense when USB-C is sitting right there.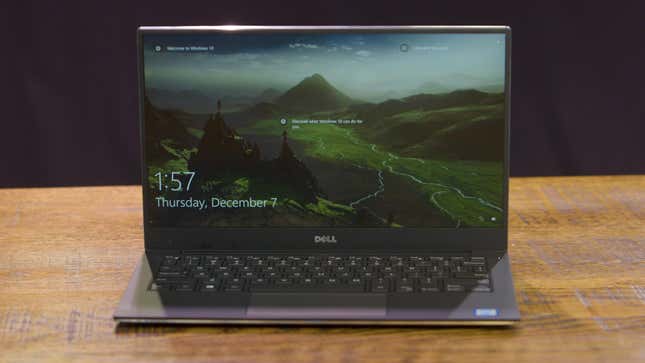 It also has the worst webcam placement in the business. Keeping the camera on the bottom left size of the bezel feels almost unforgivable. Any attempts at Skyping result in people looking up your nose, and if you do try to make eye contact with the camera than you have to tilt your head down and give yourself more chins than you probably have in day to day life.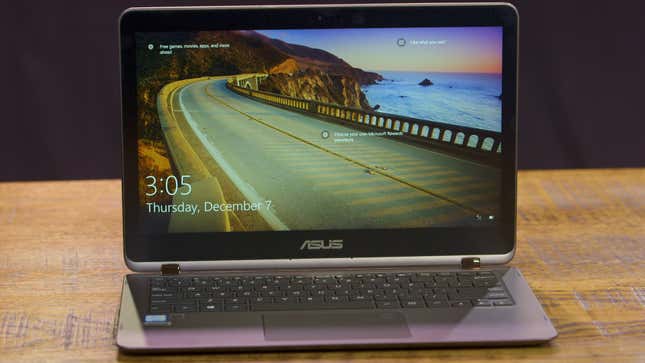 The Asus Zenbook Flip has a better placed webcam, and it's crazy thin and light, too. It weighs 2.8 pounds and is only .5-inches thick—which makes it the thinnest of the bunch. But the problem is the bezel. It's huge, especially compared to the Lenovo Yoga 720.
The Lenovo Yoga 720 is a little heavier, at 2.9 pounds, and as thick as the Dell XPS 13 at .6-inches. But the bezel practically disappears, and the webcam is placed exactly where a webcam should be. Best of all, the Lenovo charges via USB-C. This laptop is designed so well you might actually mistake it for something much more expensive, and that's precisely what you want from a laptop in this price range.
Winner: Lenovo Yoga 720
The champion
It might have the worst battery life, but it's still pretty clear that the Lenovo Yoga 720 is the best laptop you can get for under $1,000.
The Acer Swift 3, at $800, is the cheapest of the four... and it shows in all the wrong ways. It might be fast, but it looks and feels like a cheap laptop. Meanwhile the $900 Dell XPS 13 and $900 Asus Zenbook Flip feel outrageously expensive next to the $880 Lenovo Yoga 720. Yes the Dell XPS 13 has better battery life, and the Asus Zenbook Flip is thinner and lighter, but they're also so much slower!
The Lenovo Yoga 720 was the second fastest laptop, and it has, hands down, the best design of all four devices. Between those factors and that reasonable price tag, it is clearly the best laptop you can get right now for under $1,000. Buy it and have few regrets.
Winner: Lenovo Yoga 720