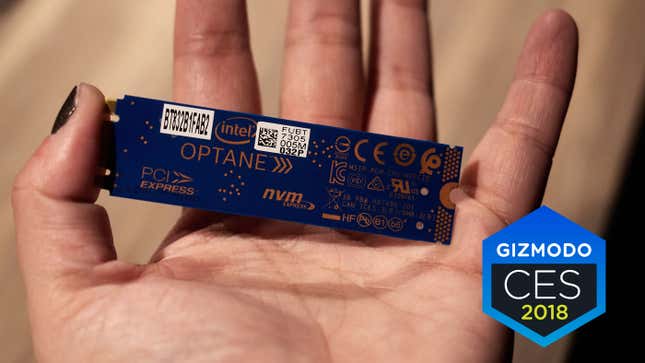 Last spring, Intel released Intel Optane memory. It was a smart use of a cool new memory type—the first memory type announced in decades, and it allowed you to double the speed of the clunky old hard drive you find in cheap computers. Now Intel is announcing a new variant of Intel Optane, the Intel Optane 800P. It's a tiny bootable drive that could make your computer ridiculously fast.
The Boogeyman's Sophie Thatcher Reveals What Draws Her to Dark Characters | io9 Interview
All Optane products are based on a very new memory type, 3DXpoint. 3DXpoint was announced by Intel and Micron back in 2015, and it's kind of a big deal. Just last year Greg Schulz, a storage analyst and operator of StorageIO told Gizmodo, "Since digital memory was created, there's only been eight major memories, the most recent being 3DXpoint." He went on to say "These things only come around every couple of decades." So this stuff is very, very new, and if you aren't up to date on how memory as a whole works then it might even sound impossible. It's as fast as the volatile DRAM memory you use for RAM sticks, but persistent like the drives you store your OS, apps, and files on.
The new, tiny Optane 800P is intended to take advantage of that speed to function as a boot drive for you computer—sort of how people now use SSD drives to boot from, and the cheaper and slow traditional hard drives to store stuff on.
It's not the first storage drives based on 3DXPoint to market. Intel already has the 4800X, which is intended for enterprise servers and goes for thousands of dollars, and it has the 900P, which currently retails for around $370 for a 280GB drive. A more traditional 256GB SSD goes for just $100.
The presumably cheaper 800P will come in two sizes, 58GB and 118GB. Those sizes might look weird, especially if you're used to you storage coming in multiples of 8, like 48GB or 128GB. David Lundell, Director of Client SSD Strategic Planning and Product Marketing, told Gizmodo that this is actually due to the 800P being 3DXpoint. It reads your data differently at the byte level that the storage you use now, which results in it coming in these new quirky storage sizes.

The new drive will come in the M.2 format, which means it will work with your desktop or with a laptop. And that's important, because according to Intel every laptop in its booth at CES is using two 800P drives in a RAID format.
The Intel 800P drives are expected to ship in February, but Intel is not discussing price or performance expectations at this time. However if my experience with Optane Memory is anything to go by, this should be the fastest hard drive your laptop has ever seen.
We're in Las Vegas at CES 2018! Click here to read our complete coverage.