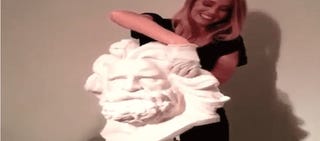 A3's Buster Cox sent us this surreal clip from Art Basel Miami Beach: a sculpture that appears to be made of marble but deforms like some kind of giant marshmallow. I imagine it's made of ultra-thin paper. I've seen similar things in the past, but not so good as this one. Any ideas?
Art Basel Miami Beach is arguably the most important art show in the US. It will be open until December 8.
---
SPLOID is a new blog about awesome stuff. Join us in Facebook.