Honestly, you never know what to expect at Fantastic Fest. One moment you're sitting in the heat, the next you stumble into the bar and see four Alamo Drafthouse bartenders competing with Star Wars themed alcoholic beverages for the honor of being served at showings of Star Wars: The Force Awakens.
The competition started at the local level, where Alamo Drafthouses all over the country challenged their bartenders to make their best Star Wars-themed drink. Winners were chosen at those levels, and the finalists were as follows:
The Jedi Guardian, from Houston, Texas

The Desert Sands, from Kalamazoo, Michigan
My Mind's Playing Tricks On Me, from Yonkers, New York
The Sand Dunes, from Austin, Texas
With Star Wars music playing in the bar, for work purposes only, I decided to sample each drink. A few times.
The Jedi Guardian is a Gin and Tonic mutation, with extra lime juice, St. Germain liqueur and more. (None of the bar tenders could give us the exact recipes, unfortunately, as these are mixtures owned by Drafthouse.) It has a familiar, but very refreshing taste. Like something you might drink on Naboo. Also, it comes with a green glow stick in it.
The Desert Sands blends tequila, vodka, St. Germain, ginger syrup with some burnt, caramelized lemon peel on top. You end up with a sort of Christmassy, cinnamon flavor that somehow makes the desert delicious. This was my favorite.
G/O Media may get a commission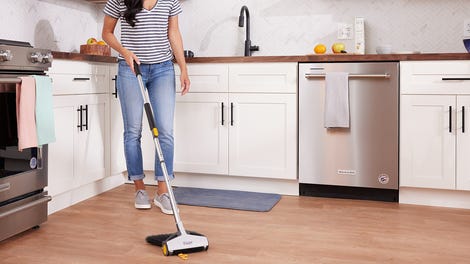 BOGO 50% Off
Flippr - BOGO 50% Off
My Mind's Playing Tricks on Me is an ambitious mix of gin, honey, basil and more mixed with an egg white to give it a thicker consistency. The taste was unique—a tad bitter—but like something you may get in Jabba's Palace or Mos Eisley Cantina. All it was missing was the blue coloring.
Finally, the Sand Dunes is a Tatooine-inspired drink mixing orange juice, lime juice, two kinds of rum and more. The result is an incredibly refreshing, fruity drink that almost doesn't taste like it has any booze in it at all.
Fans who walked into the bar could vote for their own favorite, and then a team of judges, including Drafthouse beverage and food managers, voted on their own favorites.
In the end, after much deliberation and drinking two winners were chosen: Desert Sands won the audience award and The Sand Dunes was the judges pick.
You can drink the Desert Sands and the Sand Dunes at all Alamo Drafthouse locations starting in December when a little movie called Star Wars: The Force Awakens hits theaters.
---
Contact the author at germain@io9.com.