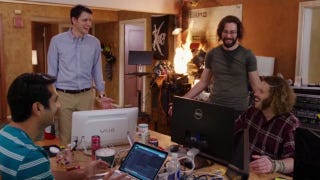 While we're all waiting impatiently for HBO to roll out the next series of its tech startup documentary, Firefox founder Blake Ross has been busy penning how he thinks things should pan out.
Ross has posted the complete script for how he thinks the first episode of Silicon Valley Season Three should go. Spoilers: Richard gets fired via Snapchat, Pied Piper tries to go open source, and Erlich writes interview questions. Russ does not get his comma back.
The full script, complete with camera directions and some genuine Valley insight from Ross's experience, is on his website. Given you've got eight months to wait for the real deal, it's definitely worth a read.
[Blake Ross via TechCrunch]