You know what skill kids are never taught in school? How to perfectly apply stickers and decals to their toys. And while it's hard enough to properly stick them on a flat surface without training, it's impossible to do so when it's curved. Or at least it was impossible until Mattel designed a kid-friendly vacuum chamber that perfectly sucks decals onto any shape or surface.
The $30 Graphic Skinz Design Studio sounds like a tool you'd find at an auto-detailing shop, but instead of wrapping hubcaps in fake carbon fiber skins, it's designed to be used to add graphics, textures, and patterns to everything from toy cars, to smartphone cases, to jewelry—anything small enough to fit inside the chamber.
To make the magic happen all kids need to do is position one of the decal skins on or around an object, wrap it with a moistened sponge, and then place it all inside a plastic bag in the vacuum chamber. A simple push of a button sucks all of the air out of the bag which squeezes everything together, perfectly adhering the wet decal to any surface.
After 20 seconds you take everything out, smooth out any wrinkles on the decal with your fingers, and then let your creation dry for a minute or two—and that's it. There are no harsh chemicals to deal with, no heaters needed for curing, and no crooked decals that look like a ten-year-old applied them by hand. [Mattel]
G/O Media may get a commission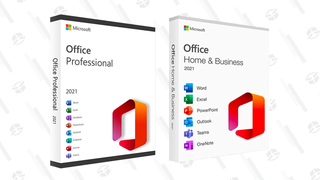 89% off
Microsoft Office Professional 2021 Lifetime License
---