About 350 people gathered near the steps of L.A.'s Natural History Museum on Wednesday night to hear historians, museum officials, and politicians talk about the 100th birthday of the institution. But your humble retrofuture bloggist was there for one reason, and one reason only: to see the museum's new time capsule.
A hundred years earlier, 10,000 people had gathered in that same spot to celebrate the opening of the NHM, then known as the Museum of History, Science and Art. Yes, the turnout for Wednesday's ceremony was much more modest than that of 1913, but you have to remember that things like television and pornography and fun hadn't been invented yet back then.
The people who founded the museum didn't actually seal a time capsule when it opened on November 6, 1913. Instead, their capsule had been placed in the cornerstone of the museum a few years earlier during construction of the building in December of 1910. That capsule is a copper box containing newspapers, a copper etching of the architects' drawing of the building, and rosters of old men who were terrified that their names would be lost to history.
A photo of the December 17, 1910 time capsule ceremony is above.
G/O Media may get a commission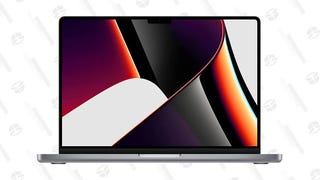 Save $300
2021 14" 1TB MacBook Pro
The new time capsule prominently reads "2013-2113," but if you look at the fine print, this capsule will make its 100 year journey will a few pit stops. It's scheduled to be opened in 25 year increments (2038, 2063, 2088, and 2113), with each new generation adding something from their own time.
This kind of leapfrogging time capsule isn't altogether unusual, but the decision to use this system (along with news that the new capsule won't be buried, and instead simply locked away in a secure place) will no doubt upset the more fundamentalist elements of the time capsule community.
Some of the new capsule's contents were on display at Wednesday night's ceremony, including plenty of museum paraphernalia like postcards, lanyards, staff badges, museum books and magazines.
But some of the most interesting items were of decidedly more organic origin, including compost from the museum's garden, a sediment sample from a site near the La Brea Tar Pits, and dried native plants like Toyon, California Holly, and Christmas Berry.
This being a museum of natural history, they also included some dinosaur-themed items, like a dino picture drawn by a local kid and a life-sized model of a dinosaur called Fruitadens haagarorum—the smallest known dinosaur to ever scurry across North America.
Videos were also included in the new time capsule, including a copy of the museum's 2010 TV ad, which appears below via YouTube.
During the two days leading up to the ceremony, visitors to the museum were encouraged to sign a guest book, which was also included in the new time capsule. There's nothing like the pressure of trying to come up with something clever or interesting that you know will only be read by some time capsule nerd in the year 2113. Needless to say, I failed. I'm sorry, future time capsule nerd.
Visitors also received a bottle of 100% genuine Los Angeles water, much like the souvenirs that were given out a hundred years earlier.
A bottle of said water will also be included in the time capsule, though here's hoping the bottle's cap stays in tact for its time-hopping journey. Future Angelenos will probably need it after Southern California breaks off and drifts into the ocean, creating a Waterworld-esque dystopia where water is more precious than oil.
---
Images: All photos by Matt Novak, except for the 1910 time capsule ceremony which appears courtesy of the Natural History Museum of Los Angeles