In this week's tentatively materialistic app roundup: Deals, scrutinized! Barcodes, scanned! Movies, thriftily rented! Magazines, digitized! Pac-Man, terrifyingly adapted to the road! The iPhone's camera, made less terrible! Turn-by-turn, discounted! Home screens, organized! And more...
To view the following gallery as a single page, click here
The Apps
This Weeks' iPhone News on Giz

• A Thanksgiving Message From the iPhone
G/O Media may get a commission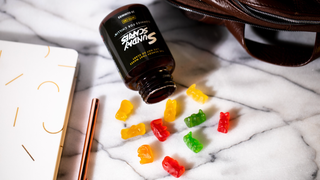 10mg CBD Gummies (22-Count)
• Opening Up a Sega Genesis Leads to a Genesis iPhone Dock, Naturally
• This Is How Multitasking Should Work On the iPhone
• iPhone and Android Are Taking Over the (Mobile) Internet
• New Apple Ads Get In on the AT&T vs. Verizon Slapfest
• The Dumb iPhone That Thinks It's a MacBook
• Three-iPhone Ocarina Much More Expensive Than No-iPhone Ocarina
• New Jailbroken iPhone Worm Wants Your Bank Details
This list is in no way definitive. If you've spotted a great app that hit the store this week, give us a heads up or, better yet, your firsthand impressions in the comments. And for even more apps: see our previous weekly roundups here, and check out our Favorite iPhone Apps Directory. Have a great weekend, everybody!