Whether it's superspies, superzombies or relaunched superfranchises, there's a cornucopia of delights awaiting you at the comic store this week. And, if you're not into super-anythings, then there're still some books for you to consider, as well. Crave these comics.
There's an embarrassment of riches for you at your local comic book store this week. In the midst of their grim Blackest Night event (the second issue of which is released this week, alongside the first issue of Blackest Night: Batman), DC Comics launches what may be its most upbeat superhero series: Adventure Comics, about the recently-revived Superboy as well as the Legion of Super-Heroes, courtesy of Geoff Johns.
DC is also letting you catch up with what's going on in the Superman series with Superman Secret Files And Origins 2009. And pick up the first issue of new spy comedy Red Herring, with art by the severely underrated Philip Bond — which is reason enough to go and buy it already.
Marvel, meanwhile, is putting its eggs in the basket marked "Ultimate Comics." Well, not entirely — Jeff Parker's final issues of the incredibly enjoyable X-Men First Class are collected in X-Men First Class: Finals (If you've been burned out on mutant drama and angst, consider this a must-read). And there's European space opera to be had in Universal War One: Revelations, which collects the recent mini-series of the same name in smart hardcover format.
G/O Media may get a commission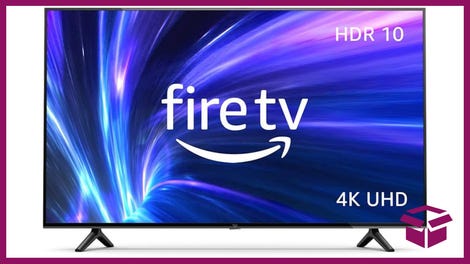 42% Off
Amazon Fire TV 50" 4K Smart TV
But otherwise, Marvel's big news this week is the relaunch of their Ultimate line, with Ultimate Comics: Spider-Man and Ultimate Comics: Avengers, wherein Brian Michael Bendis and (the spectacular) David Lafuente (Spider-Man) and Mark Millar and Carlos Pacheco (Avengers) strip two of the publisher's big franchises down and start building them back up. Having seen previews of Spider-Man, it's the one I'm pushing: Beautiful art, smart writing and a Peter Parker you can't help but feel for.
We're not even done! Dynamite Entertainment collects the first year of its Battlestar Galactica comics in the Battlestar Galactica Omnibus Vol. 1 (Worth reading for the Greg Pak story that takes up the bulk of the book, which deals with concepts that were raised, but never properly dealt with, in the series itself). Meanwhile, Oni Press releases Stephen Colbert's Tek Jansen, the series that turns the fake newsman's fake SF character into a terrifying, if hilarious, reality.
IDW Publishing has your back if you enjoyed this cinematic summer, with first issues of both Star Trek: Nero (All the backstory you wanted and didn't get from the movie!) and Transformers: Tales of The Fallen. But the star of IDW's show this week — and definitely one of the comics you owe it to yourself to pick up tomorrow — is the first issue of Starstruck, which is almost indescribable but can be almost summed up by "Sexy, Space Opera-y, and at times Ridiculously Funny." But all of that is almost beside the point; you should want to buy it for the breathtaking Michael Kaluta art alone.
If all of the above isn't enough for you, check the complete list of books shipping from Diamond Distributors to see what else may take your fancy. Just remember to make sure that your wallet is fully charged when going to pick up your haul, though, because you'll probably find more than you anticipated tomorrow.