What all women love: yogurt. What women secretly love: birth control. So why not combine the two to give yogurt a little crunch and birth control a little low fat, creamy snack. Birth Control on the bottom is the solution just for girls!
It's like every commercial for women on TV. A group of racially diverse girls hanging out and doing girly things. Except in this they get to kill two birds with one birth control yogurt:
The rest of this week's comedy videos, including a screaming pool, the insanity of celebrity autographs, Chris Rock talking about Eddie Murphy and more, can be found over Splitsider.
Other highlights from the week in comedy:
- Fox pulled Ben and Kate from its schedule and ABC pulled Don't Trust the B, meaning they're both pretty much canceled, which is a shame 'cause they're good shows
G/O Media may get a commission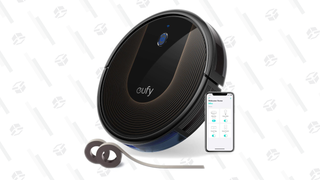 48% Off
Eufy BoostIQ RoboVac
- Matt Damon took revenge on Jimmy Kimmel by tying him up and hosting his show in front of him.
- A Bored to Death movie for HBO is officially happening.
- Pilot season kicked into high gear and the networks ordered up a bunch of pilots.
- We interviewed the Workaholics guys, SNL writer and New Yorker cartoonist Zach Kanin, Newsreaders star Mather Zickel, and the duo behind the web video "Fleetwood Mac Men."
- Key & Peele director Peter Atencio wrote a nice piece about fighting with Comedy Central to keep his show free of audience laughter.
- Comedy Central is making a pilot out of Jonah Ray and Kumail Nanjiani's excellent L.A. stand-up show The Meltdown.
- Lena Dunham went on Alec Baldwin's podcast and other cool podcast stuff happened.
- We looked back on the Peter Boyle talking police dog sitcom Poochinski, all of Jack Black's lost projects, Christine Ebersole's short stint on SNL, and The Andy Kaufman Special.
- The early '80s ABC sketch show Fridays, starring Larry David and Michael Richards, is finally coming to DVD.
- Somebody is trying to make Girls into a reality show.
Splitsider is a website about comedy and the people who create it. It covers movies, TV shows, web videos, books and any other format that exists to make you laugh.