It's not easy leading a phalanx. The sandals are uncomfortable, the tunics itch. Oh, and if you're at the front of the charge, you're definitely going to end up as collateral damage.
Fortunately, if you're Rhys Darby (Murray from Fight of the Conchords), when you get banged up at least it's very, very funny. Full video below:
The rest of this week's top comedy videos, including dudes playing sports, Paul Scheer playing Christian Grey, and an unfortunately named Larry can be found over at Splitsider.
Other highlights from the week in comedy:
- Phyllis Diller died at age 95.
- The Office will end after this season.
- Jimmy Kimmel Live is moving to 11:30.
- IFC adopted Chris Gethard.
- Lots and lots and lots and lots and lots and lots of pilots were purchased.
- Arrested Development will debut in the spring, maybe with more than 10 episodes.
G/O Media may get a commission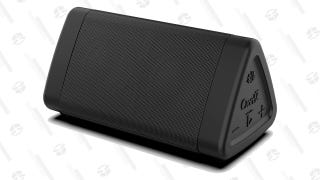 Save 31%
Oontz Angle 3 Portable Bluetooth Speaker
- We found 53 Arrested Development jokes you probably missed.
- We interviewed Rory Scovel about stand-up.
- We spoke to Paul Scheer about some of his ridiculous lost roles.
- We talked to Patrick Carlyle and Allyn Rachel about turning their web series into a Fox pilot.
- We guided you through the pre-SNL years of The Lonely Island.
- We talked to Bill Plympton about indie animation.
- We went into the archives and watched Julie Klausner's interview with Fred & Carrie.
- We remember the silent film era by watching the comedy doc When Comedy Was King.
- We looked back at Chris Elliott's single year on SNL.
- We followed @Girlwithatail on Twitter.
- We talked to Jake Fogelnest about his new podcast.
- We determined in the eight essential Scott Baio movies.
- We looked back at HBO's underrated The High Life.
- We watched Jackie Brown and determined Quentin Tarantino needs a sitcom.
- We answered your questions about our totally normal christening.
Splitsider is a website about comedy and the people who create it. It covers movies, TV shows, web videos, books and any other format that exists to make you laugh.