Watch the first ten minutes of the new series The Lottery, about a battle to control embryos fertilized during a global fertility crisis. Also, one of Jake's kids takes charge on Adventure Time, The Leftovers enjoys a post-Rapture Christmas, and things get more dire on The Strain. Check out the details below!
Top image from Teen Wolf.
Tonight
Teen Wolf (10 PM, MTV)
Who is the Benefactor? This week's episode may have some answers:
On the night of the full moon, uninvited guests turn up at Lydia's lake house; Derek pursues a killer.
Under the Dome (10 PM, CBS)
Yep, life in Chester's Mill still basically sucks.
When tensions in Chester's Mill continue to rise as resources dwindle, Big Jim holds a census in order to forecast how long the town can continue to exist under the dire conditions. Meanwhile, a rainstorm brings much-needed water until it changes to acid rain, threatening the lives of everyone it touches. Also, Rebecca and Lyle butt heads over the reasons for the dome's existence.
G/O Media may get a commission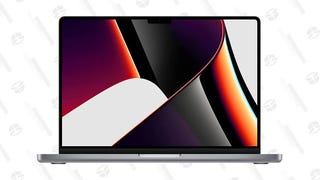 Save $300
2021 14" 1TB MacBook Pro
Tuesday
The Wil Wheaton Project (9 PM, Syfy)
Wil Wheaton laments the lack of vampire apes in media on this week's episode.
Wednesday
Extant (9 PM, CBS)
It wouldn't be a mysterious pregnancy show without a shocking ultrasound:
After Molly collapses and experiences a vision of her encounter on the Seraphim, Sam agrees to give her an ultrasound so she can learn more about her mysterious pregnancy. Also, Molly tracks down Kryger and he reveals the disturbing details of his own solo mission that the International Space Exploration Agency (ISEA) is keeping secret.
Through the Wormhole with Morgan Freeman (9 PM, Science Channel)
Listen to Morgan Freeman lead us through the idea of a shadow universe:
When we look up into the sky it appears we live in a universe that is filled with light. But scientists are now certain there is far more matter in the dark portions of our universe that we can't see or touch. There's something hiding in the shadows. Cosmologists agree that "dark matter" has helped shape our Universe, but now they need to figure out what dark matter is. What's going on in this hidden world? Could it have formed its own dark stars, planets, and even life forms? Could this Shadow Universe threaten our world of light?
Thursday
Adventure Time (7 PM, Cartoon Network)
Fed up with Jake's antics, his son Kim Kil Whan takes action.
Defiance (8 PM, Syfy)
A stalker comes after Amanda, raising concerns for both Nolan and Niles.
Dominion (9 PM, Syfy)
Alex begins training under Michael while David learns a great secret and a bombshell about Claire changes everything.
Mythbusters (9 PM, Discovery)
Don't try this at home, no matter how much you want to put a piano through your roof.
The MythBusters test household myths: Could a vacuum cleaner explode while sucking up black powder? Could sunscreen scorch your skin? Could a piano crash through your roof? And finally could an exploding water heater extinguish a house fire?
Friday
The Legend of Korra (8 PM, Nickelodeon)
Looks like we'll have a have a pair of family-focused episodes this week as Lin and Korra stay in Zaofu:
Korra practices metal bending. Lin takes an acupuncture session. Zaheer, Ghazan, Ming-Hua and P'Li escape Republic City.
While brothers Bumi and Tenzin butt heads over Airbender training:
Though contending with Bumi's bad attitude, Tenzin tries to train the new members of the Air Nation.
Saturday
Sailor Moon Crystal (Streaming, Neon Alley, Hulu, and Crunchyroll)
We meet our rebooted Sailor Mercury this week. Hi, Ami!
Sunday
Space Dandy (12:30 AM, Adult Swim)
In "Slow and Steady Wins the Race, Baby," Dandy and Meow save a fish alien's planet from destruction.
The Last Ship (9 PM, TNT)
Slaying monsters seems like a luxury when you're in the midst of a global pandemic.
With Rachel close to a breakthrough on her vaccine, she, Chandler and XO Slattery lead a small team into the jungles of Nicaragua on a mission to find monkeys for her vaccine trials. While there, they find much more than they bargained for when they run across a former drug kingpin who will stop at nothing to maintain his stranglehold on his oppressed society. Chandler and his men find themselves in a huge moral dilemma over whether to eliminate this menace or take what they need and continue on with their mission.
True Blood (9 PM, HBO)
And here come more Vampire Bill flashbacks.
Exhausted from her recent travails, Sookie finds herself the unwilling host of a festive mainstreaming party in Bon Temps. In search of an elusive adversary, Eric and Pam head to Dallas and attend a gala fundraiser. Andy (Chris Bauer) makes a life-changing decision; Jessica and James reach a crossroads; Bill loses himself in remembrance of human days.
The Witches of East End (9 PM, Lifetime)
Ingrid prepares to move out while Freya tracks down Killian. Dash discovers the identity of his blackmailer and plans revenge. Wendy and Joanna follow Frederick to figure out what his motives are since reconnecting with the family.
The Leftovers (10 PM, HBO)
What is a Guilty Remnant Christmas like? Does everyone get cigarettes and dry-erase boards? Do they stand around and not sing Christmas carols?
A holiday display goes wanting, sending Kevin scurrying to find out who is responsible. Tom and Christine run into trouble at a hospital and on the road. Kevin retrieves a surprise detainee from a neighboring police station, and receives unexpected visitors at home. The Guilty Remnant put its stamp on the holiday season.
The Lottery (10 PM, Lifetime)
Lifetime's new series has a touch of Children of Men's fertility crisis, but with a different twist. You can watch the first ten minutes above.
Set within a dystopian future driven by a global fertility crisis, The Lottery reveals a world staring down the barrel of impending extinction as women have mysteriously stopped bearing children. After years of research, Dr. Alison Lennon (Shelton) and her team remarkably fertilize 100 embryos. However, her victory is short-lived when the Director of the U.S. Fertility Commission, Darius Hayes (Donovan), takes government control of the lab and informs the President (Vasquez) of the monumental scientific breakthrough. To determine which women will carry the prized embryos to term, Chief of Staff Vanessa Keller (Karkanis) convinces the President to hold a national lottery and a battle over the control of the 100 embryos begins. Michael Graziadei stars as Kyle, a recovering alcoholic and single father of one of the last children born in the country, while David Alpay stars as James, Alison's colleague and lab assistant. Shelley Conn portrays Gabrielle, the First Lady of the United States.
Masters of Sex (10 PM, Showtime)
Masters begins a new job at Memorial Hospital under Betty's extortion terms only to discover that his boss insists he leave Virginia behind in favor of a handpicked secretary. Meanwhile, Johnson is torn between pressing Masters to rehire her and staying by DePaul's side as her condition worsens.
The Strain (10 PM, FX)
Always quarantine the mysterious plane survivors. Always.
The four survivors begin manifesting strange symptoms, but Eph and Nora's attempt to quarantine them is thwarted as the disinformation campaign begins. Meanwhile, in jail, Setrakian receives a surprise visit from an old - a very old - acquaintance.
Robot Chicken (11:30 PM, Adult Swim)
This week's episode is "Victoria's Secret of NIMH"