Remember how we had a bunch of season finales last week? That was pretty awesome, huh? Unfortunately, though, it means one thing for this week's television: Kind of a slow week. But don't panic! There's still copious televisual greatness ahead!
For one thing, Batman fights Star Sapphire, who's arguably Green Lantern's most alluring nemesis. (Sorry, Professor Ojo.) For another, the Avengers are facing the awesome threat of Ultron-5. And then there's a climactic episode of Game of Thrones, and the series finale of The Event. Here's your guide to all the excitement the telly has in store this week!
Today:
Amazing World of Gumball is on Cartoon Network at 7:30 PM. Then at 8:30 PM, there's a new Mad. That's followed at 8:30 by a new episode of Regular Show, in which "Mordecai and Rigby go to unbelievable lengths to beat Muscle Man and High Five Ghost in a radio contest to win a car." And then at 8:45, there's a new Problem Solverz, in which "The Problem Solverz come to Tux's rescue when he gets caught while trying to take on the biggest bad guy in town: Bad Cat."
Also at 8 PM: the seventh season finale of House on Fox, entitled, "Wait, is this show still on?" No, not really. Here's the real deets:
"Moving On": Well-known performance artist Afsoun Hamidi (guest star Aghdashloo) is admitted to the hospital, but when the team learns that her symptoms may have been self-inflicted as part of a documentary for her latest performance piece, they begin to question whether treatments are necessary and if they are unwittingly participating in the creation of a piece of her art. Meanwhile, a situation prompts House to do something that could change his relationship with Cuddy and Wilson permanently.
At 9 PM, NBC has the finale of The Event, "The Arrival."
The White House is gripped by a power struggle of historic proportions, pitting Martinez (Blair Underwood) and Chief of Staff Peel (guest star Roger Bart, "Desperate Housewives") against Jarvis (Bill Smitrovich) and his secret ally, Sophia (Laura Innes). Elsewhere, Sean (Jason Ritter), Vicky (Taylor Cole), Sterling (Zeljko Ivanek), and Simon (Ian Anthony Dale) race to stop the dispersion points for the virus. Meanwhile, Leila (Sarah Roemer) fights for her life. But it all may be too late — as the portal begins to open, sending tremors across the globe.
At 10 PM, Syfy's Sanctuary has another new episode, "Normandy."
Looking back at the events leading up to the momentous D-Day invasions at Normandy during World War II - events which directly pitted Magnus, Watson and Griffin against the Nazis.
G/O Media may get a commission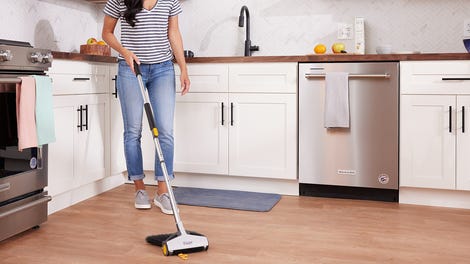 BOGO 50% Off
Flippr - BOGO 50% Off
And then at 4 AM, as part of its "DVR Theater" block, Cartoon Network's Adult Swim is showing the first four episodes of Soul Quest Overdrive, about four pieces of sporting goods equipment, voiced by H. Jon Benjamin, David Cross, Kristen Schaal, and Gavin Mclnnes.
Tuesday:
At 7:30 PM, the Cartoon Network has another new Scooby-Doo: Mystery Inc., "Escape from Mystery Manor." I'm guessing it'll be mysterious. That's followed at 8 PM by a new episode of the inexplicable Looney Tunes sitcom, The Looney Tunes Show, called "Fish and Visitors."
Wednesday:
A new South Park is on Comedy Central at 10 PM.
Thursday:
National Geographic has a new Naked Science at 8 PM, followed at 9 PM by a new Known Universe, "Extreme Space Tech."
Humans have come to recognize Earth as an environment where we are in control. Were continually creating technologies that get bigger, faster, and make us more interconnected. In this episode of KNOWN UNIVERSE well explore how science is re-thinking the physics of the universe to take everything from basic household items and vehicles to our most advanced technologies here on Earth and transform them for use in space.
Also at 9 PM, MTV is having a one-hour Lady Gaga special. She's the mother of all monsters! But not the one that just fought the Winchesters a while ago. We don't think.
Friday:
It's the meeting you've been waiting for! A new Batman: The Brave and the Bold features "The Scorn of the Star Sapphire!" Yes, Bruce is meeting Hal Jordan's girlfriend, and she's pissed and scantily clad. Plus, it's written by J.M. DeMatteis. Here's a second clip.
Saturday:
The Hub is having its random grab-bag of Transformers and G.I. Joe cartoons as usual from 7 to 9 PM.
Sunday:
Disney XD is showing another new episode of Avengers: Earth's Mightiest Heroes at 10 AM, and it's called "Ultron-5." Does that mean we get naked lady Ultron? Find out for yourself, with this clip.
HBO's Game of Thrones has its seventh episode at 9 PM, entitled "You Win Or You Die." Do you think someone is finally going to figure out the rules to this crazy game or something?
Ned and Cersei have a meeting about Jon Arryn's death. Jon Snow takes his vows to become a man of the Night's Watch. Khal Drogo has an abrupt change of mind after an assassination attempt on Dany. King Robert is severely injured by a boar and must make decisions on the future of his kingdom.
Sources: Futon Critic, TV Guide, and various TV studio press releases.