Doctor Who returns this weekend with an extra-long holiday special — and we've got three brand new clips! Also, Terra Nova and American Horror Story are both having their season finales. Which do you think will be more demented? But there's also something called Viking Apocalypse, and a TV show about superhero-themed "man caves." Check out tons of clips and details for this week's television below!
Today:
The big event on television tonight is the two-hour season finale of Terra Nova on Fox, from 8 to 10 PM. This is when we finally get the payoff to the whole storyline about the Sixers, and Nathaniel Taylor's evil son — and it should be fun and demented, at the very least. This is Terra Nova's last chance to leave us all with a good impression, and I'm keeping my fingers crossed. Here's what happens:
In the two-hour season finale, the 11th Pilgrimage arrives in Terra Nova and the mysterious Phoenix Group in 2149 makes its move to pillage the past with the help of Lucas and Mira. Meanwhile, Jim and Taylor team up in a last stand against the Phoenix Group, a colonist makes the ultimate sacrifice and a decision is made that will change life in Terra Nova forever.
Do you think the "decision that will change life in Terra Nova" could possibly involve something other than closing the portal permanently? That's my totally uneducated guess, anyway. And here's an insane number of clips from the episode, which contain massive spoilers:

Meanwhile, also at 8, NickToons has a new Dragon Ball Z Kai, with the awesome title, "Tears for an Android! Gohan's Inner Rage Bursts Forth!" Check out a brief clip.
G/O Media may get a commission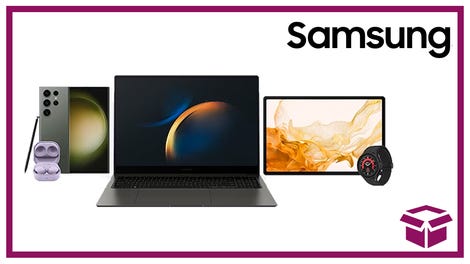 24 hour deals
Discover Samsung - Daily Deal
And then at 10 PM, Science has a new episode of Meteorite Men.
Tuesday:
At 8 PM, NickToons has another new Dragon Ball Z Kai, "Unleash the Warrior Within! Gohan Takes the Offensive!"
At 9 PM, the Travel Channel has a new Mysteries at the Museum, including a segment about a flying car.
At 10 PM, H2 has a new episode of The Universe, called "God and the Universe." Not that they're tackling any particularly huge topics or anything. Here's what to expect.
Since the dawn of civilization, humans have wondered who or what created the universe. Religion offers a spiritual answer, but do the latest discoveries in physics show evidence of a transcendent intelligence, or simply that the laws of physics by themselves could have led to the universe in which we live? This episode embarks on a mind-bending scientific search for God, asking physicists and theologians if the seemingly miraculous way the universe has been calibrated to support life is evidence of a creator...whether string theory will eventually be able to rule out the existence of God...why Stephen Hawking says the universe could have been created spontaneously...and how an advanced civilization in another universe could have conceivably created our own.
Wednesday:
At 8 PM, NickToons has yet another new Dragon Ball Z Kai, "Perfection's End! A Fury, Beyond Super Saiyan!"
At 10 PM, there's the 90-minute season finale of American Horror Story on FX, "Afterbirth." What is there left for this show to do? Baby-eating? I don't think they've done baby-eating yet, but maybe I missed that episode. Here's what FX wants us to know will happen:
Season 1 concludes as Constance schemes to raise Tate's baby as her own.
Thursday:
NickToons continues the daily airings of Dragon Ball Z Kai at 8 PM, with "A Hero's Sacrifice! Last Chance to Save the World!" Yeah!
Also at 8 PM, National Geographic has a special called Viking Apocalypse. I almost don't want to know what it's about, because it would ruin that perfect title.
Then at 10 PM, National Geographic has a new The Truth Behind, focusing on Atlantis.
Also at 10 PM, there's a brand new Beavis and Butthead on MTV.
Friday:
At 8 PM, NBC continues their policy of burning off new episodes of Chuck no matter what — and this one's a Christmas episode! "Chuck Vs. The Santa Suit" features the show's most epic cameo yet:
GHOSTS OF CHRISTMAS PAST RETURN TO HAUNT CHUCK AND SARAH WHEN OLD SECRETS AND THREATS RESURFACE — COMIC BOOK LEGEND STAN LEE GUEST-STARS — Chuck (Zachary Levi) and Sarah (Yvonne Strahovski) discover who's behind the plot to destroy Carmichael Industries. Meanwhile, Ellie's (Sarah Lancaster) plans for a perfect Christmas begin to come apart. At the Buy More, Morgan (Joshua Gomez) and the gang must fend off angry customers as a computer virus threatens to ruin Christmas.
At 9 PM on the DIY Channel, there's an episode of Man Caves called "Super Hero Cave." Weirdly fascinating — but probably pretty horrible.
Also at 10 PM, there's a new Sanctuary on Syfy, "Sanctuary For None, Part 1":
A final confrontation looms as the team races to prevent the unleashing of a doomsday weapon.... Caleb asks Magnus to help broker a peace deal between his insurgents and the governments on the surface; Addison reactivates Will's federal commission; Tesla resurfaces.
Here's a sneak peek.
And at 11 PM on G4, there's a new episode of X-Men Anime, "Countdown."
Saturday:
It's all BBC America tonight. First at 8 PM, BBC America has a new feature, Doctor Who: Best of the Christmas Specials, in which the previous holiday episodes of Who (probably not including that episode of "Daleks Master Plan") are celebrated. And it looks like as part of that episode, BBC America has been asking the show's fans to post Youtube videos answering questions about the show. And some of those videos will be included as part of this one-hour episode — possibly including a couple of io9ers!
Then at 9 PM, BBC America has the Nerdist Year in Review special, featuring celebrity guests like Wil Wheaton and Nathan Fillion. In which Wheaton explains to Fillion that the former Firefly star is his wife's "sexception." Also, various fans discuss their favorite moments from the most recent year of Doctor Who.
Sunday:
Science is having a Firefly marathon all day long — thanks for the reminder, Michael!
And then there's the thing you've been waiting all week for. At 9 PM, BBC America has the Doctor Who Christmas special, "The Doctor, The Widow and the Wardrobe." It's both Christmassy and Narnia-y.
It's Christmas Eve, 1938, when Madge Arwell comes to the aid of an injured Spaceman Angel as she cycles home. He promises to repay her kindness – all she has to do is make a wish.

Three years later, a devastated Madge escapes war-torn London with her two children for a dilapidated house in Dorset. She is crippled with grief at the news her husband has been lost over the channel, but determined to give Lily and Cyril the best Christmas ever.

The Arwells are surprised to be greeted by a madcap caretaker whose mysterious Christmas gift leads them into a magical wintry world. Here, Madge will learn how to be braver than she ever thought possible. And that wishes can come true...
And here are three clips, via DoctorWhoTV!

Or you could watch a new Leverage on TNT, also at 9 PM. But who are we kidding?
Sources: Futon Critic, MSN TV, TV Guide, and various TV studio press releases.