You can learn a lot from this week's TV. Like why the Voltron kids don't just form Voltron at the start of a battle. And exactly the worst thing that can happen in a romance on Adventure Time. Plus Person of Interest and Awake are both giving us some pretty twisted criminal enterprises.
Most of all, though, this week's TV gives us genre MVP Felicia Day, playing a hacker caught in the middle of the end of the world as we know it. And you know, it doesn't get much better than that. Tons of details and clips for the week's television offerings below.
Today:
Adventure Time (7:30 PM, Cartoon Network):
In "Dream of Love," here's what happens: "Tree Trunks' new relationship starts to upset her friends." Check out a clip at left. That's followed by a new Regular Show and a new Mad.
Eureka (9 PM, Syfy):
On "The Real Thing,"
Carter and Andy are jailed for trying to steal a piece of equipment to complete a device that Kevin has assembled to search for the Astraeus crew. Meanwhile, Holly comes up with a dangerous theory.
And here's a sneak peek.
Lost Girl (10 PM, Syfy):
It's "I Fought the Fae (and the Fae Won)." For once, "Fae" is not used in a weird pun — yay! And apparently it's about a traditional "stag hunt" to choose the next Ash — which Bo gets roped into despite her best intentions. Check out a sneak peek at left.
G/O Media may get a commission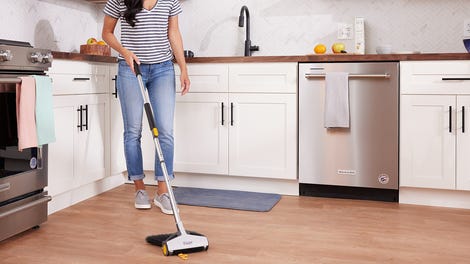 BOGO 50% Off
Flippr - BOGO 50% Off
Also on TV tonight: a brand new House at 9 PM on Fox, and a brand new Castle on ABC at 10 PM.
---
Tuesday:
Level Up (9 PM, Cartoon Network):
The guys set up a new HQ in Max's warehouse, and they throw a party... which doesn't quite go as planned.
Also on TV tonight: The season finale of Doomsday Preppers at 9 PM on Discovery.
---
Wednesday:
Voltron Force (8 PM, NickToons)
It's the season finale! Here's a clip from Topless Robot that shows why they don't just form Voltron at the start of a battle. And here's what happens in the finale:
Castle Doom becomes a huge Robeast and plans to annihilate the Galaxy Alliance.
Nova (9 PM, PBS):
It's "Secrets of the Sun!" At last, we'll find out why it keeps spitting out such huge terrifying solar flares at us. Here's how Nova describes it:
Gain a greater understanding of our nearest star - one that might help keep our planet from going dark.
Also on TV tonight: the spring finale of South Park at 10 PM, and the season finale of Ugly Americans at 10:30 PM on Comedy Central.
---
Thursday:
The Vampire Diaries (8 PM, The CW):
This show is becoming more and more ludicrous lately. So it must be time for yet another dance! Here's the synopsis:
Alaric (Matt Davis) finds an unexpected ally to guide him on his dangerous new path, while Damon (Ian Somerhalder) and Meredith (guest star Torrey Devitto) try to figure out what their next move should be. At the school's 1920s Decade Dance, Bonnie (Kat Graham) asks Jamie (guest star Robert Ri'chard) to go with her and, at Caroline's (Candice Accola) suggestion, Elena (Nina Dobrev) asks Stefan (Paul Wesley) to be her date. Caroline is pleasantly surprised when Tyler (Michael Trevino) shows up at the dance determined to sweep her off her feet, but Klaus (Joseph Morgan) does his best to come between them. The dance takes a deadly turn when Damon and Stefan realize they need the help of Matt (Zach Roerig), Jeremy (Steven R. McQueen) and especially Bonnie to undo a spell that could prove devastating for everyone.
Person of Interest (9 PM, CBS):
Yay, this show is back again! And it's another Reese flashback episode. And another "Reese goes undercover with criminals" episode:
The Machine's latest mark puts Reese undercover as part of an armored truck crew, a case that brings back memories of his last CIA mission and painful decisions he was forced to make.
Touch (9 PM, FOX):
It's got the catchy episode title "Noosphere Rising." And here's what happens:
Martin attempts to find Teller's mysterious workshop and winds up aiding another professor, Logan, to win big at poker. Meanwhile, a young Italian man creates a viral video to track down the love of his life, whom he only met in passing, and a city slicker who plans to sell off his dead father's ranch, winds up learning a lesson from a horse that makes him appreciate the rural life his father chose. Then, Martin's sister-in-law, Abigail Kelsey, visits Clea and Jake at the board-and-care facility, much to Martin's dismay.
Awake (10 PM, NBC):
Here's a pretty unique spin on this show's "two worlds" premise:
A big football rivalry captures the attention of the police department, but all bets are off when the final play goes both ways in Detective Britten's (Jason Isaacs) two realities. In one world a dispute between rival fans leads to a murder in the stadium parking lot and in the other an in-the-red gambler gets burned. Meanwhile, Rex (Dylan Minnette) is suffering from a broken heart. Elsewhere, Vega (Wilmer Valderrama) and Hannah (Laura Allen) are planning a going away party for Britten.
Also on TV tonight: There are new episodes of Big Bang Theory (guest-starring Wil Wheaton) and Community at 8 PM, on CBS and NBC respectively. A new Secret Circle on The CW at 9 PM.
---
Friday:
Supernatural (9 PM, The CW):
So now that everybody knows that Bobby is back on the team, it'll all be hunky and dory, right? Uh, not exactly. Here's the skinny for this episode, with a very special guest star:
Dick Roman (James Patrick Stuart) acquires Frank's hard drive that contains sensitive information about the Winchesters and gives it to an unsuspecting brilliant hacker named Charlie (guest star Day) telling her she has 48 hours to crack the firewall or she is fired. Sam (Jared Padalecki) and Dean (Jensen Ackles) are tipped off that Dick has the hard drive and race to get to Charlie before she breaks the code. Meanwhile, Bobby (Jim Beaver) tries to help the brothers, but his rage towards Dick for killing him starts to get in the way.
Here's a clip, where Dean gives Felicia Day flirting lessons.
Phineas & Ferb (8:30 PM, Disney):
Worth mentioning because there's a zany episode from the POV of Paul the Delivery Man, who visits Phineas & Ferb's house, Doofenschmirtz Evil Inc. and the OWCA — and decides he has a higher calling to save Danville. Also, two visiting French campfire girls help Isabella capture a grizzly bear, which calls for a costume contest.
Fringe (9 PM, FOX):
So how do you follow up one of the most thrilling and mythos-upending episodes of the past year or so? Apparently with an episode about the Cortexiphan kids, in which both Fringe teams have to join up to solve the case, and Peter considers doing the unthinkable. Also, I love the shot of Walter and Walternate sitting side by side, looking despondent. The lack of Walternate-Walter interaction has been one of the great disappointments this season, so that's an exciting glimpse.
Grimm (9 PM, NBC):
Guess who's coming to dinner? Sorry, I couldn't resist. Yes, Pilates Wolf is coming over to Nick's house. This could be super fun, and a great use of Bitsie Tulloch to boot.
Also on TV tonight: There's a new Nikita on The CW at 8 PM, and a new Ancient Aliens at 10 PM on H2.
---
Saturday:
Cartoons (9:30 AM, Cartoon Network):
First, there's a new ThunderCats, in which a cat is forced to fight in a gladiatorial arena in a city of dogs. That's illegal in 49 U.S. states, and questionable in the 50th. And then on Green Lantern, Carol Ferris becomes Star Sapphire. Finally on Young Justice, Lobo arrives and he's the harbinger of an alien invasion! Plus wacky DC Nation cartoons, of course.
The Legend of Korra (1 PM, Nickelodeon):
Here's what happens in "The Voice in the Night":
Korra is recruited to join Councilman Tarrlok's task force which tries to rid the city of Equalists, and in a press conference surprises everyone when she openly challenges Amon to a duel.
Space Twister (Syfy, 9 PM):
Last week, we had the Syfy original movie Alien Tornado. How do you follow that up? We're glad you asked that:
Erica Cerra, star of Syfy's hit series Eureka, plays the mother of a teenage genius in Space Twister, premiering Saturday, April 28 at 9PM. Other-worldly storms — similar to the ones comprising the eye of Jupiter - begin destroying the planet, disintegrating everything they touch. A high school student's science project becomes the mysterious key to ending the catastrophic storms and saving civilization.
Also on TV today: A new Transformers Prime on The Hub at 8:30 PM.
---
Sunday:
Ultimate Spider-Man (11 AM, Disney XD):
The Taskmaster becomes Spidey's gym teacher! This could be fun.
When the villainous Taskmaster goes undercover as Midtown High's gym teacher to find Spider-Man, gym class becomes a battleground. Spidey and White Tiger must put aside their differences to save their friends from the Taskmaster.
Afterwards, on Avengers: Earth's Mightiest Heroes, Hank Pym's Ant Man suit gets stolen and he has to go into a criminal underworld.
Once Upon a Time (8 PM, ABC):
We're ramping up for the big showdown, with "The Stranger":
August promises to enlighten Emma and take her on a journey that will show her how she can beat Regina, and possibly take custody of Henry; and with Mary Margaret returning to work, Regina puts a plan in motion to seduce David. Meanwhile, in the fairytale land that was, with the Evil Queen's curse about to strike, Geppetto agrees to a plan that will save Snow White and Prince Charming's daughter, but with a proviso that could also save his own son.
Game of Thrones (9 PM, HBO):
Now that Arya's become a cupbearer, she's going to be serving up lots and lots... of yummy death. In fact, this episode will be full of even more tragedy and terrible decisions than usual, judging from the synopsis:
The end of the Baratheon rivalry drives Catelyn to flee and Littlefinger to act. At King's Landing, Tyrion's source alerts him to Joffrey's flawed defense plan and a mysterious secret weapon. Theon sails to the Stony Shore to prove he's worthy to be called Ironborn. In Harrenhal, Arya receives a promise from Jaqen H'ghar, one of three prisoners she saved from the Gold Cloaks. The Night's Watch arrive at the Fist of the First Men, an ancient fortress where they hope to stem the advance of the wildling army.
Metalocalypse (12:15 AM, Adult Swim):
This extreme heavy metal show is back for its fourth season, full of unspeakable horrors and amazing atrocities. I like the weird glimpse of strange wires going into someone's body.
Also on TV tonight: Fox has its usual animated comedies, including The Simpsons and Family Guy. There's a brand new Mythbusters on Discovery at 9 PM. And BBC America has a new(ish) compilation of the most brutal hunting scenes from Planet Earth, called Planet Earth: Extreme Predators, at 10 PM.
Sources: Futon Critic, MSN TV, TV Guide, and various TV studio press releases.