Seriously, it's time to embrace the brilliance of Rick and Morty, as this show returns. Plus the Police Academy gang battle giant lava spiders, and there are more mutant shark movies than you can shake a #$%*ing stick at, all on This Week's TV!

Tonight:
3 Headed Shark Attack (7PM, SYFY)
Danny Trejo stars in the sequel to 2012's 2-Headed Shark Attack. "Somethin's spookin' the mutations!"
Zombie Shark (9PM, SYFY)
Jason London plays "Maxwell Cage". It also has a great poster:
G/O Media may get a commission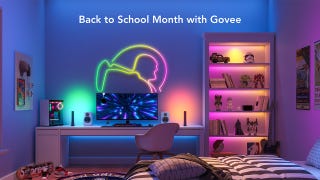 Back to School
Back to School Month with Govee Sale
Teen Wolf (10PM, MTV)
Things get hairy on another new Teen Wolf.

The Whispers (10PM, ABC)

"Claire and Sean track down a man who had his own deadly encounter with Drill — over 30 years ago"
Drill: Probs a ghost.

---
Tuesday:
Ultimate Spider-Man: Web Warriors (8PM, DISNEY XD)

Journey to the center of Nick Fury!
"Spider-Man and Ant Man must shrink down into Fury's body that has been infected with Doc Ock's nano-bots."
Stitchers (9PM, ABC FAMILY)

Quarantine stories are always great. Just mark your calendar, "Quarantuesday".
"It's Kirsten's birthday and the Stitchers team is assigned to look into a disease researcher's suicide. When the body begins showing signs that it is carrying a deadly virus, the whole lab is placed under quarantine. The team jumps to action as they search for a way out, racing against the clock as, one-by-one, they come down with symptoms of exposure."
Zoo (9PM, CBS)
A very busy episode of Zoo this week features a wolf hunt, arson and possible conspiracy.
"Jackson, Abraham, Mitch, Jamie and Chloe are tasked by a top intelligence agent to find the cause of the strange animal behavior around the world. When the team travels to Mississippi to investigate the wolf attack on the prison, Mitch and Abraham break off to catch one of the wolves, and Chloe, Jackson and Jamie discover that death row inmate escapee Evan Lee Hartley (Marcus Hester) might somehow be involved in the attack. Also, the team meets FBI Agent Ben Shafer (Geoff Stults), who may know more about the prison fire than he's saying."
Scream (10PM, MTV)
Terrifying new episode takes on the skyrocketing tuitions of college.
---
Wednesday:
Sharknado 3: Oh Hell No!

All your Sharknado favorites return, this time with Bo Derek, Frankie Muniz and David Hasselhoff!

Mr. Robot (10PM, USA)
"fsociety arrives @ steel mountain - most secure data facility in USA. Elliot (Rami Malek) needs to get in and get out - wuz he pwned?"
Wuz he pwned?!
---
Thursday:
Beauty and the Beast (8PM, CW)
Cat and Vincent outwit an assassin with a a kooky scheme involving a sham marriage.
"When an unstoppable assassin hunts down Cat (Kristin Kreuk) and Vincent (Jay Ryan), they attempt to lure him out of town and away from their loved ones with the ruse that they plan to elope. Meanwhile, tired of being under police protection, JT (Austin Basis) asks Tess (Nina Lisandrello) to help him track down a lead while a distracted Heather (Nicole Gale Anderson) attempts to focus at her new job. Deborah Chow directed the episode written by Vanessa Rojas (#307)."
Astronaut's Wives Club (8PM, ABC)

"Astronaut John Glenn has his sights set on a political career and hits the campaign trail with wife Annie and Rene Carpenter by his side as he runs for the Ohio senate, while Alan Shepherd quietly grapples with a personal matter that could ground his career forever. Meanwhile, Betty Grissom receives an unsettling letter regarding Gus that challenges their marriage."
Wayward Pines (9PM, FOX)

Season finale!

Dominion (10PM, SYFY)
This episode is called "The Narrow Gate", and unlike most Dominion titles, it ominously references The Bible.
Matthew 7:13-14: "Enter through the narrow gate. For wide is the gate and broad is the road that leads to destruction, and many enter."
---
Friday:
Defiance (8PM, SYFY)

Killjoys (9PM, SYFY)
Beware! And there shall come a Big Joe...
Dark Matter (10PM, SYFY)

---
Saturday:
Aquarius (9PM, NBC)
Keep in mind, the plot is planned to last six seasons according to creator John McNamara...
A detective's long-held secret of being Hispanic is about to be exposed in a big way and Hodiak (David Duchovny) tries to help.
Lavalantula (9PM, SYFY)
This unofficial Police Academy 8 stars Steve Guttenberg, Michael Winslow and Leslie Easterbrook!
Hannibal (10PM, NBC)

"Dr. Hannibal Lecter (Mads Mikkelsen) has been under lock and key for three years at the Baltimore State Hospital for the Criminally Insane, when a new villain arises in Francis Dolarhyde (guest star Richard Armitage), also known as "The Tooth Fairy." As the investigation unfolds Jack Crawford (Laurence Fishburne) approaches Will Graham (Hugh Dancy) to help catch this vicious serial killer who is targeting families. Caroline Dhavernas, Aaron Abrams and Scott Thompson also star."
Jonathan Strange & Mr. Norrell (10PM, BBC AMERICA)
Season finale!
Atlantis (11:15, BBC AMERICA)

Those Antedeluvian kings have been pushed back to the hideous 11:15 time-slot.

---
Sunday:
Battlebots (9:00, ABC)

Season finale!

Humans (9:00, AMC)
The Strain (10PM, FX)
"You're planning on sending my vampire wife after my boy?"
Rick & Morty (11:30PM, CARTOON NETWORK)
Season premiere! Television is saved.