What's on TV this week? The return of The Walking Dead, plus the premieres of The CW's Green Arrow TV show and the Beauty and the Beast revamp. There's the first ever airing of something they're calling Dr. Horrible's Sing-Along Blog. And learn how to make your own Viking sword!
But most of all, there's the debut of the show with the best title ever: Dog With a Blog. Plus what on God's green Earth is The Greatest Event in Television History, featuring Jon Hamm? Check out clips and details for all the upcoming TV shows below...
Top image: The Walking Dead.
Today:
Adventure Time (7:30 PM, Cartoon Network):
When did Princess Bubblegum get that new dress? It looks like clubwear. Here's a clip, plus what to expect this week:
"The Reign of Gunthers" – The Gunthers go on a rampage against the Ice King and the citizens of Ooo!
That's followed by a new Regular Show, and a new Annoying Orange.
Alphas (8 PM, Syfy):
We're in the homestretch on this show's second season, and the Stanton Parish storyline is heading towards some kind of climax. Will Alphas be back for a third season? Hard to say. Ratings have been hovering above 1 million, slightly below where Warehouse 13 has been this season. Syfy yanked Stargate Universe and Caprica after both shows had dipped below 1 million viewers for a while, so Alphas may just squeak through. In any case, this week the Senator whose mind Nina screwed with is back! And Sean Astin is guest starring as chatty Alpha:
Hicks and Kat find themselves being chased when they hit the road to transport a valuable Parish asset whose memory and gift for gab seem to know no limits. Meanwhile, as Rosen plots against Parish, he faces his own threat with the unexpected arrival of Senator Burton.
Crash & Bernstein (8:30 PM, Disney XD):
This is the first episode of a brand new show that sounds like a more kid-oriented version of Ted. According to Disney XD's press release, it's
a 'bro-comedy' that follows Wyatt Bernstein, the only son among four kids, whose new puppet, Crash, comes to life and becomes his loud-mouthed surrogate brother who knows no limits, premieres MONDAY, OCTOBER 8 (8:30 p.m., ET/PT). In the premiere episode, "Crash Lands," Wyatt Bernstein is reluctantly taken to a Build-A-Bestie store for his birthday and, while there, creates a boy-filled version of a Bestie, a puppet he names Crash, who comes to life as the brother he always wanted. Crash finds Wyatt living in a household full of sisters, including popular 16-year-old Amanda, fashion-forward middle sister Cleo and assertive 6-year-old Jasmine, so he comes up with a plan to help Wyatt get his own room. But, Crash's plan soon backfires, jeopardizing the relationship with his new brother.
Revolution (10 PM, NBC):
Do you love to hate this show, or do you hate to love it? In any case, this week Miles, Charlie and Nora reconnect with Google Boy and iPhone Girl. And the young Taylor Lautner lookalike Militia guy known as Nate is still following Charlie. I really think this show is starting to hit its stride, and the characters are getting less obnoxious and more relatable, but obviously opinions are continuing to differ.
G/O Media may get a commission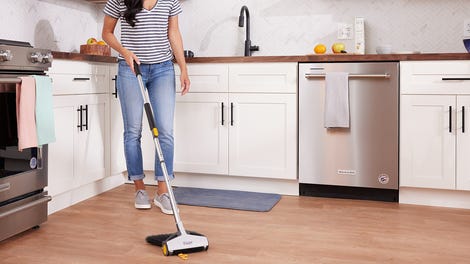 BOGO 50% Off
Flippr - BOGO 50% Off
Also on TV tonight: A brand new Castle, on ABC at 10.
---
Tuesday:
Dr. Horrible's Sing-Along Blog (9 PM, The CW):
For those of you who missed this supervillain musical when it was breaking the internet, and subsequently failed to acquire it on DVD, now's your chance to watch a version edited for length and commercial breaks. What is this show about, you may ask? Let The CW explain:
JOSS WHEDON'S ACCLAIMED ONLINE MUSICAL MAKES ITS TELEVISION DEBUT - Neil Patrick Harris ("How I Met Your Mother") stars as Billy, a.k.a. Dr. Horrible, a budding super villain whose plans for world domination continually go awry. His two goals: getting accepted into the Evil League of Evil, and working up the guts to speak to his laundromat crush Penny (Felicia Day, "The Guild"). The only thing standing in Billy's way is his superhero arch nemesis, Captain Hammer (Nathan Fillion, "Firefly," "Castle"). With one big score, Billy could get into the E.L.E. and earn the respect of Penny, but only if he can keep her away from the dashing Captain Hammer.
Spoiler alert: his fists are not the hammer.
Also on TV tonight: There's a new Looney Tunes Show on Cartoon Network at 8 PM.
---
Wednesday:
Arrow (8 PM, The CW):
This is one of the year's most fun pilots, thanks to stylish direction from David "King of Pilots" Nutter and some pretty strong performances. It's more or less a retelling of Green Arrow's origin from the comics, especially the Diggle/Jock version, but with a lot of CW touches including huge amounts of shirtlessness and random love triangles. Plus you'll never guess who's "Speedy" in this version. Here's the show's official synopsis:
After a violent shipwreck, billionaire playboy Oliver Queen (Stephen Amell, "Hung," "Private Practice") was missing and presumed dead for five years before being discovered alive on a remote island in the Pacific. Back in Starling City, Oliver slowly reconnects with those closest to him, his devoted mother Moira (Susanna Thompson, "Cold Case," "Kings"), beloved sister Thea (Willa Holland, "Gossip Girl," "The O.C."), and best friend Tommy Merlyn (Colin Donnell, "Pan Am"), but struggles with his ex-girlfriend Dinah "Laurel" Lance (Katie Cassidy, "Gossip Girl," "Melrose Place"), who blames him for her sister's death. Oliver has brought back many new skills from his time on the island and despite the watchful eye of his new bodyguard John Diggle (David Ramsey, "Dexter," "Blue Bloods"), Oliver manages to secretly create the persona of Arrow - a vigilante - to right the wrongs of his family and fight the ills of society. As Arrow, Oliver will atone for the past sins of his family while he searches for the personal redemption he needs.
Dragons: Riders of Berk (8 PM, Cartoon Network):
In "Portrait of Hiccup as a Buff Young Man," Hiccup has a personal crisis:
Believing his father is disappointed in him, Hiccup sets out on a dangerous treasure hunt.
The Neighbors (8:30 PM, ABC):
You know this episode is going to be hilarious when ABC needs to keep mentioning that things happen "with hilarious results":
WHEN LARRY AND JACKIE CRASH MARTY AND DEBBIE'S PLANS WITH THEIR HUMAN FRIENDS, THINGS GO HILARIOUSLY AWRY. "Things Just Got Real" - Marty and Debbie decide to make plans with their human friends after Larry and Jackie have become too entangled in their daily lives. The Weavers do their best to un-invite the Bird-Kersees, explaining they're afraid their friends won't be accepting of the aliens. But that doesn't stop Larry and Jackie from crashing Marty's' poker night and Debbie's girls' night on the town — with hilarious results.
Supernatural (9 PM, The CW):
Check out a brand new clip at left. And it looks like Kevin the Prophet is going to be a major recurring character this season — which works for me. And now we're spending time with his mom!
"What's Up, Tiger Mommy?" MRS. TRAN JOINS SAM AND DEAN ON THE ROAD - Kevin (guest star Osric Chau) talks Sam (Jared Padalecki) and Dean (Jensen Ackles) into checking in on his mother (guest star Lauren Tom). When they arrive, they see that Crowley (guest star Mark Sheppard) has surrounded her with demons so they rescue her and take her along on their quest to find the tablet. However, they soon discover Kevin wasn't kidding when he said his mother was a strong-willed woman after she tries to take on Crowley.
Nova (9 PM, PBS):
As always, check your local listings. This time around, we learn the secrets of Viking sword makers. That's followed at 10 PM by Nova ScienceNow, which looks at "What Makes Us Human?": "Explore the evolutionary roots of language, tool-making, even laughter." Check out a clip from "What Makes Us Human" at left.
Also on TV tonight: A new Ninjago: Masters of Spinjitzu on Cartoon Network at 7:30 PM. And an all-new South Park on Comedy Central at 10 PM.
---
Thursday:
The Vampire Diaries (8 PM, The CW):
OMG this show is back, and everything is changed. Severely mixed feelings about the fact that there are practically no ordinary humans left on his show besides Matt and Jeremy. But watching Elena vamp out should be pretty fun. Here's what's in store:
Elena (Nina Dobrev) awakens on the morning after the accident to find the thing she dreaded most has come true - she died with vampire blood in her system and now must go through the terrible transition to become a vampire — or face certain death. Stefan (Paul Wesley) promises Elena that he and Bonnie (Kat Graham) will exhaust every possible way out of the situation, but Damon (Ian Somerhalder) is furious with his brother for letting Elena die in the first place. Bonnie pays a terrible price for her attempt to change Elena's fate, while Damon takes out his frustration and rage on Matt (Zach Roerig). In a rare moment of empathy, Rebekah (guest star Claire Holt) is deeply touched by Stefan and Elena's devotion to one another. Finally, Pastor Young (guest star Michael Reilly Burke) and the Town Council members begin rounding up the vampires and their supporters, leading to an unexpected tragedy.
Last Resort (8 PM, ABC):
This is another show that people either love or hate — and just like with Revolution, much depends on how much you can suspend disbelief about the basic premise. The good news? Early buzz says the show's third episode is much better than the second. Here's what happens:
"Eight Bells" - Marcus leads a search for three missing crew members of the Colorado, a search that leads them to Serrat's compound, where they receive an ominous demand. Meanwhile, a clandestine meeting between Kylie and Admiral Shepard confirms that the order to fire came through a back channel.
Big Bang Theory (8 PM, CBS):
Is the Higgs Boson still a current reference for non-science junkies? This week's episode is "The Higgs Boson Observation":
Amy feels threatened when Sheldon hires a young female assistant, and the pressure of being in space takes its toll on Wolowitz.
But will there be hilariously awkward nerds and their off-kilter attempts at communication, with gratuitous geek culture references tossed in?
Beauty and the Beast (9 PM, The CW):
And here's the other new CW show about hot shirtless men with issues. We watched this pilot ages ago, and it's pretty fun if you can look past the fact that the "Beast" is nothing like any of his previous incarnations — he's more like a weaker version of the Hulk, who looks like an underwear model most of the time. On the plus side, Kristin Kreuk is great as a tough cop, and her wise-cracking partner Tess is the show's best character. Here's what to expect:
A RE-IMAGINING OF THE CLASSIC TALE - When she was a teenager, Catherine "Cat" Chandler (Kristin Kreuk, "Smallville") witnessed the murder of her mother. Cat would have been killed too, but someone - or something - saved her. Now, years have passed and Cat is a police officer, investigating a case that leads her to the person who saved her: a doctor named Vincent Keller (Jay Ryan, "Terra Nova"). With the help of his childhood friend J.T. Forbes (Austin Basis, "Life Unexpected"), Vincent has been in hiding, guarding his secret - when enraged, he becomes a terrifying beast, unable to control his super strength. Still, Cat is touched by the person that lives within the Beast and she knows she has to keep her relationship with Vincent a secret from her boss, Joe Bishop (Brian White, "The Shield"), her partner, Tess Vargas (Nina Lisandrello, "Nurse Jackie"), and even from her close friend, Evan Marks (Max Brown, "The Tudors"), the medical examiner. Cat and Vincent are powerfully drawn to one another, but they understand that their connection is extremely dangerous for both of them.
Misfits (10 PM, Logo):
This is the episode that starts with Nathan getting beaten to death, and then turns into everybody getting laid — including present-day Simon.
The Greatest Event in Television History (Midnight, Cartoon Network/Adult Swim):
We have no idea what this is, but we'd be remiss not to mention it. Jon Hamm and Adam Scott are teaming up for, well, the title says it all. Apparently they're recreating a great moment from classic TV, and among other things it requires both of them to wear greenscreen suits. Plus Hamm gets a champagne bottle and a single high-heeled shoe. More details when we know them!
Also on TV tonight: A new episode of Mad on Cartoon Network at 8.
---
Friday:
Transformers Prime (7 PM, The Hub):
In "Inside Job":
When the Decepticons take Smokescreen captive, he learns the location of the Omega Key and attempts to retrieve all the other stolen keys from Megatron.
Girl Vs. Monster (8 PM, Disney):
Basically, the Disney version of Buffy the Vampire Slayer. It looks pretty cute, though. Here's the description, via Deadline:
The film stars Olivia Holt as a teen girl who on the eve of Halloween, discovers that she's a fifth generation monster hunter but before she begin her family's true calling, the monsters will try to stop her.
Dead Souls (9 PM, Chiller):
A brand new original TV movie on Syfy's horror-oriented sister channel. Here's the skinny:
For his 18th birthday, Johnny Petrie is presented with some surprising news. Not only was he adopted but also learns that he has inherited his birth family's farm in Maine, abandoned for the past 18 years since his natural family died at the hands of his father, the local preacher. Eager for a new life, he leaves home to start over in his new dwelling. However, as he digs into his past, he soon uncovers the horrifying details of his father's questionable studies. In a frightening revelation, he also learns that his return has revived decades-old forces trapped in the home and sets in motion a heart-stopping finale to a ritual that already claimed the lives of his family.
Fringe (9 PM, Fox):
So I guess now that we're searching for Walter's hidden videotapes all over the place, the show is going to turn into a big roadtrip. This week: the scary forest, where everybody gets nasty skin blotches!
As the rogue Fringe team continues to fight off the oppressive Observers' invasion, unforeseen events lead them into a forest where they encounter a strange subculture of people devoted to recording human history.
Grimm (9 PM, NBC):
Here's what to expect in "The Bottle Imp":
AN UNSETTLING MURDER SCENE LEADS NICK AND HANK TO WHAT LOOKS LIKE A BITTER CUSTODY BATTLE - JOSH STEWART GUEST STARS — After investigating a grisly murder, clues lead Nick (David Giuntoli) and Hank (Russell Hornsby) to a seemingly unstable father (guest star Josh Stewart) who is on the run with his daughter. As they learn more about the case they realize that the girl's father may be the least of their worries. At the spice shop, Monroe (Silas Weir Mitchell) finds out filling in for Rosalee (Bree Turner) isn't as simple as he'd hoped it would be. Meanwhile, Captain Renard (Sasha Roiz) finds himself paying unwarranted attention to more than one woman from his past.
Dog with a Blog (9:40 PM, Disney):
Finally, a TV show about my life! Seriously, this is the show that's going to capture the zeitgeist of new media, and completely transform our understanding of online publishing. Best of all? The show's title sums up the entire concept. More info:
In 'Dog With A Blog,' Tyler and Avery are new step-siblings. Tyler is popular, charismatic and seems to get by solely on his looks, and Avery is smart, socially responsible and despises guys like Tyler. However, the biggest adjustment for the newly blended family comes with their new dog Stan – who talks and blogs. He's smart, a bit of a trouble maker and loves his new family, who must keep his marvelous ability a secret. Stan's canine point of view, whether in the home, in the yard or on his blog, helps the kids navigate both their new sibling situation and ultimately, becomes the tie that binds the family of six (Tyler, Avery, little sister Chloe, Mom, Dad and Stan). Even though he talks and likes a lot of 'human' things, Stan is still pure dog. He chases his tail, barks at mailmen, ardently approaches poodles and is not so wild about cats.
In season two, they'll introduce a hamster with an Instagram. (The Instagram-ster.)
Haven (10 PM, Syfy):
On "Over My Head":
Audrey investigates a sudden rise in ocean-related deaths. And Audrey, Nathan and Duke are on a frantic search to locate a missing woman before it's too late.
Also on TV tonight: At 10 PM, Nicktoons has a brand new Monsuno, followed by a new Dragon Ball GT at 10:30.
---
Saturday:
Star Wars: The Clone Wars (9:30 AM, Cartoon Network):
Looks like Ahsoka is stepping up and taking more of a leadership role, in "Front Runners":
The rebels plan strikes on targets in Iziz under Ahsoka's supervision; a leader of the rebellion is named.
DC Nation (10 AM, Cartoon Network):
It's the long-awaited "steampunk" episode of Green Lantern, plus a team-up between Blue Beetle and Miss Martian on Young Justice:
"Steam Lantern": After being blasted by the Anti-Monitor, Hal finds himself in a steampunk world!
"Before The Dawn": On a covert mission to rescue some of its own, The Team, Blue Beetle and Miss Martian uncover shocking secrets… and devastating truths!
Plus the usual assortment of lovely short films.
Teenage Mutant Ninja Turtles (11 AM, Nickelodeon):
In "New Friend, Old Enemy":
Michelangelo accidentally befriends Chris Bradford, a henchmen who's secretly working for Shredder!
American Horror House (9 PM, Syfy):
Hmm... The title of this Syfy original movie reminds me of something. But I just can't remember what... In any case, it's your chance to see Zoe Graystone being chased by ghosts:
On Halloween night, a sorority house is overrun with ghosts, while a vengeful housemother goes on a killing spree. American Horror stars Morgan Fairchild and Alessandra Torresani (Caprica).
Bedlam (9 PM, BBC America):
Turns out building a swimming pool in the former asylum full of ghosts was a really really bad idea.
Ellie and the new residents living at Brightmoor begin to realize the danger surrounding them after warnings about a ghost lingering in the water end up being ignored.
Also on TV today: A new Ben 10: Omniverse on Cartoon Network at 9 AM. And a brand new Kaijudo: Rise of the Duel Masters at 2 PM on The Hub. Also, a new R.L. Stine's The Haunting Hour: The Series on The Hub at 6 PM.
---
Sunday:
Ultimate Spider-Man/Avengers: Earth's Mightiest Heroes (11 AM, Disney XD):
Once again, Aunt May is causing Peter immense consternation with her out-of-control love life:
"Attack of the Beetle" - Peter is horrified when Aunt May goes on a date with his principal and secret S.H.I.E.L.D. handler, Agent Phil Coulson. Things get even more complicated when the high tech assassin, The Beetle, returns.
"New Avengers" - When Kang the Conqueror traps the Avengers in a temporal void and begins to bring his armies to the 21st century, Iron Man activates the New Avengers protocol and a new team is forged with Spider-Man, War Machine, Wolverine, Iron Fist, Luke Cage and the Thing. The New Avengers must defeat Kang to rescue the Avengers and save the world.
Once Upon a Time (8 PM, ABC):
How will this show keep raising the battiness quotient? With more Arthurian mythology, natch.
"Lady of the Lake" - Emma and Mary Margaret, with the aid of Mulan, Aurora and brave knight Lancelot, attempt to find a portal that will bring them back to Storybrooke. But a dark force threatens their safe return. And Henry tries to talk Jefferson into reuniting with his daughter. Meanwhile, back in the fairytale land that was, on the eve of meeting Prince Charming's mother, King George poisons Snow White, and the only antidote lies within the waters of the Lady of the Lake.
MythBusters (8 PM, Discovery):
In "Trench Torpedo," two more myths are tested:
Can a trench corner slow down a shockwave and save a soldier. Tory, Kari and Grant crash clown cars to see if balloons can protect you in a crash.
The Walking Dead (9 PM, AMC):
It's the long-awaited third season, which sees everything kicking into zombie overdrive! In "Seed":
With the world growing increasingly more dangerous and Lori's pregnancy advancing, Rick discovers a potential safe haven. But first he must secure the premises, pushing his group to its limit.
666 Park Ave. (10 PM, ABC):
Speaking of raising the battiness quotient, how will this show keep going more bonkers with its one-note premise? By introducing a journalist who finds that anything she writes becomes true.
"The Dead Don't Stay Dead" - More mysteries begin to unfold at The Drake as Jane repeatedly glimpses a little girl - or an apparition? - who beckons her to a room with a strange suitcase. Meanwhile, Henry and Jane are drawn closer to the Dorans, Gavin manipulates a possible career change for Henry, and Olivia shares a painful secret with Jane about her daughter Sasha's death ten years ago. Finally, Gavin offers to help Annie Morgan, a budding young journalist residing at the Drake, who suddenly discovers that anything that she writes becomes the truth — with terrifying results.
Adult Swim (Midnight, Cartoon Network):
First, there's Robot Chicken, with "Hurtled From a Helicopter Into a Speeding Train":
A "Lord of the RIngs" spoof; more adventures with E.T.; a birthday gift for Ben 10; a new mission for Captain Planet.
Then at 12:15 AM, there's a brand new Superjail!, called "Uh-Oh Magic."
Sources: Futon Critic, MSN TV, TV Guide, and various TV studio press releases.