Season four of Orphan Black has come! The two-hour season finale of iZombie! The series premiere of Whitley Strieber's Hunters! Jonah Hex debuts on Legends of Tomorrow! And just what the hell is Kong: King of the Apes? Find out in This Week's TV!
Monday
Powerpuff Girls (6PM, CARTOON)
Bye, Bye Bellum
"The Mayor of Townsville overworks the Powerpuff Girls after his secretary Sara Bellum quits."
Regrettably, the most intelligent and capable character of the original series will be unceremoniously written out in Monday's episode.

Q: How's everyone feel about the new series so far?

Gotham (8PM, FOX)
Into the Woods
"In an attempt to clear his name, Gordon steals his case file and approaches Nygma for help. Meanwhile, Penguin discovers his step-family's role in his father's death, and awakens from his conditioning."
G/O Media may get a commission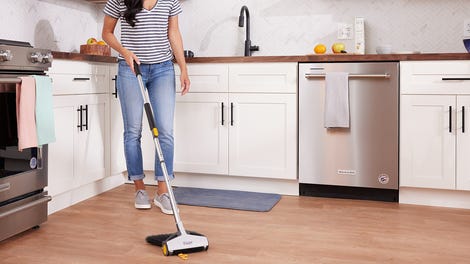 BOGO 50% Off
Flippr - BOGO 50% Off
Supergirl (8PM, CBS)
Myriad
"Kara must find a way to free her friends when Non (Chris Vance) and Indigo (Laura Vandervoort) use mind control to turn National City's citizens into their own army."
The Magicians (9PM, SYFY)
Have You Brought Me Little Cakes?
"Now in Fillory, the students finally face The Beast."
Season finale!

Lucifer (9PM, FOX)
St. Lucifer
"When philanthropist Tim Dunlear is found dead, Lucifer explores his good side by becoming a benefactor for Tim's glitzy Los Angeles charity."
"Tim Dunlear." Solid philanthropist name.

Damien (10PM, A&E)
Temptress
"Damien is led to a beloved figure from his past and confronts Rutledge as he begins to unravel the conspiracy surrounding him."
Blindspot (10PM, NBC)
Man's Telepathic Loyal Lookouts
"After Patterson (Ashley Johnson) discovers a hidden message in the New York Times crossword, she embarks on a tattoo scavenger hunt that leads her into danger. Oscar (guest star Francois Arnaud) finally tells Jane (Jaimie Alexander) more about who she was, and Weller (Sullivan Stapleton) seeks his Dad's opinion about who kidnapped Taylor Shaw."
Another fine episode title from Blindspot.

Hunters (10PM, SYFY)
The Beginning & The End
Series premiere!
Also on Monday: Bates Motel (9PM, A&E), The Haunting of Morgan Fairchild (9PM, LMN)
Tuesday
iZombie (8PM, CW)
Dead Beat
"Liv (Rose McIver) and Ravi (Rahul Kohli) are in need of help and find an unlikely ally in Blaine (David Anders). Detective Babineaux (Malcolm Goodwin) and Dale Bozzio (guest star Jessica Harmon) pursue a new lead on an old case. Meanwhile, when Major (Robert Buckley) finds himself in a world of trouble, sleazebag Brant Stone (guest star Ken Marino) comes to his rescue. Vaughn's (guest star Steven Weber) evil side reaches a whole new level of mean."
Salivation Army
"Working together on a mission, Liv (Rose McIver), Detective Babineaux (Malcolm Goodwin) and Major (Robert Buckley) crash Vaughn's (guest star Steven Weber) Super Max Rager party, where Rob Thomas (as himself) performs a song from his solo career. Meanwhile, Blaine (David Anders) reaches out to Peyton (guest star Aly Michalka) for help, which does not sit well with Ravi."
The two-hour season finale begins one hour early at 8pm!
Agents of SHIELD (9PM, ABC)
Paradise Lost
"S.H.I.E.L.D. hunts for information on their dangerous new enemy, and a shameful secret from Malick's past is exposed, threatening to destroy his Hydra legacy."
Also on Tuesday: The Powerpuff Girls (6PM, CARTOON)
Wednesday
From Caligari to Hitler (8PM, TCM)
TCM is playing some serious silent films Wednesday night and into the small hours of the morning. Kicking off with The Cabinet of Dr. Caligari (1920) at 8pm, a documentary on German silents at 9:30pm, Nosferatu (1922) at 11:30pm, Faust (1926) at 1:15am and The Adventures of Prince Achmed (1927) at 3:15am.
Also on Wednesday: The Powerpuff Girls (6PM, CARTOON), Lucha Underground (8PM, El Rey), Face Off (9PM, SYFY), Nova, (9PM, PBS), The Internet Ruined My Life (10PM, SYFY)
Thursday
Legends of Tomorrow (8PM, CW)
The Magnificent Eight
"When the team needs a place to hide out, Rip sets a course for the Old West. Upon arrival, they start a fight with a gang of outlaws, putting the small town in jeopardy. Luckily, an old friend of Rip's, Jonah Hex (guest star Johnathon Schaech), steps in to save them."
The great Jonah Hex debuts!
The 100 (9PM, CW)
Nevermore
"Alie (guest star Erica Cerra) forces Raven's (Lindsey Morgan) dark side to come out, and Jasper's (Devon Bostick) anger continues to grow. Meanwhile, Octavia (Marie Avgeropoulos) wrestles with her place in the world, and Monty (Christopher Larkin) is forced to make a split second decision."
Archer (10PM, FX)
Deadly Prep
"A prep school reunion leads to an interesting business opportunity for Archer."
Orphan Black (10PM, BBC AMERICA)
The Collapse Of Nature
Season premiere!

Also on Thursday: The Powerpuff Girls (6PM, CARTOON), Bones (8PM, FOX), River Monsters (9PM, ANIMAL), Vikings (10PM, HISTORY)
Friday
Kong: King Of the Apes (3:01AM, NETFLIX)
"Set in 2050, Kong becomes a wanted fugitive after wrecking havoc at Alcatraz Island's Natural History and Marine Preserve. What most humans on the hunt for the formidable animal don't realize, though, is that Kong was framed by an evil genius who plans to terrorize the world with an army of enormous robotic dinosaurs. As the only beast strong enough to save humanity from the mechanical dinos, Kong must rely on the help of three kids who know the truth about him."
Whoa! No promo. First I'm hearing of this, too!
Thunderbirds (3:01AM, NETFLIX)
Ring of Fire parts I & II
Only the first two episodes of season one this week, strangely. Can a "no puppets" Thunderbirds justify itself to Americans?
The Vampire Diaries (8PM, CW)
One Way Or Another
"Determined to capture an escaped vampire named Ambrose, who may be the key to getting Stefan (Paul Wesley) back safely, Damon (Ian Somerhalder) heads to Memphis with Alaric (Matt Davis) in tow. However, reluctant to step back into his former vampire hunting ways, Alaric makes his unwillingness to participate clear, while revealing the truth about the past three Damon-less years of his life. Meanwhile, in the psych ward, Bonnie (Kat Graham) meets a young woman named Virginia (guest star Aisha Duran), who provides her with some valuable information about why The Armory may be after her. Finally, Enzo (Michael Malarkey) takes matters into his own hands when he learns some devastating news from Rayna (guest star Leslie-Anne Huff)."
The Originals (9PM, CW)
The Devil Comes Here and Sighs
"As the city celebrates its annual Jazz Fest, an unlikely team of Mikaelson foes joins forces to take Klaus (Joseph Morgan) hostage. Leading the charge to get their brother back, Elijah (Daniel Gillies) and Freya (Riley Voelkel) face off against a powerful force like none they've ever seen before, while Hayley (Phoebe Tonkin) and Cami (Leah Pipes) set their own risky plan in motion to rescue Klaus. Meanwhile, when Kol's (guest star Nathaniel Buzolic) erratic behavior worsens, Davina (Danielle Campbell) has no choice but to turn to Marcel (Charles Michael Davis) and Vincent (Yusuf Gatewood) for help."
Grimm (9PM, NBC)
Inugami
"When the severed head of a young man is found under a bridge, Nick (David Giuntoli) and Hank (Russell Hornsby) find themselves on the case of Japanese Wesen acting on an ancient tradition of revenge. Elsewhere, Adalind (Claire Coffee) decides to go back to work at her old law firm and has her first face-to-face with Eve (Bitsie Tulloch). "
Read up on "dog gods" here!
Wynonna Earp (10PM, SYFY)
Leavin' On Your Mind
"Wynonna investigates when a posse of Revenants go on a killing spree, which she concludes has a darker and more sinister point behind it. Meanwhile, Waverly challenges Henry's motives and sets out to unearth more of his past."
Also on Friday: The Unbreakable Kimmy Schmidt (3:01AM, NETFLIX), The Powerpuff Girls (6PM, CARTOON), Banshee (10PM, CINEMAX),
Saturday
Adventure Time (7PM, CARTOON)
Lady Rainicorn of the Crystal Dimension
"Jake's son finds a hidden box and draws attention from a Rainicorn."
Outlander (9PM, STARZ)
Not In Scotland Anymore
Second episode of season two. 'Nuff said!

Svengoolie Presents King Kong vs. Godzilla (10PM, MeTV)
House By the Cemetery (2AM, TCM)
Well, this is totally unprecedented: TCM is airing Lucio Fulci's legitimately frightening House By the Cemetery at 2am! What will be edited? What will stay in?!
Also on Saturday: Transformers: Robots In Disguise (6:30AM, CARTOON), POKEMON (7PM, CARTOON), Uncle Grandpa (11:30AM, CARTOON), Regular Show (6PM, CARTOON), The Artful Detective (7PM, OVATION), Confirmation (8PM, HBO), Miss Fisher's Murder Mysteries (8PM, OVATION), Henry Danger (8:30PM, NICK), Beowulf (10PM, ESQUIRE)
Sunday
Avengers: Ultron Revolution (8:30AM, DISNEY XD)


Thunderbolts Revealed
"The Avengers combine efforts with the Thunderbolts to take down Justin Hammer."
House of Darkness (8PM, LMN)
"A women suspects her house is haunted as everyone around her begin thinking she's crazy."

Once Upon a Time (8PM, ABC)
Ruby Slippers
"In flashbacks, Ruby and Mulan find themselves in Oz, where they meet Dorothy. After the three witness Zelena's return to Oz, they look for a way to defeat her once and for all. However, Dorothy mysteriously disappears, and Ruby's search for her new friend lands her in the Underworld. Reunited with the heroes, Ruby teams up with Emma, Regina and Snow to continue looking for Dorothy. Meanwhile, Snow and David struggle with not being able to be with their son, Neal, and devise a plan so that one of them can escape the Underworld."
Fear the Walking Dead (9PM, AMC)
We All Fall Down
"Our group seeks shelter with a survivalist family. Madison tries to uncover the family's true motives. Salazar works to uncover Strand's intentions."
The Day of the Dead to WD's Dawn.
The Last Man on Earth (9:30PM, FOX)
The Fourth Finger
"With little else to do, Tandy starts a prank war within the group. Meanwhile Todd establishes his dominance."
Mike Tyson Mysteries (11:45PM, CARTOON)
Life Is But a Dream
Season premiere!
Also on Sunday: Guardians of the Galaxy (8AM, DISNEY XD), Teenage Mutant Ninja Turtles (11AM, NICK), Bob's Burgers (8:30PM, FOX), Grantchester (9PM, PBS), Elementary (10PM, CBS), Robot Chicken (11:30PM, CARTOON)