Spoiler Wednesday! There's a new synopsis for Thor, Pierre Morel talks Dune, and there's news on The Thing. Plus there are nine Book Of Eli clips, and a Kick-Ass featurette, plus The Crazies posters. Plus Lost, Supernatural, Fringe and Chuck.

Thor:
There's almost no new info, but a nice crystallization, in this official synopsis of the hammer-swinging Marvel movie:
The epic adventure THOR spans the Marvel Universe from present day Earth to the realm of Asgard. At the center of the story is The Mighty Thor, a powerful but arrogant warrior whose reckless actions reignite an ancient war. Thor is cast down to Earth and forced to live among humans as punishment. Once here, Thor learns what it takes to be a true hero when the most dangerous villain of his world sends the darkest forces of Asgard to invade Earth.
Dune:
Pierre Morel, who's directing the latest adaptation, stresses that he's re-read the books many, many times and the new movie will be super-faithful. He won't go into specifics, except to say that the first movie will only deal with the first book.
[My movie] is all about the first book. I'm trying to be very respectful to the original novel. But it's a challenge; there's a lot of expectation, all the readers will be waiting for me with their shotguns. All the non-readers will also be waiting for us, because it's such a complex, rich novel and you have to make it accessible to those who have not read the book. So, it's a tough challenge but I'm very excited about that.
G/O Media may get a commission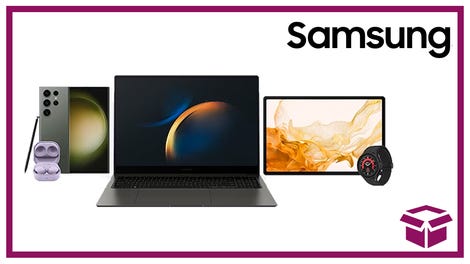 24 hour deals
Discover Samsung - Daily Deal
[MTV]
The Thing:
So you may remember that the studio chose not to use Ronald D. Moore's script for this prequel — instead, they're using a script by Eric Heisserer (Nightmare On Elm Street), which begins when an alien spaceship is found far beneath the ice near a remote Antarctic outpost. The scientists decide to thaw out a creature they discover inside, and that's when the mayhem begins. And it's still not clear whether we'll meet the brother of Kurt Russell's character, R.J. MacReady, in this new movie. [Bloody-Disgusting]
Kick-Ass:
Did the new trailer the other day not explain this movie's plot clearly enough for you? Then check out this blow-by-blow narration from IGN:
Click to view

The Book Of Eli:
And a buttload of clips from this post-apocalyptic Bible-toting, sword-slicing movie have come out, letting you judge for yourself if it's your cup of tea.


The Crazies:
Here are a few new posters for this remake of the Romero horror semi-classic. [ShockTillYouDrop]


Lost:
Some new details from a press conference — season six will show who these characters used to be and who they are now, in a similar way to season one. And both Michael (Harold Perrineau) and Libby (Cynthia Watros) will return in the latter half of the season, for maximum closure-age. As for Walt coming back, that's a challenge, because Malcolm David Kelley looks too old to play him now. As for the show's ending, it will definitely answer all the major mysteries — and now the producers are saying their idea of a perfect show ending is M*A*S*H's final episode. Also, E!'s Kristin Twittered that the Jateyer love triangle will be down-played this year. [E! Online and E! Online]
Here's a Sky One interview with Terry O'Quinn, in which he drops a few spoilers, including hanging off a cliff with Sawyer. (Guessing this is Flocke?) [Doc Arzt]

Here are not-very-revealing set pics of the shooting of "Happily Ever After," involving Desmond and Charlie. [Hawaii Weblog on Flickr via SpoilersLost]
Fringe:
Here's the synopsis for the Jan. 28 episode, "The Bishop Revival":
A LETHAL TOXIN UNCOVERS A SKELETON IN THE BISHOP FAMILY'S CLOSET ON AN ALL-NEW "FRINGE" THURSDAY, JANUARY 28, ON FOX.

When a specific group of guests at a wedding in Brookline, MA, suffocate from the inside out, the upsetting and disconcerting crime scene has the Fringe team investigating how the toxin was delivered and targeted. As evidence is taken into the lab, it's discovered that the wedding ceremony was a testing ground for a weaponized science experiment. Adding to the intense lab investigation, Walter uncovers an alarming formula that reveals a link to a branch on the Bishop family tree. With the escalating threat of more deadly attacks and unexpected familial ties to the case, the Fringe team stops at nothing to prevent further catastrophic events
The season-long plot involving alternate universes will be coming to a "really cool conclusion," and there may be more Leonard Nimoy — possibly — says J.J. Abrams. And he won't say if the season ends with a cliff-hanger, but it definitely doesn't conclude the series. [Collider]
Supernatural:
Here's a casting call for episode 5x17, "99 Problems":
[ABBY] Early 20s.. a shy, cute, innocent, girl-next-door type. (Think Amy Adams in "DOUBT" in demeanor and earnestness.) She's Pastor Gideon's daughter, but uncomfortable with attention. She's determined to save the souls of everyone in her town, but her methods soon give way to dangerous tactics...GUEST STAR

[PASTOR DAVID GIDEON] In his 40s.. he is a very likeable, thoughtful, heartfelt, sincere and down-to-earth leader. Though he doesn't look like it in jeans and boots, he is a small town preacher who's been tasked with leading a militia against the impending Apocalypse. He's proud of his daughter Abby, who's proven to be a pivotal weapon in the fight against evil, but when Abby's behavior becomes more extreme, Gideon struggles with a tough decision...GUEST STAR
Chuck:
Josh Schwartz and Chris Fedak answered fans' questions. When we see Jeffster again, it will be glorious and awful, but they need to build up to it. Chuck's "no gun" policy is a major part of his character, and will become a major plot point in an upcoming episode. We might well meet Mama Bartowski. And the Chuck-Sarah thing will be resolved "in some way." [Give Me My Remote]
And here are some casting calls for episode 3x14, "Chuck Vs. The Honeymooner," which you may remember is the first episode of the extra mini-season that the show started making, after the season was expanded from 13 episodes to 19 ones:
[JUAN DIAZ ARNALDO] Early 40s.. a Javier Bardem, type, scruffy, handsome, actually rather articulate and sensitive, Arnaldo is a renowned Basque terrorist who happens to be traveling with his two thugs on the same train as Chuck and Sarah. Despite his violent background he's a rather refined European gentleman who can be gracious and charming, especially to Sarah…GUEST STAR (6)

[MUSTACHE MAN] This French man with a mustache seems somewhat menacing and treacherous, until it's revealed he's a steward on the train carrying Chuck and Sarah. He brings many room service meals to them in their compartment, and wryly reminds them that the train does have a dining car…8 lines, 4 scenes (1)

[CANADIAN WOMAN/ELIA] This apparently innocuous Canadian woman on the train is actually a former accomplice of Arnaldo's, who's involved in a plot to retrieve him and bring him to justice for selling out their Basque terrorist group. She is tough, fearless and relentless…2 speeches & 4 lines, 4 scenes (6)

[THUG #1/INTERPOL AGENT #1; THUG #2, INTERPOL #2] These two Spanish thugs traveling with renowned Basque terrorist Juan Diaz Arnaldo…5 lines, 3 scenes; 1 line, 3 scenes respectively (6)

[POLISH ROCKER] This skinny Polish punk rocker in chains and tats is another passenger on the train. Sarah strikes up a conversation with him in Polish in order to stealthily relieve him of his handcuffs…1 line, 2 scenes (6) SPEAKS POLISH
[ChuckTV]
Smallville:
Here are some — bwa ha ha! — pics from episode 9x11, "Warrior". [MundoSmallville via SpoilerTV]


FlashForward:
And here's a casting call for episode 17:
[LUCAS HELLINGER] 50s.. Caucasian. Tall, steely-eyed, athletic-looking. Daniel Craig-esque, intelligent, wears an expensive suit like a second skin. The kind of man who could order a genocide and never have nightmares about it...GUEST STAR. RECURRING.

[GABRIEL MCDOW] Late 40s, Male, Race Neutral. Odd, quirky, a bit socially awkward. Highly intelligent, he seeks out a stranger who he's convinced can help him and won't take no for an answer. Comic timing essential...GUEST STAR. RECURRING

[EMILIO] 19, male, Latin, no accent. Plays in a band, too cool for the room, makes a little online mistake that leads to the FBI coming down on him...GUEST STAR

[JUDGE LILA SANDOZ] 50s, Latina. Smart, no-nonsense federal trial judge. Rules on a motion brought before her and dresses down an attorney...1 large scene

[JULIAN EBBING] Early 40s, African-American or Other Non-White, Non-Asian Ethnicities. A younger, hipper version of an Oliver Sacks-type neuroscientist. Has a dry sense of humor. He discusses technical issues of his field with a peer...1 large scene

[BOY] Age 11, African-American. Typical backpack-wearing city-kid. Delivers something to a stranger for a fee...CO-STAR

[DOUCHEY GUY] 30s, open to all ethnicities. Drives a Cadlilac Escalade with thumping bass. Lost in his own world, he talks on a cell phone, his own self-importance distracting him from some major action happening right in front of him...CO-STAR

[RUBY] 17, drama student, histrionic, a real diva. Attractive in an off-beat, artsy way. Girlfriend of a band member...One line
Heroes:
And here are promo pics from the next episode, "Pass/Fail." Insert your own snarky joke. [SpoilerTV]


Sanctuary:
Here's a preview clip of the season finale, in which an ancient cult connected to Big Bertha rocks the foundations of the Sanctuary:
Click to view

Additional reporting by Josh C. Snyder.