The wild pop art of Tibetan artist Gade transforms famous superheroes into mandalas and religious icons. If you ever wanted to see Batman as a Buddha, this here's your huckleberry.
Gade mixes Western comic-book heroes (and Ultraman!) and traditional Tibetan artwork to showcase the totemic status of superheroes and the effects of globalization on Tibetan culture. The below works are from his December 2008 Making Gods exhibition at London's Rossi & Rossi gallery. Here's Gade's aesthetic mission:
Paintings from his 'New Buddha Series' and his 'Diamond Series' reflect this culture shock with images of such American iconic pop figures as Mickey Mouse, Spiderman and the Hulk appearing in the centre of traditional-looking works. Gade points out that these figures show up in every corner of the earth. "When I visited a tiny village called Pazi at the base of Mount Xishabangma (8,102 metres) in the Himalayas, the kids there had backpacks with Mickey Mouse on them, and were drinking Coca Cola. That made me realise the incredible power of those ubiquitous emblems of Western culture and Western values."

Although Gade's work deals with consumerism, which he finds fascinating, he says "I sincerely want my work to be part of the continuity of Tibetan art, to belong to a 'Tibetanised' context, rather than to a Western or Chinese language system". His new 'Mandala Series' takes the Buddhist mandala, which represents an entire world or state of mind, and puts in monsters, tools and objects or, as in Five new Buddhas, Mickey Mouse and Batman as two of the 'new Buddhas'. A Buddhist himself, Gade does not believe that such works are blasphemous as "The Buddhist gods are wise: they know precisely why I do what I do. … The responsibility of the artist goes beyond creating beautiful things. I just say what I believe."
Awesome, heady stuff. The Hulk portrait is particularly stunning - it harkens back to Leinil Francis Yu's Himalayan Hulk from the Ultimate Wolverine vs. Hulk miniseries.
[Rossi & Rossi via Dinosaurs and Robots]
Top image: Diamond Series: The Hulk
新佛像系列之绿巨人 (2008)
G/O Media may get a commission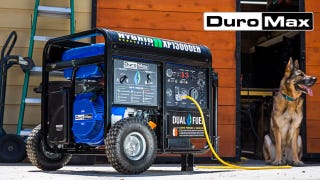 Black Friday Sale
DuroMax Generator Sale
New Buddha Series: Spiderman
新佛像系列之蜘蛛侠 (2008)
Diamond Series: Ultraman
奥特曼 (2008)
Mandala Series: Five New Buddhas
曼陀罗系列之新五佛 (2008)