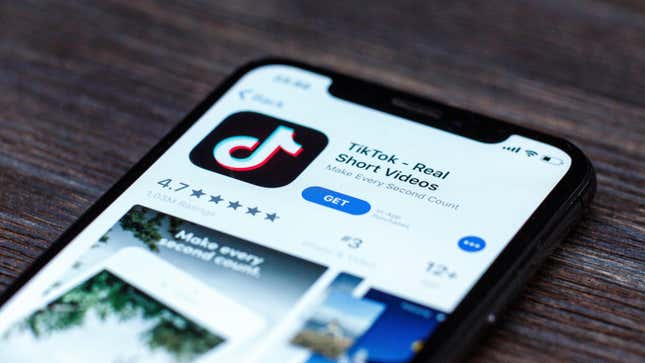 TikTok's greatest innovation was its ability to capture our attention spans, and the addictive social media platform is trying to innovate yet again. TikTok has begun releasing an AI avatar generator for users on the app.

Social media consultant Matt Navarra first shared the AI avatars on Twitter yesterday. According to Navarra, the AI avatar tool—which has two tiers called either Lite or Plus—can only be used once per day, and users will need to upload anywhere from 3 to 10 photos of themselves so the tech can generate a realistic-enough portrait. TikTok will then generate up to 30 avatars in 5 different styles for the user to choose from. Screenshots from Navarra reveal that TikTok will delete the photo you upload after you pick an avatar, and that all photos that a user uploads to the generator must abide by TikTok's community guidelines.
TikTok did not immediately return Gizmodo's request for comment on the AI avatars.
It's not immediately clear what AI brain TikTok is using to generate these avatars, but the art style and large output suggests Lensa. Lensa is a photo-editing app that went viral last December for its ability to output dozens of AI-generated portraits of a user in different styles and genres. Lensa is rife with in-app purchases and subscriptions while TikTok's version appears to be free, at least for now.
At any rate, there's a lot of conversation about the place of AI in art. Earlier this month, an artist won a photography contest with a piece created with AI, only for him to reject the award. The viral Lensa, Runway's Gen-2, and the infamous DALL-E 2 from OpenAI demonstrate how easy it can be for a computer to create video, images, and portraits from text and photos. However, the issue with most of these generators is their clear tendency to lift pre-existing (often copyrighted) material from other sources, only to Frankenstein it into an original piece of art. 
Want to know more about AI, chatbots, and the future of machine learning? Check out our full coverage of artificial intelligence, or browse our guides to The Best Free AI Art Generators, The Best ChatGPT Alternatives, and Everything We Know About OpenAI's ChatGPT.