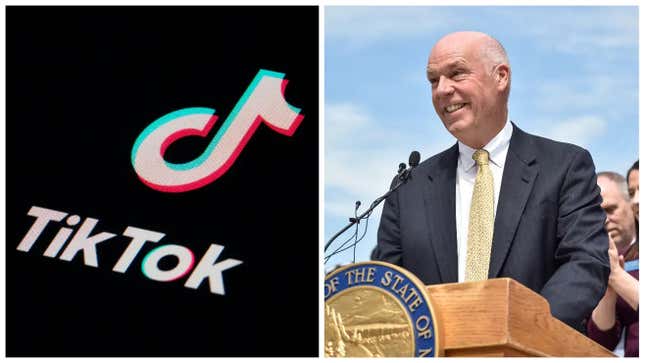 TikTok sued the state of Montana Monday in an effort to overturn a first-of-its-kind law banning downloads of the app in the state. The lawsuit, which comes on the heels of other suits filed by Montanan TikTok creators, alleges the state's law violates users' freedom of speech and illegally singles TikTok out. If the law is allowed to take effect in January, the suit argues, it could deal a devastating blow to businesses and creators who rely on the app for their income.
"We are challenging Montana's unconstitutional TikTok ban to protect our business and the hundreds of thousands of TikTok users in Montana," TikTok spokesperson Brooke Oberwetter said in an email. "We believe our legal challenge will prevail based on an exceedingly strong set of precedents and facts."
The company claims the bill, which would fine app stores up to $10,000 per day for allowing downloads of the app in Montana, would shut down a major forum of speech and infringe on its users' First Amendment speech protections. Montana lawmakers in favor of the bill say it's necessary to protect Montanas' from alleged but unproven surveillance by China, since TikTok is owned by Beijing-based ByteDance. TikTok's lawyers, by contrast, say Montana has no business crafting legislation that attempts to influence US foreign policy or address national security concerns. Those types of actions, the lawyers say, should be left to the federal government. Crucially, the suit says Montana has failed to provide any evidence of supposed collusion between TikTok and the Chinese government, which serves as a main rationale for the law.
"These allegations are entirely false," the suit reads. "[TikTok] has made clear, through its actions and statements, that it shares no U.S. user data with the Chinese government and will not do so in the future."
TikTok also slammed Montana for writing the legislation in a way that specifically calls out the company by name, rather than attempting to address data concerns with social media more broadly. The company said this amounts to an illegal bill of attainder. Put simply, bills of attainder refer to laws that criminalize a specific person or individual and punish them without a trial. Those types of unjustified criminalization efforts are explicitly prohibited under the US Constitution.
"This unprecedented and extreme step of banning a major platform for First Amendment speech, based on unfounded speculation about potential foreign government access to user data and the content of the speech, is flatly inconsistent with the constitution," the lawsuit reads.
Montana's Department of Justice did not immediately respond to Gizmodo's request for comment. The law officially passed last week but isn't scheduled to take effect until January 1, 2024. Legal experts speaking to Gizmodo said the state will likely face a barrage of legal challenges between now and then and that its odds of taking effect as currently written seem slim. Even if the law does win its tough legal challenges, it's unclear if the state would be able to effectively enforce the law.
"Montana's TikTok ban is laughably unconstitutional, but it's also comically difficult to enforce," Fight for The Future Executive Director Evan Greer told Gizmodo in an email Monday. "Any teenage anime fan or British TV aficionado can tell you how to circumvent such a silly ban using a virtual private network (VPN), commonly used software that obscures the location of your Internet connection."

Emily Flower, a spokesperson for Montana Attorney General Austin Knudsen, told Gizmodo the state expected TikTok to take legal action and that the state is "fully prepared to defend the law."
"The Chinese Communist Party is using TikTok as a tool to spy on Americans by collecting personal information, keystrokes, and even the locations of its users—and by extension, people without TikTok who affiliate with users may have information about themselves shared without evening knowing it," Flower said.
The stage is set for months of fierce legal battles
TikTok isn't the only plaintiff fighting the ban in court. Last week, a handful of Montana based TikTok creators filed their own lawsuit seeking to have the law reversed. One of those creators, a young mother named Carly Goddard who spoke with Gizmodo, said the ban threatened to upend one of her family's main sources of income and force them to go back to living paycheck to paycheck. She believes the law violates her freedom of expression and is considering leaving the state altogether if legal challenges fail.
"I feel like there are a lot of people that don't understand this app," Goddard said. "Some people think it's just all about dancing. It's not. There are young moms like me that just want to be able to stay home and be able to afford groceries and pay their bills."
Dozens of rights organizations including the ACLU have similarly spoken out against the ban, saying it blatantly violates users' freedom of speech and could set a dangerous precedent for other states to follow. With this ban, Governor Greg Gianforte and the Montana legislature have trampled on the free speech of hundreds of thousands of Montanans who use the app to express themselves," ACLU of Montana Policy director Keegan Medrano said.
Update 6:10 P.M. EST: Added statement from Montana attorney general's office.