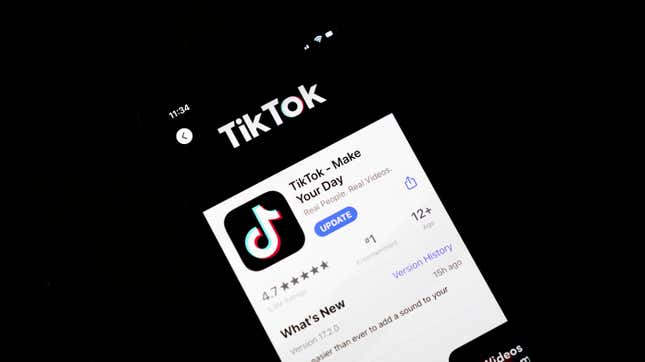 The ByteDance-owned TikTok is facing a metric ton of western scrutiny over how much user data might be seen by Chinese government officials in Beijing. How best to proceed? One new report suggests TikTok may act like a wounded animal and gnaw off its own supports if it can't fly free of government crackdowns.
On Tuesday, Bloomberg reported based on anonymous sources that TikTok's internal leadership has discussed breaking off from China-based ByteDance. This would either result in the company going public, or a sale to the highest bidder. TikTok is worth a pretty penny, near $50 billion by some estimates. At the same time, ByteDance is priced at around $220 billion, according to Bloomberg citing a recent private market investment.
Of course, such a desperate act would only take place if it can't shake off the attentions of government officials calling for bans. TikTok has been trying to fight off reports that it monitors the personal location of specific U.S. citizens. The company is working on "Project Texas," which is an effort to move all U.S. user data to servers hosted by Oracle. The Committee on Foreign Investment in the United States, a multi-agency national security panel, is supposed to investigate how secure U.S. user data actually is, but Bloomberg reported that TikTok's leadership is concerned that the review process has stalled out.
TikTok spokesperson Maureen Shanahan told Gizmodo in an email "We remain confident that the best path forward to addressing concerns about national security is transparent, U.S.-based protection of U.S. user data and systems, with robust third-party monitoring, vetting, and verification. If protecting national security is the objective, a ban or divestment doesn't solve the problem, as neither option solves the issues of data access or transfer."
A TikTok whistleblower told Congress last week that TikTok's Project Texas won't fully protect U.S. user data. The app would have to be completely re-engineered in order to stop China from looking in, though the company tried to refute the whistleblower's claims, saying they left the company before knowing the current state of Project Texas.
TikTok has already been banned from federal employees' devices as well as from government workers in multiple states. Both Republicans and a few Democrats have proposed nationwide Chinese-based app bans. With China pushing back against bans, TikTok leadership have been taking hits from all sides with the European Union also pushing for app bans on government devices.While these bans may just be a dogwhistle to the straining relationship between the U.S. and China, it's not like there aren't real concerns with data access.
Of course, as Gizmodo has previously pointed out, there are thousands of third party companies already sending TikTok user data, and even if the app gets banned those data streams will continue. Not to mention, there are plenty of other apps also partnered with Chinese tech companies sending data to Chinese servers. If the Beijing government wants U.S. user data, it has plenty of places to pick and choose from.