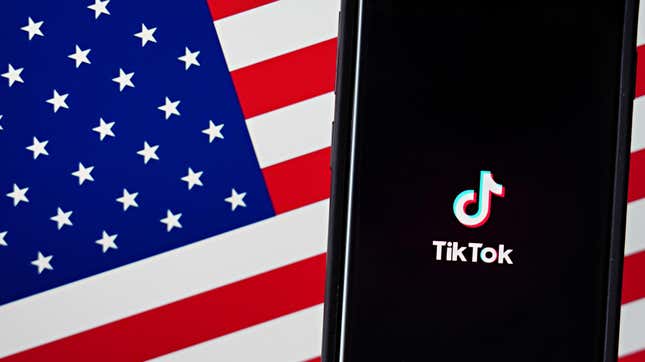 A fast-tracked, vague Republican bill granting the Biden administration the ability to impose a nationwide TikTok ban moved a step closer toward legality on Tuesday after passing a vote in the House Foreign Affairs Committee. The sweeping new legislation, if passed into law, would grant the Biden administration the ability to totally ban TikTok or other foreign software companies believed to be involved in the transfer of "sensitive data." Critics, including the American Civil Liberties Union, say the slipshod bill, introduced just five days ago, was haphazardly written and could potentially open scores of other benign apps up to potential bans.
Democrats on the committee strongly opposed the bill during arguments and amendments, with ranking member Rep. Gregory Meeks of New York, claiming the unvetted, overbroad bill "causes more problems than it corrects."
"These are not just bad policies, they would actively undermine our national security,"Meeks said.
Republican lawmakers' intense obsession with banning TikTok could potentially inch this bill past the House, but clearing the Democrats' Senate majority is another story. With few Democrats likely willing to sign on to such an expansive, broad bill, the so-called DATA Act will likely be reduced to the increasingly cluttered garbage bin of killed TikTok bans.
"TikTok is the modern day trojan horse of the CCP used to surveil and exploit american personal information," Texas Rep. Michael McCaul sad before the vote. "I have no doubt the PRC [military] will look to weaponize this intelligence as they seek to upend the global balance of power.
How would the new bill ban TikTok?
The proposed bill, authored by Texas Rep. Michael McCaul, revisits Cold War era Berman amendments that limit the president's ability to regulate informational materials under the International Emergency Powers Act. The regulations say the president does not have the power to block things like books and newspapers. Those rules are important because TikTok previously invoked them to successfully kill former President Donald Trump's attempt to ban the app on Apple and Google's apps stores.
Biden previously reversed Trump's TikTok ban, but more recently said he was "not sure," if the federal government should move forward with a new ban.
"I know I don't have it on my phone," the president told Reuters earlier this month.
Now, McCaul's new "Deterring America's Technological Adversaries (DATA) Act" would amend those rules so they would not apply to software companies like TikTok if the companies are involved in the transfer of "sensitive personal data." That means Biden would have a green light to step in and ban the app from the entire country if he saw fit. Specifically, the bill would require Biden to enact a ban if the administration can prove TikTok has knowingly transferred user data to people working for the Chinese government, or if the company were found to have helped Chinese surveillance.
"My bill empowers the administration to ban TikTok or any software applications that threaten U.S. national security," McCaul, the bill's author said in a statement ahead of the hearings. "And make no mistake—TikTok is a security threat." McCaul went on to allege that TikTok offers a "backdoor" to user data before comparing the app to a "spy balloon into your phone."
Democrats on the committee urged McCaul to reconsider the vote, claiming it could has vast unintended consequences and was written without sufficient input from technologist, privacy experts, or other members of Congress. Speaking to lawmakers, Meeks invoked the specter of the Iraq War and warned colleagues from voting for something they knew little about from a position of fear.
"We should not be making judgement based on fear and speculation," Meeks said
Others like California Rep. Sydney Kamlager-Dove said Chinese video game makers that don't post national security threats could become "collateral damage" due to the way the bill is currently written. In other cases, Democratic lawmakers warned American companies with large Chinese investors, such as Epic Games, could also get lumped into bans.



McCaul and his Republican allies were unconvinced by those arguments. The committee chairman referenced the recent federal ban of TikTok on government devices as evidence for why the Congress needed to enact a nationwide block.
"If it's too dangerous to be on our phones, it's too dangerous to be on our children's phones," McCaul said. "I believe the time to act is now"

'DATA' Act Slammed as 'vague and overbroad'
TikTok opposes the bans, with a company spokesperson telling Gizmodo it believes the new bill is based on a fundamental "misunderstanding" of how the company operates.
"It would be unfortunate if the House Foreign Affairs Committee were to censor millions of Americans, and do so based not on actual intelligence, but on a basic misunderstanding of our corporate structure," spokesperson Brooke Oberwetter said. "TikTok Inc. is a U.S. company bound by U.S. law, and we are two years and $1.5 billion dollars deep into a project to go above and beyond existing law to secure the U.S. version of the TikTok platform."
TikTok is owned by a Beijing-based company, ByteDance, but claims its U.S business operates separately. Recent reports, however, show ByteDance employees in China, in some cases, have had access to U.S. user data. TikTok has previously rejected lawmakers' most sensational national security allegations related to Chinese surveillance which still lacks much concrete evidence.
TikTok isn't the only one opposed to the new ban. The American Civil Liberties Union wrote a letter to McCaul and Meeks of the Foreign Affairs Committee on Monday strongly opposing the bill, claiming its "vague and overbroad" text could suppress free expression both on TikTok—100 million users in the U.S.—and on other apps caught up in a ban.
"This bill's exemption creates a slippery slope for further carve outs of the Berman Amendment that could erode its protections, and leave U.S. residents without some of their favorite international books, movies, and artwork," the ACLU wrote. "Americans have a right to use TikTok and other platforms to exchange our thoughts, ideas, and opinions with people around the country and around the world."
"If it weren't so alarming, it would be hilarious that US policymakers are trying to 'be tough on China' by acting exactly like the Chinese government," said Evan Greer, director of Fight for the Future.
What is the Republican approach to banning TikTok? Try and try, and try again
McCaul's DATA Act isn't the first bill vying to ban TikTok nationwide, but it is the first to make it out of the committee level. Last year, a bipartisan group of senators introduced the ANTI-SOCIAL CCP Act, which sought to block all transactions from TikTok, but it wasn't considered in either chamber. That was quickly followed up last month by another bill proposed by Missouri Sen. Josh Hawley and Colorado Rep. Ken Buck that would effectively block TikTok downloads on U.S. It's unlikely that bill will ever see the light of legality with a Democrat-controlled senate.
McCaul's bill, by contrast, passed through committee with unrivaled speed, with The Texas representative introducing the bill just one week prior to the committee vote. That typically unheard of efficiency in a notoriously cumbersome Congress was reportedly made possible due to McCaul's position as chairman of the Foreign Affairs Committee, which let him bull rush the bill through.
Nationwide TikTok ban may still feel uniquely, but government device bans are on the rise
Even if an outright ban on TikTok still appears dead on arrival, restrictions of the app on government devices are alive and well. Congress officially squeezed its ban of the app from federal devices into the 4,126-page spending bill pased at the end of 2022. The ban, signed into law by Biden, prohibits the use of the app by around 4 million federal employees and contractors. The Office of Management and Budget this week told all federal agencies this week that their employees had 30 days to purge TikTok from their devices and systems and ensure no internet traffic makes its way back to ByteDance.
Similar device bans have swept through state governments, too. As of early February, nearly 30 states including Texas, Florida, South Dakota, Oklahoma had all passed their own legislation banning the app from employee's devices or public government networks.