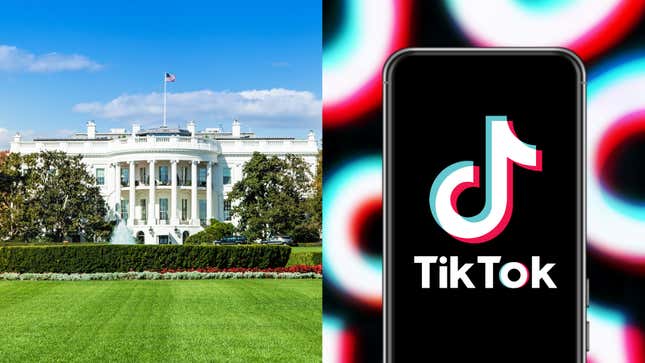 In a move to cut government employees from accessing TikTok on government-issued devices, the White House told federal agencies yesterday that they have 30 days to remove the app from government-issued devices. The TikTok ban comes as the U.S. government grows weary about security concerns the app may pose, such as TikTok tracking user location data.

Will Banning TikTok Solve Privacy Issues? | Future Tech
Reuters broke the news of the directive, which came from the White House's Office of Management and Budget Director Shalanda Young in a memorandum. The memorandum reportedly makes an exception for any national security or law enforcement research efforts being conducted on the app, but those plans must be approved in advance by the respective agency. The memo further states that after 90 days, any federal agency still using TikTok must address why.
Canada announced a similar federal ban of TikTok yesterday, effective today and applying to all government-issued devices. The Canadian government is citing TikTok's risk to user privacy as motivation for the ban.
"The ban of TikTok on federal devices was passed in December without any deliberation, and unfortunately that approach has served as a blueprint for other world governments. These bans are little more than political theater," a TikTok spokesperson told Gizmodo in an email this morning. "We hope that when it comes to addressing national security concerns about TikTok beyond government devices, Congress will explore solutions that won't have the effect of censoring the voices of millions of Americans."
The White House's initiative to federal employees is part of a growing tidal wave of TikTok bans by federal and state governments. South Dakota governor Kristi Noem first moved to ban TikTok on state-level employee phones, and Indiana Attorney General Todd Rokita sued ByteDance, TikTok's parent company, in two lawsuits. Just last month, Missouri Senator Josh Hawley introduced legislation to ban TikTok nationwide, on all devices, titled the "No TikTok on United States Devices Act."
This article is part of a developing story. Our writers and editors will be updating this page continuously as new information is released. Please check back again in a few minutes to see the latest updates. Meanwhile, if you want more news coverage, check out our tech, science, or io9 front pages. And you can always see the most recent Gizmodo news stories at gizmodo.com/latest.
Update February 28 10:40 am EST: This article was updated to include comment from TikTok.