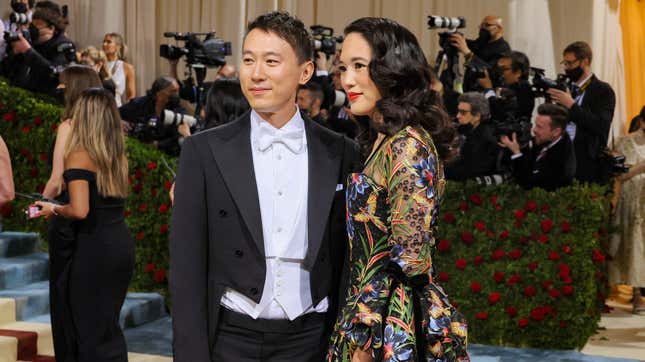 TikTok CEO Shou Zi Chew is set to testify before a congressional committee in in less than two months, according to a report from the Wall Street Journal. On March 23, Chew will appear in front of the House Energy and Commerce Committee, a congressional spokesperson told the outlet. The TikTok head will be the sole witness in the newly scheduled hearing, and has voluntarily agreed to the committee questioning, according to the WSJ.

Once in front of the commerce committee, Chew is likely to be grilled by legislators about TikTok's and parent company ByteDance's ties to China and the Chinese government.
"TikTok has knowingly allowed the ability for the Chinese Communist Party to access American user data," Congressional Rep. and committee chair Cathy McMorris Rodgers, said in a statement to the WSJ. "Americans deserve to know how these actions impact their privacy and data security, as well as what actions TikTok is taking to keep our kids safe from online and offline harms," she added.
ByteDance was founded in China, is incorporated in the Cayman Islands, and has offices in multiple locations around the world, including Beijing. U.S. lawmakers have increasingly expressed concerns about Beijing-based employees' access to U.S. user data, along with national security worries that the Chinese Communist Party is using TikTok to keep tabs on U.S. nationals.
And many Republican legislators in particular have taken strong, often unfounded, stances against the platform. Senator Ted Cruz, for instance, called TikTok a vehicle for "Chinese propaganda and espionage."
In September 2022, TikTok's chief operating officer, Vanessa Pappas, testified before the Senate Homeland Security Committee, along with executives from Meta, YouTube, and Twitter. In that hearing, Pappas faced numerous questions about TikTok and ByteDance's ownership, headquarters location, and data management. However, scrutiny of the platform has only risen since then.
Already, the app is banned from federal devices, after President Biden approved the measure as part of of a sprawling spending bill in December 2022. Then, the U.S. House of Representatives followed suit with its own TikTok block on official devices. Additionally, at least 28 states have instituted their own bans on TikTok on government devices. Some college campuses, too, have opted to restrict the platform on university devices and networks.
Two Republican Congressmen, Josh Hawley and Ken Buck, even introduced legislation last week which would ban TikTok nationwide, on all U.S. devices, if passed. A similar bill filed in the last Congressional session went nowhere.
TikTok is undoubtedly collecting mountains of data on its users, and much of it is probably making its way to employees in Beijing. However, that is more the rule than the exception when it comes to social media platforms. U.S.-based companies also amass an incredible amount of information on their users, which is sold and traded between tech giants and data brokers. And, even with U.S. companies, some of this info ends up on servers in China—making the focus on TikTok, alone, a little illogical.
TikTok and ByteDance are in ongoing negotiations with the Committee on Foreign Investment in the U.S. (CIFUS) to try to develop an agreement which assuages the litany of data privacy and national security concerns. But so far, no agreement has been reached, though discussions have been ongoing for more than two years.