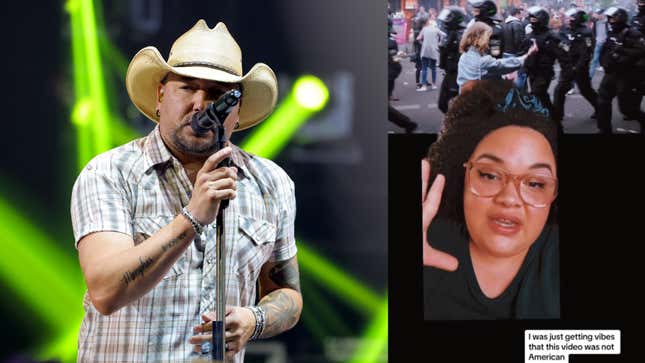 Conservative grifter and disgraced country musician Jason Aldean has been under the microscope for his maligned anti-protest track "Try That in a Small Town." After a barrage of bad publicity accusing Aldean of promoting lynching and violence via the song's lyrics and video, a TikTok user debunked Aldean's claims that all footage in the video comes from the real American news cycle. Now, that TikToker is claiming she's had her life threatened by Aldean's fans in the process.

Mourning the Loss of Addison Rae's Debut Album | The Meme Machine
In "Try That in a Small Town," Aldean—who is from Macon, Georgia, which boasts a population of nearly 160,000 (not much of a small town)—croaks that crimes that "might fly in the city" like carjacking, robbing a liquor store, and punching an unsuspecting pedestrian will not go unpunished in a small town. While the song was released in May, Aldean released its video just over a week ago to accusations of promoting lynching, violence against protesters, and racism. Aldean responded to the accusations on his social media platforms, claiming that every clip of news footage within the music footage is authentic. Enter: Destinee Stark.
Destinee Stark is a TikTok user and activist who smelled something fishy with Aldean's statement and contested his claims of using real news clips. In her 8-minute video posted to TikTok last week, Stark says that she found two instances of footage within the first 30 seconds of the music video that can both be found on stock footage websites. One clip was taken at a festival in Germany while the other was produced by a Bulgaria-based stock footage studio, which further discounts Aldean's efforts to paint his song and video as pro-Americana propaganda.
Stark also points out that Aldean filmed portions of his video at a courthouse in Tennessee, which was the site of the lynching of a black 18-year-old in 1927 and a race riot in 1946. Stark's video and a follow-up have both accumulated over 1.5 million views each on the platform, but Stark now says that she's been the subject of death threats, doxxing, and other negative speech.
"I'm receiving thousands of comments that quite honestly, I can't possibly keep up with. The context of those comments go far beyond what is considered 'reasonably harsh criticism,' and into the dark realm of death threats, death wishes, threats of violence, and just the most degrading, vile comments I've ever seen, quite frankly," Stark told Gizmodo in an email. "I would encourage everyone who is so angry about my commentary to spend some time reflecting on why it is that they are so angry about what I have to say."
Aldean did not immediately return Gizmodo's request for comment.
Aldean has since been mum on the video and its reaction since his initial statement, except for tweeting out a promo video for his ongoing tour. Despite the backlash and Country Music Television announcing that it would be pulling the video from circulation, The New York Times reports that "Try That in a Small Town" hit #2 on the Billboard Hot 100 this week.