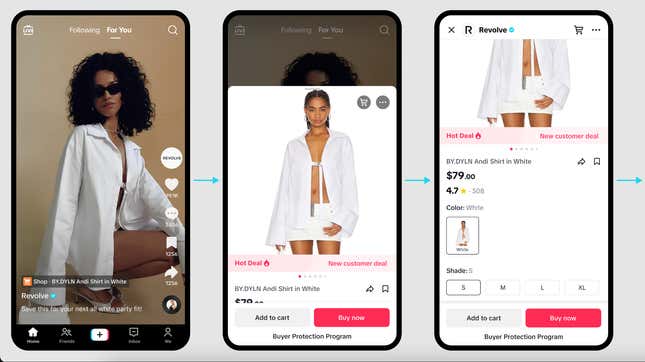 TikTok officially launched its online shopping feature in the U.S. nearly a year after it first started testing the waters, the company announced on Tuesday. The Chinese-owned app has now added a "shop" button to the homepage to bring its TikTok Shop service to its more than 150 million users in the U.S.

Mourning the Loss of Addison Rae's Debut Album | The Meme Machine
TikTok's parent company, ByteDance, first started testing the Shop feature in November 2022 and has added more vendors in recent months including brands PacSun, Revolv, and Willow Boutique as well as beauty brand KimChi Chic, according to a report by Ad Age. TikTok Shop will add in-feed video and Live Shopping to its For You feed while also showcasing product reviews and connecting users with sellers for marketing opportunities.
"TikTok Shop empowers brands and creators to connect with highly engaged customers based on their interests, and it combines the power of community, creativity, and commerce to deliver a seamless shopping experience," the company said in a news release.
TikTok's Shop platform has a so-called secure checkout, the company says, adding that it works "with trusted third party payment platforms to facilitate transactions on TikTok Shop, to ensure a quick, smooth, and secure checkout process." This may create additional concerns for lawmakers who have called for TikTok's ban in the U.S., claiming the platform is collecting user's data in bulk for nefarious purposes.
The U.S. House of Representatives banned TikTok from government devices in December and in March, the Biden administration called for ByteDance to sell its stake in TikTok or face a nationwide ban. TikTok CEO Shou Zi Chew told The Wall Street Journal at the time that selling its stake in the company wouldn't solve America's national security concerns.
"If protecting national security is the objective, divestment doesn't solve the problem: a change in ownership would not impose any new restrictions on data flows or access," a TikTok spokesperson told The Hill.
TikTok was quick to point out in Tuesday's press release that all the user data will be stored and managed in the U.S. and said it is "committed to providing a safe and secure environment that allows our community to shop with confidence." Sellers are required to adhere to TikTok Shop policies and community guidelines which restrict product listings including adult products, alcohol, tobacco, animal-related products, and some types of baby and maternity products.
Marni Levine, TikTok's retail executive told the New York Times that TikTok could not elaborate on its future commission model but that it was "focused on getting the first of all the sellers to add their inventory to the platform."
"The name of the game is to keep people on the platform as well," Levine added. "It's always about keeping people engaged and being a part of the community."