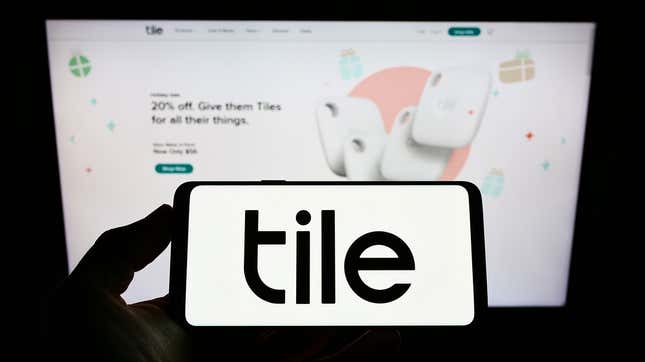 Two alleged stalking victims filed a class-action lawsuit against Tile and its parent company Life360 Monday accusing the companies of failing to implement useful safety features and of mounting advertising campaigns that encouraged stalking. They also accuse the company of tanking the case against their alleged stalker, who they say used Tile to track them relentlessly, by failing to comply with subpoenas.
"From the moment of the Tile tracker's release, Tile marketed its product both explicitly and implicitly for the purpose of tracking people—particularly women," the complaint says. "Despite having knowledge of the propensity for misuse of the Tile tracker, Tile waited nine years before implementing any type of safety feature on its trackers. Worse still, shortly after the introduction of those safety features, the company released a mechanism by which Tile owners could disable the features, thereby intentionally thwarting any recourse or protection a potential victim might have."
The plaintiffs, Shannon Ireland-Gordy and Stephanie Ireland-Gordy, say they were stalked and harassed by an ex-lover who used Tile trackers hidden in one of their cars to follow and intimidate them. The alleged stalker followed the pair on roadtrips, sent threatening messages, and attempted to cause a car accident, according to the complaint. The alleged victims say they were forced to buy new cars and ultimately move to a new house.
When the plaintiffs pressed charges against the ex-lover in Houston, where they say the problems took place, police attempted to get information about the defendant from Tile, but the California-based company refused to comply with the out-of-state subpoena, the lawsuit says. Because Tile wouldn't provide evidence, the case against the alleged stalked was ultimately dismissed, according to the complaint.
Tile's tracking tags have far less robust safety features than Apple AirTags, the company's main competitor. After nearly a decade of operating, Tile rolled out its first major anti-stalking tool last year after mounting controversy over safety concerns. The feature, called "Scan and Secure," lets you check if there are any Tile trackers nearby. However, because Tile says it's primary purpose is theft-prevention, you have the option to disable the anti-stalking tech, presumably so would-be thieves don't know they're being tracked. To disable the feature, you have to provide Tile with an ID, and agree to a $1 million fine if you use a Tile product for stalking.
The lawsuit says the company, its owner Life360 and Amazon, which partners with Tile, are aware of these problems and actively ignored them. Tile's tracking abilities expanded exponentially after its acquisition by Life360, a company that makes an app for tracking your family which has been caught selling location data about its users. Tile harnesses Amazon's Sidewalk system, which utilizes people's Echo, Ring and other devices to create a nation-wide network for location tracking and other purposes. Amazon did not respond to a request for comment.
"Using a Tile to track someone's location without their knowledge is against our terms of service, and we do not condone the use of our technology in this manner," said Kristi Collura, a spokesperson for Life360, Tile's parent company. "Collaboration with law enforcement in cases of misuse is a priority, and we actively work to ensure perpetrators are brought to justice. We have never received a law enforcement report of misuse of our Anti-Theft Mode, and we are confident our system of deterring bad actors is working as intended." When Life360 sells location data about users, Collura said the company's "select partnerships" have only "limited rights to commercialize data for purposes such as aggregated traffic and retail location analytics."
This isn't the first time Tile's been accused of facilitating stalking. Its early marketing campaigns were one cause for concern in the suit. In Tile's first few years of operation, the company advertised its anti-theft tools on websites for porn and erectile dysfunction, among other places, with marketing materials that suggested the products could be used to track women, the lawsuit says. The complaint cites one video ad, which is no longer available online, that features a man attaching a Tile tracker to a bra. According to the complaint, some people explicitly commented on the ads about how useful the products were for stalking.
A 2015 lawsuit filed by a female employee said she was reprimanded for raising concerns that the Tile's marketing campaigns which "exhibited the company's lack of respect for women and view of women as sexual objects."
Like Tile, Apple's AirTags are marketed as a tool to help you find keys and list items. They do, however, start beeping if the AirTags are separated from their users for extended periods of time, a feature meant to help stave off stalking. if your phone detects an AirTag traveling with you that isn't paired with your device, it sends an alert to your phone. Apple also partnered with Google to bring the same stalking detection to Android. That hasn't stopped people from using AirTags for stalking, and Apple is the subject of its own AirTags stalking lawsuit, but the safety features are far more robust.
Update, August 17th, 9:41 a.m.: This article has been updated with a comment from Tile's parent company Life360.