In the wake of Donald Trump's refusal to simply condemn the actions of white supremacists at a neo-Nazi rally in Charlottesville, business leaders, politicians, pundits, and many more have issued statements making it clear that racism can not be tolerated. But not everyone has called out the man who is emboldening white supremacists with his tacit approval. Apple CEO Tim Cook just did.
On Wednesday night, Recode obtained a note that Cook sent out to employees that addresses the tragedy in Charlottesville and Trump's insistence that some "very fine people" protested alongside neo-Nazis who were chanting "Jews will not replace us."

Cook wrote that he's heard from "many people at Apple who are saddened, outraged or confused." He wanted to make it explicit that "what occurred in Charlottesville has no place in our country," and "Hate is a cancer, and left unchecked it destroys everything in its path." He also pushed back on
both-siderism, clearly stating that this "is about human decency and morality."
All of Cooks sentiments should be easy for any leader to express, but everyone from Paul Ryan to Mark Zuckerberg seem to be having a difficult time specifically acknowledging that Trump's statements in the last few days are exacerbating the issue. Cook made his thoughts on the issue clear:
I disagree with the president and others who believe that there is a moral equivalence between white supremacists and Nazis, and those who oppose them by standing up for human rights. Equating the two runs counter to our ideals as Americans.
Regardless of your political views, we must all stand together on this one point — that we are all equal.
G/O Media may get a commission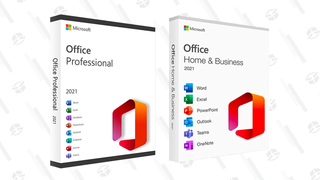 89% off
Microsoft Office Professional 2021 Lifetime License
The Apple CEO said the company will contribute $1 million to both the Southern Poverty Law Center and the Anti-Defamation League. It will also match employee contributions to the organizations 2-to-1 until September 30th. And soon, there will be an easy way for users to help the SPLC added to the iTunes platform.
Cook has had a difficult relationship with the Trump administration from the beginning. Though he disagrees with Trump on numerous issues, he has continued to attend meetings of the American Technology Council. None of the tech CEOs who have contributed to the council are formal members, making it slightly different than the two business councils that Trump dissolved yesterday in the midst of fleeing participants. Cook has previously called out the President on his immigration ban and his decision to pull out of the Paris Climate Accord, but his statements would most charitably be described as middling.
We'll see if Cook and other tech CEOs continue to believe it's in their best interest to sit at a table with the president. According to CNN, a White House official said on Wednesday that the American Technology Council will go "full steam ahead on its work," but no meetings with tech executives are currently scheduled. Asked by CNN if it would attend in the future, Apple declined to comment.
You can read Tim Cook's full statement here.
[Recode]