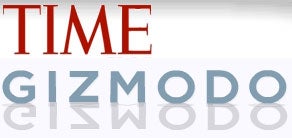 Time magazine gave the Giz a nod a few days back and we just realized it today. The mag included us in its article entitled "25 Sites We Can't Live Without." Wrote Time:
"Here we honor some '50 Coolest' finalists from years past, sites that continue to impress us with new content and features and deserve a spot on anyone's must-click list...Lifehacker...Computer-tech tips and tricks to help you save time, and keep you sane; sister-blog Gizmodo gives up all the latest gadget news. Too mainstream for you? Best to head over to our favorite geek-convention, Slashdot.org."
Though we're still scratching their heads about why Time magazine might think we're anything close to being mainstream, we're more than happy to share a paragraph with our sister site Lifehacker. Special thanks to Time magazine for noticing what we're doing here.
25 Sites We Can't Live Without [Time.com]