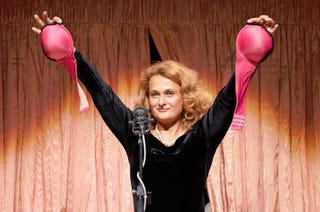 Sure, I could go into how NASA's Ares Rockets and Project Natal ranked high amongst Time's top 50 inventions, but when it comes to end-of-year lists, I get a kick out of what's deemed the worst. A drum roll please…
No ridiculous TwitterPeek in their worst 5, but it'd sure be on mine. What would be on yours? Check out Time's great walk-through its 50 top inventions at: [TIME]
Time's 5 Worst Inventions:
1. Draconian electronic "Smile Checks" for Japanese Railway workers who get alerted if they're not perky enough.
2. Pride and Prejudice and Zombies. Coming soon as a graphic novel, apparently.
3. Snuggies for Dogs. Screw that, how about all Snuggies in general.
4. The Gas-Mask Bra. It's real, and one of the award-winning inventions from this year's quirky Ig Nobel Awards.
5. Computers being used in the UK to automatically mark student's essays. Yeah, this screams stupid. Problem is, the University of Missouri started doing it in 2005.