kwiry, the web application which enables commands via text messaging, has now added support for TiVo Scheduling. The service is open to any phone capable of texting and no web connection is needed.
Once you've set up an account with kwiry and linked your TiVo account you'll be able to text a short command to kwiry's short code # 59479 (k-w-i-r-y). By texting something like "TiVo The City" it will instruct your kwiry account to schedule the next available recording of The City on your broadband connected TiVo.
For those times when you forget to record something being able to quickly instruct your TiVo via text message seems like a pretty simple alternative to finding a computer or using a slow web-phone connection. So next time you're out eating last minute pho and you realize one of your guilty pleasure shows is on in 20-minutes and you never set up a season pass because you don't want people to know you watch stupid teen girl shows, don't panic kwiry and TiVo have your back.
kwiry Makes Your Life Even Simpler; Adds New Text Message Shortcuts and Facebook Connect Integration

Free Mobile and Online Service Adds more text messaging services: TiVo Scheduling, Yelp results, and more; Integrates with Facebook Connect to let users simply import their social graph.

San Francisco, Calif., January 14, 2009 — kwiry, the company that helps you text it before you forget it, today further enhanced its free service that turns text messages into helpful online reminders. kwiry's latest additions to its recently launched Shortcuts platform include the ability to schedule a TV show recording on a TiVo® DVR. kwiry launched its Shortcuts service in August with Netflix and Amazon integrations.

As an example, if a co-worker raves about the latest episode of a TV show, simply text "TiVo" followed by the TV program title (e.g. "TiVo the office" to kwiry's Text Messaging shortcode, 59479 (k-w-i-r-y). kwiry automatically schedules the next episode of the show to be recorded on your TiVo DVR. No need to rush home or remember to schedule it on your computer. The service complements other ways for TiVo subscribers to schedule their TiVo box while on the go including the TiVo Mobile web site. kwiry's service extends TiVo scheduling to all cell phones with text messaging capabilities with no need for a browser or a data plan. With a one-time account link, all TiVo Series2™ and Series3™ DVR users can have the capability to instantly schedule a recording whenever and wherever they want.

"kwiry Shortcuts like Netflix have been very popular with new and existing users – we've had many requests for new Shortcuts and are excited about the new integrations with popular services like TiVo and Yelp," said kwiry Co-founder and CEO Ron Feldman.

kwiry's has recently added the following new Shortcuts to its free service:

TiVo (beta): Text "tivo the office" to schedule a recording of the next episode to your TiVo DVR.
Yelp: Text "yelp Grimaldis Pizza" and get contact info, reviews and more from Yelp sent to your e-mail inbox.
Contact Info: Text "contact johndoe@gmail.com" to email contact info and vCard attachment while on the go.
Status Updates: Text "status headed to the gym" and kwiry will update your Facebook and/or Twitter accounts.

kwiry has now also integrated with Facebook Connect, allowing people to sign-in to kwiry.com with their Facebook accounts, instantly adding their Facebook profile info to kwiry and allowing connections to their Facebook Friends.

"The integration with Facebook Connect simplifies the kwiry sign-up process and allows users to integrate the social aspects of Facebook into the kwiry website as well as the kwiry experience into Facebook," Feldman continued.
G/O Media may get a commission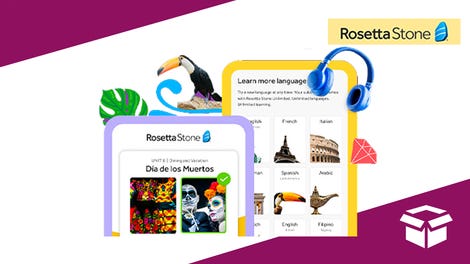 Extra 20% off
Rosetta Stone Lifetime Subscription - All Languages