Sony, Microsoft, and Nintendo will do their damnest to sell you on PlayStation, Xbox, and Wii. But maybe, you'll have already spent your money on an alternative game console: a Steam Machine. Today, you can pre-order the fabled Steam Controller, the Steam Link streamer, and one of two different Linux-based gaming PCs.
And—if you do it now—you can get them shipped to you on October 16th, nearly a month before anybody else.
The Steam Controller is fairly self-explanatory: it's the long-awaited $50 wireless gamepad that uses touchpads to emulate a keyboard and mouse. Valve thinks it's key to playing PC games from the couch, and from what we've seen, it actually works pretty damn well.
Also $50: the Steam Link. It's a tiny set-top-box with one purpose and one purpose only: streaming games from your existing gaming PC to a TV across the house. We haven't really been able to try it in real-world conditions, but it's got no less than four wifi antennas to help make its case.
G/O Media may get a commission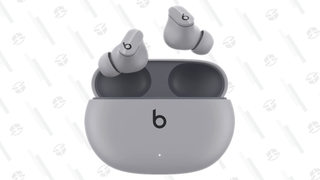 Here's how the Alienware Steam Machine stacks up to the PS4.
Next up: the Alienware Steam Machine. For $450 (and up), it's an tiny Linux-based game console that's way more powerful than a Xbox or PlayStation. In other words, it's the Alienware Alpha we reviewed last year, but with Valve's Linux-based Steam OS instead of Windows, plus a Steam Controller. Just the way it was meant to be before Valve realized Steam Machines weren't ready.
Sadly, Alienware tells us it's pretty much the same Alpha you could buy last year, complete with last year's specs—a dual-core Intel Core i3 processor, GeForce 860M+ graphics and 4GB of RAM to start—but Alienware did at least get the message about the Alpha's painfully slow hard drive and have replaced it with a faster 7200RPM model, and it's still a decent amount of performance for the money.
Plus, it's got an HDMI input (which now works in SteamOS) so you can route your other consoles and Blu-ray players right through the Alpha.
Lastly, CyberPowerPC just opened up pre-orders for its Syber Steam Machine too. It's quite a bit bigger than the Alienware model, pricier at $500 (and up), and doesn't come with a Steam Controller in the package, but its full-size PC parts should be just as powerful today and will also let you upgrade the graphics card in the future.
I can't necessarily recommend you buy any of these today. I'm the kind of guy who always waits for reviews. But Valve and Alienware want you to at least consider a Steam Machine before you spend your money on a traditional game console, and the perk they're offering might be hard for early adopters to ignore.
If you buy today, you can play October 16th. Otherwise, you'll have to wait till November 10th—when the Steam Link, Steam Controller, and Alienware Steam Machine will hit shelves at GameStop, EB Games, Micromania and Game UK—to try the new platform in earnest.
If you're interested, pre-orders should be live at the link below.
[Valve]
---
Contact the author at sean.hollister@gizmodo.com.