With the Wild Things soundtrack being released and the Admiral Ackbar song contest underway, it's high time we stopped and paid attention to a few other note-worthy and science-fictional musician. Here's our round-up of futuristic and mind-expanding music videos.
It's not terribly hard to find an overlap between science fiction and new tunes in this digital age, with bands throwing out synth beats, blips and laser light shows left and right. We've talked about how Alien Princess Rihanna and her lady-in-waiting GaGa have gotten in on the action, along with Felicia Day and Janet Jackson.
G/O Media may get a commission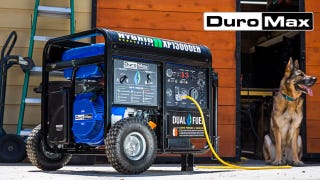 Black Friday Sale
DuroMax Generator Sale
But we wanted to point out a few new videos worth noting that you may have missed over the hot summer months. Here are the best new music videos that include, but are not limited to, extreme displays of wormholes, swirling cosmic vistas, holograms, psychedelia and 1980s revivalism. Feel free to add your favorites so far this year as well.
First up let's talk about that song competition over at Buzz Grinder. If you can write and record a song about Admiral Ackbar and puppies you can win:
free shirts
CDs
Records
Hand Made Crochet Cupcakes
and 4 Cents
Represent, readers — this a worthy challenge, because puppies and Ackbar are an awesome, yet unlikely, combination. It's not a trap!
In this first video from their new album Dragonslayer, the tirelessly creative and cryptic Canadian outfit gives us a video complete with futuristic landscapes, shooting stars, Rorshach inkblot tests, skeletons in outer space and lead singer Spencer Krug's signature warbling melodies.
A cartoon skull drifts out of the troposphere in an endless trajectory past winged beasts and space cities as psychadelic synths and vocoders mesh, in the weirdly startling way only BMSR can do it.
"For the Planet Pluto" by The Music Tapes
Indie rock loves the underdog, so who better than the Music Tapes (and a ragtag group of local youngsters) to eulogize the poor demoted planetoid in this video, complete with a walking painting of Pluto, a grumpy astronomer and a support group for obsolete scientific objects?
"Do You" by Portugal The Man
"Do You" get creeped out by Portugal's zombie face operation table? Did not see this trippy space-surgery video getting paired with the wavy guitar of "Do You"? Aw look, he's got space sand in his ballet flat.
"Standing on the Shore" by Empire of the Sun
Empire Of The Sun isn't exactly our favorite band, but this August video is worthy of attention, for the swordfish girls alone. That said, their latest music video release Without You is channeling Labyrinth-era Bowie a bit too hard. Still we love those blue ladies, and the fever dreams that they haunt.
With plodding electro beats, a bored, slightly lisping female singer, and chiaroscuro shots of the band members are saved by the weird tricks of light that make band members look like human incarnations of the Tron lightcycle.
"Automatic" by Tokio Hotel
The German Rock group forces together Mad Max and The Transformers — yes, the bad rip-off movie — for their latest video. I can't find an embeddable youtube, but really that's okay, because the best part is the HUMANOID ring the main character is sporting in the futuristic wasteland, and the big robot kiss in the end, pictured here.
Sure it's a bit old, and a lot bit played out, and I'm not the biggest MGMT fan at all, but this video is undeniably rad. Whether it's creepy puppets gyrating in front of Windows 98 screensaver-worthy backgrounds, animation that looks like it was drawn by the creators of Jem and the Holograms, or definite evidence of baby harassment, it's pretty spectacular to watch. Plus monsters making babies cry will always bring a smile to our shriveled hearts.
"The Open Happiness" by Cee-lo
I want to live in Cee-lo's world, where everyone can play with spotted elephants and singing zebra people.
I thought I liked The Faint a lot way back in high school. I still can't figure out why. They're pretty much up to their old tricks in this video, but at least they're consistent, with their affection for collage techniques both in their music and visuals and their penchant for darkness, distortion and assembly-line imagery.