There are tons of pictures, storyboards and new details for Terminator: Genysis. And what could make Game of Thrones end after a seventh season? Plus new reveals for Avengers: Age of Ultron, Star Wars: Episode VII, Skull Island and American Horror Story. Spoilers now!
Top image: Batman v. Superman
Wonder Woman
Rumor has it that the Wonder Woman standalone film will actually be a prequel, set during the 1920s. The first half is supposed to be set entirely on Paradise Island with warring Amazon factions, until a man arrives asking for help. And then the second half shows Wonder Woman as Diana Prince exploring a world where women have just gotten the vote.

The rumor adds that the sequel will take place during World War II. A third Wonder Woman film would supposedly bring her into the modern day, contemporaneous with the rest of the DC films. This seems like an awfully complicated plan banking on having a lot of time. On the other hand, it also sounds like a possible result of Warner Bros. trying to back into having an expanded universe, rather than building one from the beginning. Which I totally believe. [Bleeding Cool]
---
Avengers: Age of Ultron
The identification of the mystery brunette in Stark Tower in Age of Ultron has been confirmed as Korean actress Claudia Kim (also known as Kim Soo-huyn). As the only thing we seem to know for sure is that she's playing a scientist who works with Tony Stark, the speculation is that she's playing Suzi Endo, "a scientist at Stark Industries who has connections to Ultron." [Just Jared]
G/O Media may get a commission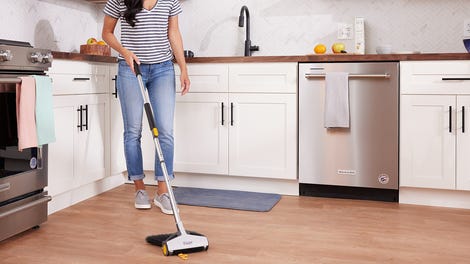 BOGO 50% Off
Flippr - BOGO 50% Off
---
Terminator: Genysis
Entertainment Weekly has a released a few details from this week's cover story. We now know for sure that this has been planned to be part of at least a new trilogy:
The beginning of Terminator: Genisys, the first of three planned films that Paramount hopes will relaunch the beloved sci-fi franchise, is set in 2029, when the Future War is raging and a group of human rebels has the evil artificial-intelligence system Skynet on the ropes. John Connor (Dawn of the Planet of the Apes' Jason Clarke) is the leader of the resistance, and Kyle Reese (Divergent's Jai Courtney) is his loyal soldier, raised in the ruins of postapocalyptic California. As in the original film, Connor sends Reese back to 1984 to save ­Connor's mother, Sarah, from a Terminator programmed to kill her so she won't ever give birth to John. But what Reese finds on the other side is nothing like what he expected.
Matt Smith will play a close ally of Kyle Reese's, but the center of the film is, obviously, the relationship between Kyle Reese and Sarah Connor:
At the emotional heart of Genisys is the budding romance between Sarah and Kyle Reese—a union essential to the creation of John Connor. "I had never fallen in love on screen before," says [Jai] Courtney, 28, who's played baddies in Jack Reacher and Divergent. "It was interesting to do that, especially when you've got a backdrop of the future and the past and all this other s - - -: endoskeleton, robots."
Producer David Ellison notes that the film taps into new fears, "Skynet no longer has to break down our front door because we line up in front of Apple stores to invite it in," Ellison says. "We're constantly giving away our privacy."
We also have a description of what sounds like one of the film's biggest action sequences:
In what could be one of the most impressive technical feats yet, the filmmakers plan to re-create the memorable scene in the original ­Terminator when the T-800 lands at L.A.'s Griffith ­Observatory, complete with Schwarzenegger's 36-year-old face and ripped, naked body. To achieve that, the special-effects team has created a "synthespian," or synthetic thespian, using a body double plus scans of Schwarz­enegger's face from the first film merged with what his face looks like now. The result: an entirely CG head of the Terminator circa 1984. "It's the holy grail of visual effects," Ellison says. "You create a walking, breathing human that doesn't exist."
Below are a few photos of the cast, plus some storyboards. [Entertainment Weekly via Slashfilm]
---
Star Wars
We now know what was shot in Imax. It's not a lot of the film, according to J.J. Abrams in an article on the technology:
"The benefits outweigh the headache of shooting on Imax cameras," says Abrams, who used them for a single sequence in "Star Wars." "The opportunity to have an action sequence for this movie done in Imax's natural format was too delicious an idea to pass up. As a filmgoer, it's something I want to see."
---
Spider-Man
We know for certain that Sony's planning a ton of tie-in movies to create a universe around this superhero, so the latest rumor could be true. But it sounds a little far-fetched (if only because it's code name is supposedly "Glass Ceiling"). In any case, a source claims that Sony's considering a film that teams up a bunch of female hero and anti-hero characters from the Spider-Man universe. The names being mentioned in the press reports are Black Cat, Silver Sable, Spider-Woman, Silk, Spider-Girl, and Firestar. [Badass Digest via Slashfilm]
---
Tales of Halloween
This new horror anthology film has hired a passel of directors to film different bits for the story: Neil Marshall (The Descent), Darren Bousman (Saw II, III and IV), Joe Begos (Almost Human), Axelle Carolyn (Soulmate), Adam Gierasch (Night Of The Demons), Andrew Kasch (Never Sleep Again: The Elm Street Legacy) and John Skipp (Stay At Home Dad), Mike Mendez (Big Ass Spider!), Dave Parker (The Hills Run Red), Ryan Schifrin (Abominable), and Paul Solet (Grace). [Deadline]
---
Skull Island
The King Kong-origins tale has hired John Gatins ( Flight) to do the next draft of the script, which was originally written by Max Borenstein. Tom Hiddleston stars in this film, and Jordan Vogt-Roberts will direct. [Deadline]
---
Something Wicked This Way Comes
Disney's adaptation of the Ray Bradbury tale has hired David Leslie Johnson (Wrath of the Titans) to write the script. [The Hollywood Reporter]
---
Exodus: Gods and Kings
Here are a series videos: two TV spots and two cast and crew interviews. [ First Showing]
---
Game of Thrones
The main cast has signed a contract for keeping them through season seven, with the "A tier" getting a significant pay raise, the "B Tier" (which includes Natalie Dormer, Maisie Williams, and Sophie Turner) also getting a raise, and the lowest tier of regular actors also getting a small pay rise. That guarantees the actors through a season 7, but also indicates that continuing this show is going to get very expensive. That might be a powerful incentive to end the show at seven seasons, before HBO has to renegotiate those contracts all over again. [ The Hollywood Reporter]
---
American Horror Story
If Pepper's inclusion on the show wasn't enough to position it as a prequel to Asylum, we now have a second character making the transition: Lily Rabe will reprise her role as Sister Mary Eunice, and her plot involves explaining how Pepper got from the show to the asylum. [Entertainment Weekly]
Here's the first look at Matt Bomer's appearance, which is said by Ryan Murphy to be a true "horror" moment. [ Out]
---
The Vampire Diaries
Chris Wood was asked if the reason Kai's personal hell is Mystic Falls, does he have connections to the area. Here's his answer:
Yeah I think that's a good question and that's something we'll discover as time goes on—what are the rules to this world? Is it location-specific in addition to being time-specific? Why is he here in this part of the world? What is his goal besides getting out? What is his goal in terms of using Bonnie and Damon to get what he wants? I think we'll find out a lot more about that as the story goes on.
Jodi Lyn O'Keefe says that we'll learn about Jo's past and that she has "issues with her family." She also hinted that the character's connected to one of the larger plot arcs, saying, "Well, we're all here for a reason, including Jo. She's shown up for a reason, so we'll just have to wait and see." [ TV Line]
The upcoming episode will have a nice moment between Bonnie and Damon, showing that the two don't hate each other as much as it appears. The episode also starts with Caroline in nothing in a towel with Stefan in her dorm room. [ TV Line]
---
Doctor Who
Here are some things to look out for in Saturday's episode, courtesy of Doctor Who Online:
1) "I don't deserve a friend like you…"

2) Seven Hiding Places.

3) The Twelfth Doctor finally gets a chance to do some Tenth and Eleventh Doctor-style kissing…

4)"The time line disintegrates. Your time line."
More at the link. [ Doctor Who Online]
---
Once Upon a Time
According to Jennifer Morrison, Emma won't be involved in the search for the storybook writer for a while, at least:
I'm sure we'll get around to it eventually, but that storyline right now is separate from ours [and] there's only so much overlap that can happen before there's just too much going on. But I'm sure that in the second half of the season, we'll all have some kind of participation in that.
Josh Dallas adds that "there's something on its way that definitely affects everyone in Storybrooke — and the Charmings, for sure. It creates some weird things within their relationship." [TV Line]
Here's a sneak peek at episode 4.06, "Family Business." [via SpoilerTV]
---
Arrow
According to Stephen Amell, Oliver will soon learn that Laurel is training with Ted Grant and he's unhappy that Sara's death has been kept from Captain Lance. [ TV Line]
---
The 100
Adults are going to have to learn from the kids this season:
"We actually have a lot of good information that can help with the survival of our people," Marie Avgeropoulos explains. "We know how this has been going and what dangers lie on the other sides of our gates." And if/when they don't heed The 100's advice, the Ark survivors will "get what's coming and they'll learn the hard way, too. You'll see a lot of that in Season 2."
[TV Line]
Here's an interview with the same actress. [ Buddy TV]
Go here for photos from episode 2.03. [SpoilerTV]
---
Flash
Eddie will start to figure out that Barry has a crush on his girlfriend while simultaneously getting into it with her about her obsession with "the Streak." [ TV Line]
---
Supernatural
With Castiel having a newly replenished store of grace, he has a new set of problems: "He's going to be at something of a crossroads," says executive producer Jeremy Carver, "deciding what's most important to him and what's most important about the mission that he was sent here to do — and what that's come to mean these days. It's going to lead him on a pretty personal, pretty powerful journey." [TV Line]
---
Resurrection
At the link is a sneak peek at the next episode, featuring Marty Bellamy. [ TV Line]
And another one is at TV Guide, featuring Michelle Fairley's terrifying Margaret Langston. [TV Guide]
---
Gotham
Here are the official descriptions of upcoming episodes:
Monday, Nov. 3

GOTHAM (8:00-9:00 PM ET/PT) – "Penguin's Umbrella"

Penguin (Robin Lord Taylor) reveals the depths of his manipulative genius as violence between the Maroni (guest star David Zayas) and Falcone (John Doman) gangs escalates. Meanwhile, Gordon (Ben McKenzie) must deal with the potentially fatal consequences of his decision to spare Penguin's life.
Monday, Nov. 10

GOTHAM (8:00-9:00 PM ET/PT) – "The Mask"

When a Gothamite is found beaten to death, Gordon and Bullock (Donal Logue) are intrigued by the motive and take on the case. Meanwhile, Bruce (David Mazouz) returns to school and has trouble making friends.
Monday, Nov. 17

GOTHAM (8:00-9:00 PM ET/PT) – "Harvey Dent"

Trying to close the Wayne murder case, a young Harvey Dent (guest star Nicholas D' Agosto) and Gordon team up, much to Mayor James' (guest star Richard Kind) chagrin. Meanwhile, Penguin makes contact with Mooney's (Jada Pinkett Smith) secret weapon, Liza (guest star Mackenzie Leigh).
Monday, Nov. 24

GOTHAM (8:00-9:00 PM ET/PT) – "LoveCraft"

Following a misstep, Gordon is reassigned to duty at Arkham Asylum. Meanwhile, Selina (Camren Bicondova) leads a new friend on a perilous journey through Gotham to evade the assassins after her.
---
Sleepy Hollow
And the same for Sleepy Hollow:
Mon. Nov. 3

SLEEPY HOLLOW ( 9:00-10:00 PM ET/PT) – "Deliverance"

Abbie (Nicole Beharie) and Ichabod (Tom Mison) learn that Katrina (Katia Winter) is in imminent danger, and they must race against the clock to help her.
Mon. Nov. 10

SLEEPY HOLLOW ( 9:00-10:00 PM ET/PT) – "Heartless"

Abbie and Ichabod set out to take down a succubus whom Henry (John Noble) has sent to drain the life forces out of its victims.
Mon. Nov. 17

SLEEPY HOLLOW ( 9:00-10:00 PM ET/PT) – "Mama"

Abbie and Ichabod's investigation into a string of mysterious deaths at Tarrytown Psych lead them to discover that an especially surprising spirit is involved.
Mon. Nov. 24

SLEEPY HOLLOW ( 9:00-10:00 PM ET/PT) – "Magnum Opus"

Abbie and Ichabod are on a quest to find a weapon of ultimate power to kill Moloch – the Sword of Methuselah – before the Headless Horseman can stop them.
Additional reporting by Charlie Jane Anders and Diana Biller