I've always enjoyed Toshiba's LCDs as they sat on the show room floor, but couldn't take them seriously until they developed some cutting edge LCDs powered by LED. Now they've got three. Updated w/ live pics.
The top of the line ZC700 includes localized dimming and is the true example of what LED LCDs can do, and is the only example I am sure is not merely sidelit but backlit, because of its ability to locally dim sections according to the brightness required. LEDs in the array below an area depicting a black sky will remain dark, while the LEDs below the moon in a movie will light up. That helps it achieve a theoretical dynamic contrast ratio of 2 million to one. Unlike the XBR8 from Sony, this set doesn't have separate red/green/blue LEDs, but mere white ones, arranged in clusters of 10—though they wouldn't tell us how many total are in the set. Unlike the XBR8, this set is actually affordable at $2300 and $3000 for 46 and 55-inch models.
The lowest tier of the new line is the XV648, the first example of a TV with Dolby Volume built in, which keeps the volume consistent through commercials, etc. It'll be available in 40, 46 and 52-inch sizes. It also has a tech called CrystalCoat that reduces screen glare.
G/O Media may get a commission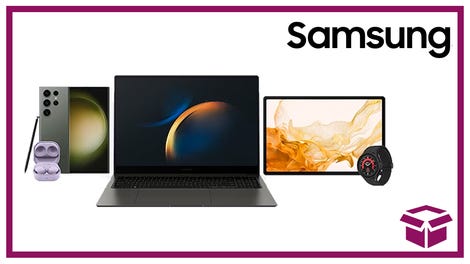 24 hour deals
Discover Samsung - Daily Deal
The ZV650 improves upon the XV648 while adding 240Hz screen refresh technology. (Toshiba reps admitted that none of the sets use real 240Hz—they just have a 240Hz "look" that uses a combination of 120Hz refresh with backlight scanning to achieve the effect.) It supposedly will reduce motion blur while helping the dynamic contrast ratio reach 100,000:1 by strobing the lighting, wiping the light palette between frames, which helps the brain process the images as if it was watching a CRT. Sizes include 42, 47 and 55-inch flavors.
I'm excited to try these out. I expect them to be on par with Samsung's LED models, but not quite on par with Sony's XBR8.
TOSHIBA BRINGS INDUSTRY-LEADING PICTURE QUALITY TO HOME THEATER WITH ITS FIRST SERIES OF LED TV

Toshiba introduces LED TV incorporating FocaLight technology with Local Dimming, and ClearScan 240 motion enhancement, demonstrating best-in-class picture performance

Digital Downtown, New York - June 10, 2009 - Toshiba America Consumer Products L.L.C. ("Toshiba"), a market leader in LCD TVs, today announced that it is now shipping its premium REGZA® HDTV Series, including the highly acclaimed ZV650 LCD TV, and state-of-the-art SV670 LED TV. These new series combine the most advanced picture technology with stunning designs, creating a highly immersive viewing experience that improves and extends home entertainment in new and exciting ways.

As a leader in technology, Toshiba designed its new REGZA line of premium LCD TVs to elevate the viewing experience to the next level by using its unmatched processing power to create all-new levels of picture quality. In addition, next-generation connectivity and industry-leading cosmetic design were added to create a new REGZA experience.

REGZA models set themselves apart with a litany of cutting-edge picture technology features such as the new FocaLight LED Backlight with Local Dimming for superlative picture contrast, ClearScan 240 motion enhancement with Backlight Scanning for amazing picture clarity with fast-motion video, and the enhanced REGZA Engine with PixelPure 5G 14-bit video processing, Resolution+ super resolution technology, and AutoView histogram controlled automatic picture adjustment.

In addition to picture quality enhancements, these new REGZA series also offer a comprehensive suite of next-generation connectivity features including a USB port, SD card Slot, 4 HDMI inputs with InstaPort and REGZA-LINK, IR Pass-Through Port, and high-resolution PC input.

To ensure that the sound quality is as enjoyable as the picture quality, Toshiba has also included new Dolby Volume sound leveling, and Audyssey EQ. Toshiba is the first TV company to incorporate new Dolby Volume, a technology that solves a real-world problem by utilizing human psycho-acoustic algorithms to ensure a consistent volume level, even during commercials or when changing channels.

"Toshiba LCD TV market share has seen a meteoric rise from just 4.1 percent in November 2007 to 11.4 percent in April 2009,"* said Scott Ramirez, vice president of Marketing at Toshiba. "For 2009, we developed and incorporated a wide range of advanced, robust technologies to create an all-new level of REGZA LCD TV. We didn't just make LED TV; we innovated by utilizing superior Local Dimming. We didn't just utilize higher frame rates; we innovated by adding new Backlight Scanning Technology. We didn't just wrap everything in high-gloss black; we innovated by creating the stunning new Deep Lagoon Design with Infinity Flush Front. The new REGZA is more than our dealers and consumers expected, and the response has been nothing short of amazing."

REGZA XV648 – Deep High Contrast in All Light Conditions

A new addition to the 2009 REGZA lineup, the XV648 Series offers extra features that truly make a difference. Extra room light can lower the contrast on some TVs, but Toshiba's new CrystalCoat™ technology stops ambient room light reflections from washing out the picture, creating 30 percent better contrast in bright rooms.** In addition, Dolby Volume technology ensures a consistent volume level when changing channels or during commercials. The result is improved picture and sound quality for an enhanced home theater experience.

The REGZA XV648 will be available in 40-inch, 46-inch and 52-inch screen sizes.

REGZA ZV650 – Clarity in Fast Motion

The ZV650 Series takes things to the next level with enhanced fast-motion picture quality, next-generation connectivity, and unique cosmetic design.

Toshiba's new ClearScan 240 technology combines 120 frames per second with advanced Backlight Scanning Technology to create a 240Hz effect. Far superior to 60 Hz or standard 120 Hz systems, ClearScan 240 provides amazing picture clarity with fast-motion video that is perfect for sports enthusiasts and action movie buffs. This new system also helps the ZV650 series attain its high 100,000:1 dynamic contrast ratio, combining amazing picture clarity and incredible picture depth.

In addition, Toshiba wants to make connecting source devices and watching content simple and flexible. Therefore, the ZV650 incorporates an expanded array of connectivity features including a USB port for playback of digital video, audio and picture files, an SD card slot for playback of digital picture files by simply taking the SD card from the camera and inserting it into the TV, four HDMI Inputs with InstaPort for faster switching and REGZA-LINK for two-way device control, an IR Pass-Through Port to control source devices that may be hidden in a cabinet or closet, and a high-resolution PC input that allows you to use the TV as a big-screen PC monitor for multimedia or gaming.

REGZA ZV650 is available in 42-inch, 47-inch and new 55-inch screen sizes (measured diagonally at 42 inches, 47 inches and 54.6 inches respectively).

REGZA SV670 – The Toshiba LED Difference

The SV670 Cinema Series LED TV Series is the next generation of REGZA, and the next generation of LED TV. While some LED TVs utilize standard edge LED, the SV670 incorporates superior FocaLight Full Matrix LED with Local Dimming. The full matrix creates better brightness uniformity. More importantly, the local dimming allows deep blacks without sacrificing peak white brightness for an all-new level of picture quality with a previously unattainable 2M:1 dynamic contrast.

A new level of picture quality deserves a new level of design, so the SV670 series is the first to incorporate the Deep Lagoon Design with the Infinity Flush Front. Inspired by nature, Deep Lagoon evokes the image of sand disappearing below the surface of calm shores. The unique Infinity Flush Front then adds an edge-to-edge anti-reflective front panel, reminiscent of an infinity pool. Together, these new design elements create a stunning appearance that stands out on a sales floor, and will accentuate any home décor.

The SV670 is available in 46-inch and 55-inch screen sizes (measured diagonally at 46 inches and 54.6 inches respectively).

Pricing and Availability:

REGZA XV648 Cinema Series LCD TV Series
40XV648U (available August 2009, MSRP $1,099.99)
46XV648U (available August 2009, MSRP $1,499.99)
52XV648U (available August 2009, MSRP $1,999.99)

REGZA ZV650 LCD TV Series
42ZV650U (available June 2009, MSRP $1,299.99)
47ZV650U (available June 2009, MSRP $1,699.99)
55ZV650U (available June 2009, MSRP $2,399.99)

REGZA SV670 Cinema Series LED TV Series
46SV670U (available June 2009, MSRP $2,299.99)
55SV670U (available June 2009, MSRP $2,999.99)

For full product details and more information on the SV670, ZV650 and XV648 as well as other REGZA products, please visit http://www.REGZA.com.

About Toshiba America Consumer Products, L.L.C.
Toshiba America Consumer Products, L.L.C. is owned by Toshiba America, Inc., a subsidiary of Toshiba Corporation, a world leader in high technology products with subsidiaries worldwide. Toshiba is a leading manufacturer of a full line of home entertainment products, including flat panel TV, combination products and portable devices. Toshiba America Consumer Products, L.L.C. is headquartered in Wayne, New Jersey. For additional information, please visit www.tacp.toshiba.com.

*According to The NPD Group's retail tracking service for 19" through 55" Units in the LCD TV / TV/DVD Combination category.

** "Bright rooms" are defined as rooms with light intensity measuring 200 or more lux.