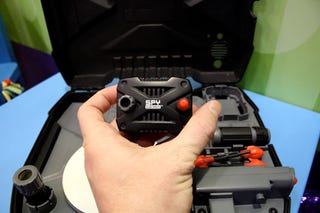 Wild Planet's Spy Video Car was undoubtedly one of the coolest toys of last year, hence the company's big Toy Of The Year win. Now they are expanding the line with several additional spy-themed products. The first of which is this Agent Action Briefcase.

I happen to have been one of those kids who wanted to be James Bond. And having this "collection of essentials spy tools" would have made my day. The case itself is made of black plastic and has a motion alarm that emits a loud whistle if anyone passes too near. It's also got a vision scope, red flashlight and shoots two foam darts in case of attack by Fembots.

Inside there is a spindle for carrying DVDs, a compartment that is just the right size for an iPod. The motion sensor and the dart gun are removable, and there are some funky magnifying glasses in there too. Although this is the biggest in the lineup, it's not as neat as the Intruder Trap System. The Agent Action Briefcase will be available next fall for between $19.99 and $29.99.