Nine Inch Nails frontman and music genius Trent Reznor gave a fantastic interview to the Fader, and it sums up just about everything about the state of electronic music and how we listen to it.
Reznor says when iPods first came out, he was resistant to the take-your-music-everywhere tech. What with music being more prevalent in digital rather than in physical form, buying and consuming music has obviously changed. Reznor explains that since there's just more out there, sometimes your first encounter with a record might also be your last:
If you invested in an album, then you played the shit out of it. Even if you didn't like it, you kept listening to it because it was one of a limited number you had access to. That definitely changed my tastes. If The Clash's Sandinista came out today, I wouldn't have spent the time with it to decipher what was going on there. If Talking Heads' Remain in Light came out today, I would've listened to it like, This is fucking weird, I don't get it, whatever, what's the next thing? But because I pushed myself through that barrier, it revealed itself as this mind-expanding thing. I can't tell you the last time 
I spent that much time with something.


He expands to talk about how the conception of electronic music has really changed, and how attitudes have turned to embrace that. These days, a lot of popular music is created on machines and computers. But in the 80s, that wasn't exactly a welcome trend:
I like the sound of electronic music. I always have. When we burst on the scene at the first Lollapalooza in '91, it was like, I hope people don't notice we have a tape deck on stage. There was a much different mindset about the use of sequencers or playback or synths even. We'd get Milli Vanilli-fied. It's exciting to see it turn into a form of mainstream [music]. How to destroy angels_ played Coachella, and before we went on, we walked over to the dance tent, which was 10 times bigger than the tent we were playing. I walk in and see a crowd bigger than any crowd I've ever played in front of with a band that I've never heard of that was absolutely interchangeable with any other American dubstep bass drop nonsense and a crowd of people going absolutely nuts. Stage diving and chaos and lights and a thousand lasers and everything.
G/O Media may get a commission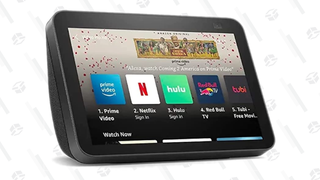 And finally, a little bit on why Nine Inch Nails used machines to record its latest album, Hesitation Marks:
This record, I gravitated toward writing everything on an MPC-type composer, this Native Instruments machine that I had set up in my office. I had so much fun that it became my self-imposed limitation. I'm not gonna use 
a keyboard; I'm not gonna use guitars because they're boring. I'm gonna use pads. Let me start the songs that way. And probably a hundred separate ideas came out from that phase.
The entire interview is a nice manifesto on the current state of things, delivered in a way only Reznor can. And it might restore a little faith in electronic music for anyone that's lost it. [Fader]