Interested in winning a TiVo Series 3 in our Made in Eureka Contest? All you have to do is answer these simple invention-based trivia questions, and whoever gets the most correct gets the DVR. If there's a tie, we pick one at random.
Mail all answers to contests@gizmodo.com (one big email, not one email per question) with the subject line "Eureka Trivia". Contest ends July 10. Here are the questions:
1. Which invention's name dropped an H because Americans are foul-mouthed and mostly illiterate?
2. What was invented when a guy couldn't get to his delicious, delicious ice cream in time?
3. What popular product could you make legally in your bathtub, as the formula has never been patented?
G/O Media may get a commission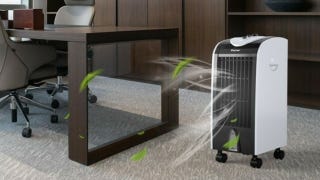 Save $10
Evaporative Portable Air Conditioner Cooler with Filter Knob
4. Jamie Lee Curtis, famous movie star and children's novelist, is the inventor of what?
5. What Utah native and aspiring Disney parks employee is the reason millions never got laid in the '80s (and probably still don't today)?
6. Bonnie Tyler and Celine Dion owe Roberto Del Rosario a huge debt of thanks. Why?
7. Why are we thanking Ed Peterson for our weight problems and wrapper-strewn car floors?
8. Who was the original scissor sister?
9. Why does Gloria Steinem hate May 9th, 1958, more than any other date?
10. What item patented in 1999 allows children (and Richard Gere) to keep their gerbils and hamsters close to them at all times?
11. We have a lumberjack to thank for what, er, handy invention?
More details here.