Tron Legacy's director explains how Daft Punk's score complements the film. Ian McKellan is almost officially back as The Hobbit's Gandalf. Spider-Man's new suit will be high-tech. A trio of amazing Doctor Who rumors, plus Walking Dead and True Blood.
Is AI Moving Too Fast? | Future Tech

Tron Legacy
Director Joseph Kosinski stopped by the famous "Morning Becomes Eclectic" radio show on KCRW, where he discussed the Daft Punk score with host Jason Bentley. Here he explains how the score and the sound effects work together:
Yeah we did some of that with the light cycles, we actually tuned the frequencies of the bikes in with the key of the score. We were always cognizant of that with a lot of the environmental sounds in scenes before the score comes in that we would tune either the room tone, or the sound of the vehicle or the sound of the atmosphere into the key that the score would eventually come in to so that it all came out of that sound bed. That was something we talked about from the very start and because we started so early we were able to plan that.
Here are the videos of the interview: [Full transcript at KCRW; via /Film]
Spider-Man reboot
An unnamed inside source tells Showbiz Spy that Andrew Garfield will wear a fancy suit as Spidey, and a rigorous dress rehearsal has gone into making sure we don't see too much of Garfield. Says an insider:
Andrew has been through numerous fittings for the suit which is a very high-tech design... One whole day was devoted to make sure there was nothing inappropriate showing in the crotch area of the suit. Andrew should be flattered that it took so long to get that part right!
G/O Media may get a commission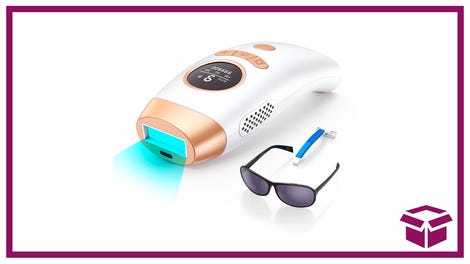 58% Off + Coupon
IPL Hair Removal Device
The Hobbit
Ian McKellan's return as Gandalf is apparently a lot like the green-light process for The Hobbit itself - long, needlessly complicated, weirdly acrimonious, and full of little stops and starts. Well, we're now a tiny bit closer to McKellan's official return in the role, as his official website was recently updated to reflect his involvement in the movie. Still can't quite be considered confirmed until we hear it from both sides, but yes - it's looking good. [The One Ring]
Super
Here's a few new images for James Gunn's dark superhero comedy: [IGN]

I Am Number Four
Here's a new poster for the young adult geared alien movie:

The Apparition
Draco Malfoy actor Tom Felton explains his first major post-Potter role in a thriller about a university parapscyhology experiment that unleashes a malevolent presence:
"It's a sci-fi thriller with a dash of horror, and we shot it in Berlin. It's based around the paranormal. Ashley Greene from the 'Twilight' films is the lead, and Sebastian Stan is in it. I thoroughly enjoyed working with them. My character is the instigator of all the madness, all the experiments, and he's in search of proof, and, of course, that leads to the downfall of the group. It's kind of in the tradition of 'Flatliners,' but there's more of a horror element there, and it's very technological."
[LA Times]
Harry Potter
In the same interview, Felton mentioned he'd be up for making an eighth (or, depending on how you count the Deathly Hallows two-parter, ninth) Harry Potter film one of these days. That doesn't really mean much, considering such a film would almost certainly only happen if J.K. Rowling wrote an eighth book, but at least we know Draco would likely be able to make a return. [LA Times]
Doctor Who
We've got a trio of very interesting hints about the upcoming series, two of which are even decently likely to be true. First up, Cybermen are reportedly being prepped for a return apperance - only not the Cybus imitators of the new series, but the original Mondasian bruisers of the classic series. (Yes, that's what I call them.) The specific post claims the Cybermen are being brought back "mummified" — and that may well fit in with the heavily rumored Egypt-set episode, which also may or may not feature Howard Carter. Steven Thompson, who wrote the middle episode of Steven Moffat and Mark Gatiss's new Sherlock series, is reportedly writing the story, which may be either a one- or two-parter. Take this all with a generous grain of salt. [Life, the Universe, and Combom and Doctor Who Spoilers]
The next bit involves the opening, America-set two-parter written by Steven Moffat. This first episode reportedly involves an appearance by a future Doctor - not a future incarnation of the Doctor, mind, but a future 11th Doctor like the ones that show up in last series's "Flesh and Stone" and "The Big Bang." This reportedly involves the craziest timey-wimey stuff yet, and Amy learns something about the Doctor's future that River Song begs her to keep quiet. This might all play into earlier hints from Steven Moffat about Amy having a big secret and episode seven revealing "the true nature of [The Doctor's] relationship with Amy Pond." Take this one with a reasonably optimistic grain of salt.
Finally, let's go a little crazy. There's another rumor that, in the first episode, we see giant snakes emerge from a lake. Now, there are also photos of both River Song and Amy sporting weird marks on their arms. Taken together, some have speculated we could see an appearance from the Mara, a villain that appeared twice in the early 1980s. The Mara is a sort of incarnation of human desire and darkness, which takes the form of a snake and controls people through tattoos on their arms. There are some problems with this theory - beyond the fact that there's only a single unsubstantiated report to go on when it comes to there being snakes in the first place, there's the fact that River and Amy's marks look nothing like the snake tattoos Tegan sported in "Kinda" and "Snakedance." Also, executive producer Piers Wenger specifically pointed to this story as an example of the series preferring to create new monsters than bring back old ones. So, all things considered...take this one a highly dubious grain of salt. [Doctor Who Spoilers]
Finally, I'd be remiss if I didn't point you towards the latest installment of Gallifrey Base's massive spoiler thread, which compiles everything we know about "A Christmas Carol" and the sixth series in one handy document. Thanks to our resident spoiler sleuth Bluehinter for the heads up! [Gallifrey Base; you'll need to register to see it]
True Blood
Here are a few reported casting calls for episode 2 of season 4, "You Smell Like Dinner":
[CALLUM] British bartender seen in flashback to London in 1982. He bartends in a punk underground nightclub...

[MALE PROTESTOR #1] This male protestor, 5'8" tall at most, pickets Fangtasia and starts a physical fight with a "fangbanger"...

[MALE PROTESTOR #2] Another male protestor picketing Fangtasia, he captures a confrontation on his smart phone...

[LUTHER] An older, backwoods, inbred man at the compound, he is Timbo's uncle...
[Facebook]
V
Turns out Jane Badler isn't the only original V star to appear in the revival - Marc Singer, who played human resistance leader Mike Donovan in the original (not to mention the Beastmaster in the film series of the same name), will reportedly appear as Lars Tremont in the second season's tenth episode, which is also the season finale. Tremont is part of a group of high-ranking military and government figures who have long suspected the Visitors are up to no good. He and Badler don't share any scenes in this episode, but if the show gets a third season, then it's at least a possibility. [TV Guide]
Additional reporting by Michael Ann Dobbs, Charlie Jane Anders, and Cyriaque Lamar.