The name of this True Blood episode is "Fuck The Pain Away." HBO is preaching directly to the choir, and we are eating it up. Preach on you Kings and Queens of Bon Temps. That's right True Blood is back to being awesome again. It's time to remember why you started watching this series, Pro/Con style. Spoilers...
Also, warning: possibly NSFW screenshots below.
Pro: Sookie and her magical vagina are up to their old tricks. But Ben is undeterred. Turns out this Vampire Fairy (yes newcomers that is a regular thing on this show that we, as adults, just ingest as a normal character development) and Sookie are bashert. But she's not buying it, so she throws her super fairy laser cannon at him. Which, if we remember out Fairy Grandpa teachings correctly should forever use up all of Sookie's fairy powers.
Con: Sookie throws the fairy ball and nothing happens — so much for those four episodes with the Fairy Grandpa.
Sidenote Pro: Who saw Pacific Rim? Warlow was in it being all cocky and Jaeger pilot-like with his chin and his floppy hair. It was very good. Two very enthusiastic thumbs up, fine holiday fun. Go see Pacific Rim.
G/O Media may get a commission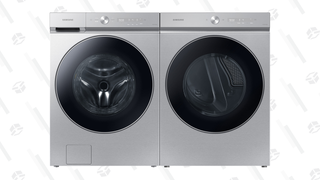 Get $500 back in credit
Last Chance: Samsung Bespoke AI Washer and Dryer Preorder
Con: Meanwhile at chateau Bill, Jessica has killed all the fairy babies and is high as a vampire kite. Which causes her to KISS BILL. And then say dirty things to Bill. OMG NO NO NO NO NO NO NO NO GROSS. NO. NO. NO. NO. NO. NO. NO. NO. NO. NO. NO. NO. GROSS. GROSS. GROSS. GROSS. GROSS.
My reaction to this can only be expressed in gif form:
---
But on the plus side, this scene was almost a complete recreation of this classic moment between Tina Fey and Jack McBrayer:
---
And yet, it still does not excuse this action. Blargergerg.
---
Con: Warlow and Bill are connected because Bill drank Warlow's maker. This makes sense, but it is also kind of a downer, as Bill has become sort of the Junior High Vice Principal of this show now.
Pro: Warlow has a flashback and wait… did we just see a CONAN THE WARLOW?
---
Pro: Pause to appreciate just another day in True Blood town.
Pro: I think I am very attracted to Ben. Yes, I am certain of it.
---
Con: OH GREAT, now Sookie is attracted to Ben too, because Bill took him away. Does this mean Ben sucks now? Because this is usually how things goes with Sookie's magical fairy vagina. Then again I'm a little torn, because if Sookie and Ben do get together, that means more Ben dry humping on Grandma Stackhouse's orgy couch. Man, if that couch could talk, it would say, "kiiiiiiillllllll meeeeeeeeee."
Con: Wonder Dad/Cop Andy finds his poor kids at Bill's house, dead. This is terrible. Resoundingly terrible. I feel ill.
Con: Tara shows up, says fuck a lot. Explains that Pam has been kidnapped. Does Tara DO anything anymore, or just explain plot for the audience? "You hate Eric because in the last episode, blah blah." Eric and Tara decide to turn themselves into the Vampire Police. I guess if it worked in Fast 6....
Pro: Tara's fang smile is cute.
---
Pro: Important. Vampire. Science. Experiments! Stop giggling, this is for science, you dildos.
---
Pro: Cut back to the Governor, and I just want to call it out that I knew the Ex Mrs. Newlin had something going on under there. No way you wear a trench coat indoors on a show like this without a little flashy flash. Looking good, lady.
Pro: WHAT IN THE XENA NYMPH PARTY IS THIS????
---
Pro: So now we are in a super historical vampire flashback. In the year 3500 BC [insert LOL x125 here]. In this flashback we see a happy tribe of khaki-clad fairies looking good with their manicured facial hair and lovely up-dos. But this isn't about the first fairies, this is about Warlow and Lilith and how they met and IMMEDIATELY STARTED FUCKING.
---
Con: You see, this all means something because Bill is Lillith, so just put Bill's face over Lillith's OK?
Pro: Rejected, Mrs. Ex-Steve Newlin shows up at Jason's house. But instead of hanging her tail between her legs she tells Jason she wants to save him, with her vagina. I like this twist, there's no "poor me" to Sarah. She's twisting her sexual wants to get over her morality speed bumps. This isn't sin, it's sexual rejoicing. She's saving Jason. Nice.
Pro: Actress Anna Camp gets an additional pro, because she is just damn delightful in this. And not because she took her clothes off, no because she is playing this rapidly fraying woman with a kind of relatable charm that somehow makes an Ex-Wife to a Gay Vampire (formerly a vampire hater) believable. I'm just nodding my head watching this entire scene. And not because I too was married to a Gay Self Loathing Vampire, but because Camp is SELLING IT.
Sarah Newlin is just swimming in this grey area, like a drunken sorority girl who throws up in the back of YOUR Honda Accord on your volunteer sober driver night. Then explains to you, the driver, just how lucky you are to be seen with her. And just when you're ready to drive the car into a ditch and let God sort out the details, she gives you this sloppy hug that smells like Chanel Chance and vomit. And you like it…. but hate yourself forever.
Pro: "I truly believe God wants me to fuck you." Cut to actual fucking with amazing God sex shout-outs. Oh True Blood.
Pro: Good news everyone: One of Andy's daughter is alive! But which one is this? 4? 2? Will she get a real name? I'm just glad one of them is alive. Seriously, I was pretty pissed when four characters I actually liked were swiftly disposed of — and meanwhile there are two new characters in this episode I could give a shit about. They are taking up Lala's screentime!
Pro: THE UNFRIENDLY POSSUM EVERYONE.
---
Con: Heeeey it's Alcide. Womp Womp.
---
Con: Alcide using his amazing werewolf deduction skills to track down his prey. Obviously, the werewolf prostitute will know where the shifter with the small child is located. Because the first place I would take my emotionally scarred new child is the Unfriendly Possum, home to werewolves and questionably cheap sex workers. Good Jon Sherlock, Alcide.
Con: Double con for the bestiality remark. Because once you said it, it was in my head. Like that whole "don't think of an elephant" trick, I'm now thinking about what was just said about a person having sex with a wolf. What was that table-read like?
Con: This werewolf stuff just keeps going on and on. Hello, My name is Alcide Heavereux, you killed my father, prepare to die.
Con: Jessica stops by Jason's sex shack. This feels like it's turning into a three way...
Pro: Sarah Newlin flips because Jessica called her Steve Newlin's Ex-Wife. Ha.
Pro: This is definitely happening right? I mean?
Con: Booooo the threesome doesn't happen. Jessica goes directly to Vampire Jail, and now I'm the pervert for wishing that to happen even though they were dangling it right in front of me.
Con: "What if Bill isn't God? What if Bill is the Devil?" I dislike all this God talk.
Con: Sorry folks, not a fan of the ball test.
Pro: However, I am a fan of OZ: TRUE BLOOD. "Has anyone seen my FRIEND PAAAAM?"
Pro: Oooh i like this actor. Remember him in Constantine.
Pro: Pam's therapist is Pruitt Taylor Vince. That is awesome.
Pro: I don't think I've heard Pam deliver this many lines in forever. It's fantastic. She is fantastic. You know what, this whole damn episode is fairly fantastic. It feels like old True Blood, and it's great. Focusing in on the best characters, and just letting them say wacky wild shit and hump each other in extraordinary ways. This is what we pay HBO (or borrow from our parents' HBOgo) for.
Con: Terry introduces us to a new character, and then waves around some suicide threats in an attempt to make us care about this storyline. And you know what? It stinks. Don't we have enough crap in this season? Let's not shoehorn in a Terry suicide attempt. First of all, Terry the character deserves better than that. Second, we've seen, what, five minutes of this character all season? Something tells me the show isn't going to be able to delicately discuss the matter of suicide in the military, when it's sandwiched in between scenes of vampires speed-humping in a vampire holocaust basement.
Pro: Andy mourns, we weep. But his revenge plans are stopped by his girlfriend, the Cowgirl from Toy Story 2. FINALLY SOMEONE WITH SOME COMMON SENSE.
Con: Hey, remember Sam? Great, here's his ass again.
Pro: Back in vampire jail, Jessica finds Tara. Immediately explains to her what has been happening, because that is what happens when you talk to Tara. However "I ate four fairy girls, I'm so fucked up," is hilarious.
Pro: Vampire Prison already has Vampire Prison Guard who is sexually abusing the Vampire Prisoners. Somebody just got prison cliche BINGO.
Pro: Jason joins the Vampire Police to save Jessica. Happy to have the nice, well-meaning Jason back. Cranky, vampire-hating Jason was pretty awful. Cheers to the boy with the heart and penis of gold. This is a terrible idea Jason, but I LOVE IT.
Pro: "STACKHOUSES CALM THE FUCK DOWN." Hot damn, there is a lot of good stuff happening in this episode. Sookie wants to get to the bottom of this whole Benlow thing, and thinks that she might feel for this fairy vampire creature, because OF COURSE SHE DOES. So she brings Lafayette over for a little seance, because nothing goes wrong when you invite ghosts into your house in Bon Temps. SURPRISE, Sookie's parents are monsters and tried to kill her to "save" her, which makes a lot of sense. And now her Dad is inside Lala and is trying to kill Sookie again, but this time he really, really means it. Lord.
Pro: Warlow gives us another Historical Vampire Flashback, which feels like a lot of all the other Historical Vampire Flashbacks. Is there a vampire on this show who didn't return to their family only to realize they are a monster?
Pro: Vampire Eric is brought out after his epic ball tournament win to dance for the Governor. And he is pissed (and awesome).
Gif via project fandom.
Con: I'm a bit disappointed that Eric is surprised that the Governor would throw his daughter in Vampire Prison. Eric should be smarter than that, right?
Pro: Oh of course Steve Newlin is behind this Vampire Eric betrayal. Little turncoat.
Pro: OH SHIT. ERIC NOW HAS TO FIGHT PAM TO THE DEATH! Cue the "Amok Time" music.
Overall, this was a very entertaining bit of True Blood. Feels good, feels real good.