President Donald Trump is once again throwing fuel on the fire of the George Soros conspiracy madness by seemingly insinuating that the former hedge fund manager and political activist is funding the migrant caravan currently making its way from Central America to the United States border.

Responding to a question from reporters outside of the White House on Wednesday about whether someone was funding the migrant caravan, the president said he "wouldn't be surprised." Asked specifically whether he thought that person was Soros, Trump responded: "I don't know who. But I wouldn't be surprised. A lot of people say yes."
The comments come a little more than a week after Soros' Open Society Foundations denied funding the caravan on Twitter after it was accused of doing so by Campbell Soup Company vice president of government affairs Kelly Johnston, who the company later cut ties with.
"[N]either Mr. Soros nor Open Society is funding this effort," the organization said last week. "We are surprised to see a @CampbellSoupCo executive spreading false stories. We do support the historic U.S. commitment to welcoming people fleeing oppression and violence in their homelands."
G/O Media may get a commission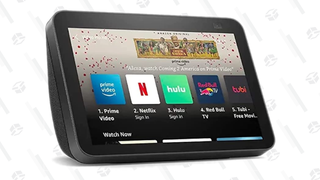 Soros' residence in New York was one site among more than a dozen attempted bombings last week that targeted prominent Democrats and critics of Trump. Soros' status as a Democratic mega-donor and his criticism of the current administration has made him a primary target for conservative groups.
Wednesday's comment was not the first time the president appeared to disparage Soros in the wake of the attempted bombing. During a leadership summit last week that followed the arrest of suspected bomber Cesar Sayoc, Trump appeared to laugh at and repeat the suggestion that Soros and "globalists" should be "locked up."
Earlier this month, the president also claimed on Twitter that Soros "paid" people protesting Brett Kavanaugh's nomination to the Supreme Court.

"The very rude elevator screamers are paid professionals only looking to make Senators look bad," he tweeted on October 5. "Don't fall for it! Also, look at all of the professionally made identical signs. Paid for by Soros and others."