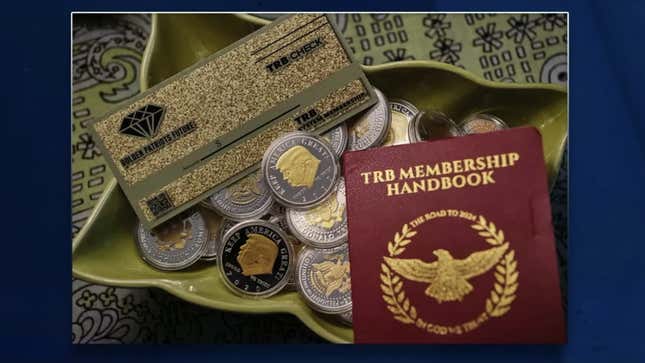 The online retailer ClickBank shut down sites boosting "Trump Bucks," which promoted a fabricated currency that would allegedly earn subscribers thousands of dollars if Donald Trump is elected in the 2024 presidential election. An investigation conducted by NBC News revealed several Colorado-based companies had created the scam which promised prospective investors of a get-rich-quick scheme if the former president was reelected.
William Shatner on Jeff Bezos
The companies reportedly advertised what were called "Trump Bucks" which have Trump's face plastered on them and claimed anyone who invests in the fake currency would become "real patriots" and become rich when they finally cash in. NBC News identified the companies behind the scam as Patriots Dynasty, Patriots Future, and USA Patriots which advertised the currency on platforms like The Telegram, and suggested that they were endorsed by Trump.
Trump Bucks could be purchased as coins, checks, and cards, saying they would become legal when Trump was back in office. The companies also reportedly used AI-generated narrations of celebrities who seemingly endorsed the product on social media; all of which were revealed to be fake.
Former Colorado State Representative Dave Williams told Colorado7 News, "Anyone using President Trump's name to commit fraud and swindle unsuspecting victims out of their money should be prosecuted to the fullest extent of the law. If this NBC report is accurate, then these grifters who are obviously not connected to the Trump campaign need to be held accountable."
A ClickBank spokesperson told The Guardian, "Any consumer purchasing these items through ClickBank received a pre-purchase disclosure that they are for commemorative value only and are not legal tender." The spokesperson added, "Still, ClickBank is concerned to hear that the products were being deceptive marketed elsewhere so we chose to discontinue sales even with our disclaimer."
One such website that had formerly listed the Trump Bucks now says, "This site is no longer in service or has been disabled due to a terms of service violation."
The investigation found at least a dozen individuals had invested thousands into the scam, with one person telling NBC he had invested $2,200 in Trump Bucks, but only realized it was a scam when he couldn't cash them in at a bank.
A Bank of America spokesperson told the outlet that employees have reported that customers were coming in to exchange Trump Bucks for tangible cash, and said "It's hard to put a number on how many people have come in."
The Better Business Bureau has given all three companies an F rating, with complaints on the website addressing issues with the products never arriving and reports that they were charged more than they had expected.
"Consumers really need to do a lot of homework before they buy anything," Roseann Freitas with the Better Business Bureau (BBB) told Colorado7 News. She warned consumers to be wary of potential scams, adding, "Just because someone famous, his name is attached to it, it doesn't mean it's a legitimate offer."