The Trump organization owns over 3,000 web domains, including TrumpFraud.org and TrumpScam.com. It's standard practice for big companies to buy up names that might insult their brands, but it looks like the Trump regime forgot one. The domain TrumpHotels.org is now a parody website that features photos and video of the U.S. government's child concentration camps.

Update: We found the guy who bought TrumpHotels.org and interviewed him.
The domain was registered just last week on June 20th, though it's not clear who operates the site. The bulk of the text on the website come from Trump's own words, including his rants about Mexicans being rapists and his reveling in authoritarian power. The graphics on the site show asylum seekers in cages that were built by U.S. Customs and Border Protection, including the kids separated from their parents under Trump's "zero tolerance policy."
When you click on various links on the website it takes you to news stories like this one from Time magazine titled, "Here Are All The Times Donald Trump Insulted Mexico" and this one from Fortune magazine titled, "Trump Says Men Who Take Care of Their Kids Are 'Acting Like the Wife.'"
Another link about "handicap accessibility" links to a YouTube video of Trump mocking a disabled reporter. But the thing that first hits you are the photos of children in cages.
G/O Media may get a commission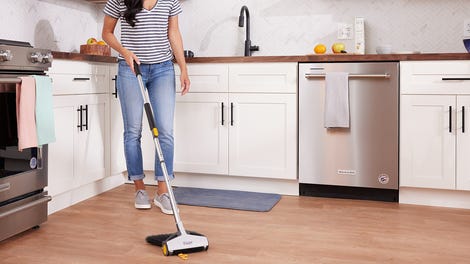 BOGO 50% Off
Flippr - BOGO 50% Off
But whoever runs TrumpHotels.org is obviously expecting some heat from the Trump regime. There's a long disclaimer at the bottom that pre-emptively explains that the website is protected speech under the First Amendment:
TrumpHotels.org is intended for entertainment, satirical, and political commentary purposes. It is an overt exercise of political speech, and it does not serve any commercial purpose. This site has no relationship to any commercial establishment or resort, it does not offer any similar products or services such as those provided by any commercial establishments or resorts, and it is in no way intended to deceive or create confusion with or to suggest sponsorship or endorsement by any other business or trademark holder. The use of any intellectual property, including trademarks or names of public figures, is protected under fair use, as TrumpHotels.org serves to comment on social and political issues and problems regarding the federal immigration policies of President Donald J. Trump, as well as other statements and actions made by Mr. Trump, through the use of ridicule and criticism. See the U.S. Trademark Act of 1946, 15 §§ 1051 et seq. (a/k/a, the Lanham Act), and KP Permanent Make-Up, Inc. v. Lasting Impression I, Inc., 543 U.S. 111 (2004).
The Trump regime hasn't been shy about fighting back when people make fun of them or treat them as they treat others. In fact, Sarah Huckabee Sanders made quite a stink when she was recently asked to leave a restaurant in Virginia. Sanders used her official White House Twitter account to attack the restaurant, a clear violation of ethics rules.
President Trump has even tweeted this morning about the restaurant, saying that it's filthy on the outside and must be dirty inside. It's all pretty unprecedented, but so are most things in the Trump era.
President Trump recently signed an Executive Order that supposedly ends the policy of family separation, but we've seen no evidence that every child will actually be reunited with his or her family. The U.S. Justice Department has even filed a motion seeking to just house families together indefinitely.
The Trump regime is obviously terrible for America, but it seems like immigration might finally be the issue that makes people in the middle take notice. And everybody fights back in their own ways. Some refuse food service to people who put children in cages, while others make parody websites that will inevitably piss off the president.
When your grandchildren ask you what you were doing during this time, you'll get to tell them. Were you defending the monsters or were you fighting them?
[TrumpHotels.org and The Hill]