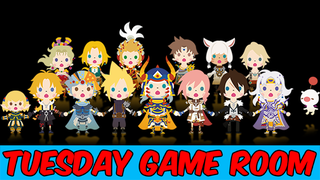 September continues with a quieter week after the sales-beast that was Destiny tore through last week - but there's still plenty of games coming out. Come and talk shop about what you've been playing in the latest edition of Tuesday Game Room!
What have you been playing this week?
I have continued to play a lot - a lot - of Destiny, despite having some big bones to pick with the game. My Warlock Robo-bro is now Level 20 (well, light Level 24, actually), and it says a lot about how good the core gameplay is that I've sunk a ton of time into it over the last week despite some of the game's baffling flaws.
Right up there is the fact that Destiny's story basically does not exist, and I'm not entirely sure why. Yes there's a world there, one crafted with obvious care (even if Bungie annoyingly makes you realise that by reading their Codex-equivalent on a website), but an actual story to tell? There isn't one. There's such a barely loose thread to connect about 6 or 7 hours of shooting and looting that when it actually ends you're not even really sure what happened. There's annoying social restrictions too, despite Destiny being a supposedly social game - the weekly strike mission, for example, has no matchmaking component so without 3 similarly levelled friends you're out of luck, unless you want to try fumbling around in the Tower sending random people invites.
It really does speak to the gameplay that I can find so many things that bother me about Destiny as a whole, and yet I'm still loving playing it somehow.
New Releases!
If you're a fan of indie gems and Japanese oddities, then this is the week for you! Starting off with have the Final Fantasy RPG/rhythm game Theatrhythm Final Fantasy: Curtain Call coming to the 3DS, alongside Cooking Mama 5 (there's been at least five Cooking Mamas!?). Apart from Naruto Shippuden: Ultimate Ninja Storm Revolution on PS3, 360 and PC however, this is basically a week for Playstation platform owners.
Murasaki Baby and Run Like Hell! Make their way to Vita this week, whilst Fibbage: The Hilarious Bluffing Party Game comes to the PS3 and PS4 as a cross-buy title. Air Conflicts: Vietnam Ultimate Edition and Anomaly 2 come to the PS4 as well, and finally, Fairy Fencer F lands on PS3. What an eclectic week.
And now, the News
Once again it's time for a few select picks from the last week of Gaming news, via Eurogamer:
We'll be back this time next Tuesday for more gaming discussion, but for now, sound off in the comments with the games you've been playing, and what you're looking forward to this week - and don't forget to join the unofficial io9 community group on Steam!
---
You're reading Toybox, io9's new blog for all things pop culture. From merchandise to awesome fan creations, TV recaps and critical commentary on the hot topics of the day, you can find it all here!