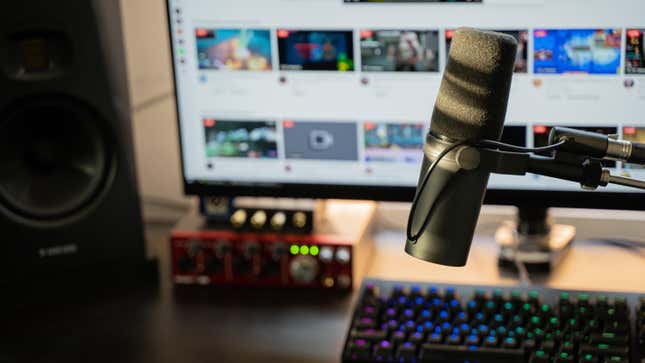 Twitch is finally letting streamers block out those viewers they've already banned from chat. However, these bans won't be based on any user identifier beyond accounts, so the various kinds of insufferable Twitch-holes who are dedicated enough could still find ways to watch.
How Does Gerard Pique's New Twitch Indoor Soccer League Work?
As first reported by TechCrunch, Twitch execs said on the company's official Patch Notes cast that streamers will be able to click a single button amid the blocking tools to stop banned users from viewing streams, both the current and any future streams. The button will be available through the streamer's dashboards. Currently, when streamers ban users they kick them off the chat function, but that doesn't keep them from watching broadcasts. The feature should roll out to streamers within the next month or so.
Users who get hit with a ban will be immediately removed from viewing the video stream, and they will be blocked from watching any future stream. It won't stop users from watching VODs, highlights, or clips, but Twitch product manager Trevor Fisher said they're planning to add that functionality in a future update. He also mentioned that currently, banned users are banned from streamers' followers lists.
"This is something where we had to make a lot of incremental progress—it's just chipping off one part of the problem at a time," Fisher said.
While the change is welcome, the feature still doesn't work exactly like you would expect a "ban" should. Currently, streamers can "ignore" users on both Chat and Whispers, put them in a timeout, ban, or block them. When blocked, an account is removed from that user's followers and prevents them from purchasing gift subs for other users in the channel. Banned users can no longer see or participate in streamers' chats.
Twitch's Community Marketing Manager Ray Apollo said this feature has long been requested by streamers. However, when asked whether this banned users' IPs, the company stressed that this only blocks the account. This does leave it open for banned users to watch streams without an account.
Even with the holes, it may be better than nothing. Or Perry, the co-founder of streaming creator tools and sponsorship platform StreamElements, told Gizmodo in an email "Moderation will never be a perfect science and hate bot raids are still an issue, but this new feature has been in demand making it a strong step in the right direction."
Twitch itself has the ability to issue a temporary or indefinite suspension on an account. These can last 30 days or longer, and suspended users may lose their subscriptions. The company has tried to give people in chat more prominence while hopefully making streamers more money with features like Hype Chat.
It's a work in progress, but at least it is some progress. Compare that to Twitter, a site that's become so deluded it's started calling itself "X." On Friday, owner Elon Musk declared "Block is going to be deleted as a 'feature,' except for DMs." The Twitter owner further claimed, "the feature makes no sense."

Engagement is one thing, but forcing users to read the tweets of people you have no wish to is a whole different matter. While Musk is prone to making off-the-wall pronouncements, it does fit into a rather clout-chasing, vindictive nature of the multi-billionaire.
Update 08/18/23 at 2:40 p.m. and 8/20/23 at 3:45 p.m. ET: This post was updated to include a quote from StreamElements' Or Perry. This post was also updated to amend the description of StreamElements.