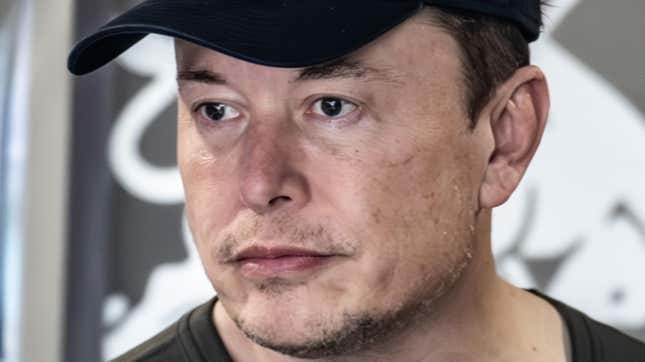 After Twitter banned the account of Qanon influencer Dom Lucre for posting "child exploitation pictures," Elon Musk stepped in to reinstate him.

Did Elon Musk Regret Buying Twitter? | Walter Isaacson Interview
On Wednesday morning Twitter—recently rebranded by Musk as X—banned Lucre, a right-wing conspiracy theorist with over half a million followers. The move sparked protest from X's rage-fueled conservatives and even some criticism from users on the left. X doesn't always publish the reasoning behind account takedowns, but Musk tweeted an explanation in response to a user calling for transparency.
"I'm told that this account was suspended for posting child exploitation pictures associated with the criminal conviction of an Australian man in the Philippines," Musk tweeted, posting a link to a story on the subject. "Only people on our CSE team have seen those pictures. For now, we will delete those posts and reinstate the account."
Lucre used his newly restored account to deny that he posted "child porn," saying instead he was banned for his criticism of Democrats. Lucre and X did not immediately respond to requests for comment.
A lenient attitude towards Child Abuse Sexual Material (CSAM) is an unusual position for a social media platform, where users are typically subjected to zero-tolerance policies. It's particularly surprising coming from Musk, who has a penchant for calling his enemies pedophiles and made loud, self-celebratory pronouncements about how he was stepping up child safety efforts at the company. The billionaire himself has said Twitter has a zero-tolerance policy towards CSAM.
Former Twitter trust and safety head Yoel Roth was forced to flee his home amid death threats and harassment in late 2022 when Musk tweeted baseless claims that Roth endorsed pedophilia. Roth had recently quit the company and criticized Musk's leadership.

"I'm sorry, I just have to post a big ol' lol about the fact that this guy blew up my life by saying I condone pedophilia, and then he turns around and does this," Roth posted on Bluesky, a competing social media platform.
That wasn't Musk's first run in with controversies over pedophilia accusations. In 2019, the Twitter owner won a defamation case after he called a British cave diver a "pedo guy." The cave diver infuriated the billionaire by lambasting Musk's laughable plan to deploy a tiny submarine to rescue a group of children trapped in a cave in Thailand. Musk, who implied that it was suspicious that the cave diver lived in Thailand, successfully argued in court that "pedo guy" is just slang for "creepy old man" and isn't a pedophilia accusation.
X has a long running struggle with child safety issues. In September 2022, it drew criticism when a report found ads for major brands running alongside accounts that promote CSAM.